Kunozan Toshogu Shrine, a National Treasure
Unchanged for four centuries, a beautiful and decadent shrine
This beautiful shrine is for giving worship to Tokugawa Ieyasu, the first shogun of the Edo period.There are many Toshogu shrines in Japan, but the very first one was built here at Kunozan.  The main shrine building includes the haiden, or front shrine, and honden, inner sanctuary, which are separated by the ishi-no-ma, where priests conduct various ceremonies. The main shrine was built 400 years ago, and designated a National Treasure in 2010. The shrine complex is historically invaluable and has remained in excellent condition from the time of its founding.  Tokugawa Ieyasu laid the foundation for the Edo period, a time of peace that lasted nearly 300 years. He passed away at the age of 75, an astounding longevity for his time. That is why Kunozan Toshogu has come to be a symbol of health, safety and recovery from illness. The shrine is located on the summit of Kunozan, a mountain 270 meters above sea level famous for its magnificent scenery.  You can get to the shrine in just five minutes by using the gondola from the top of Nihondaira. Alternatively, you can climb the 1,159-step stone staircase leading up from the Kuno coastline on the opposite side. These stairs were the shrine's original gateway.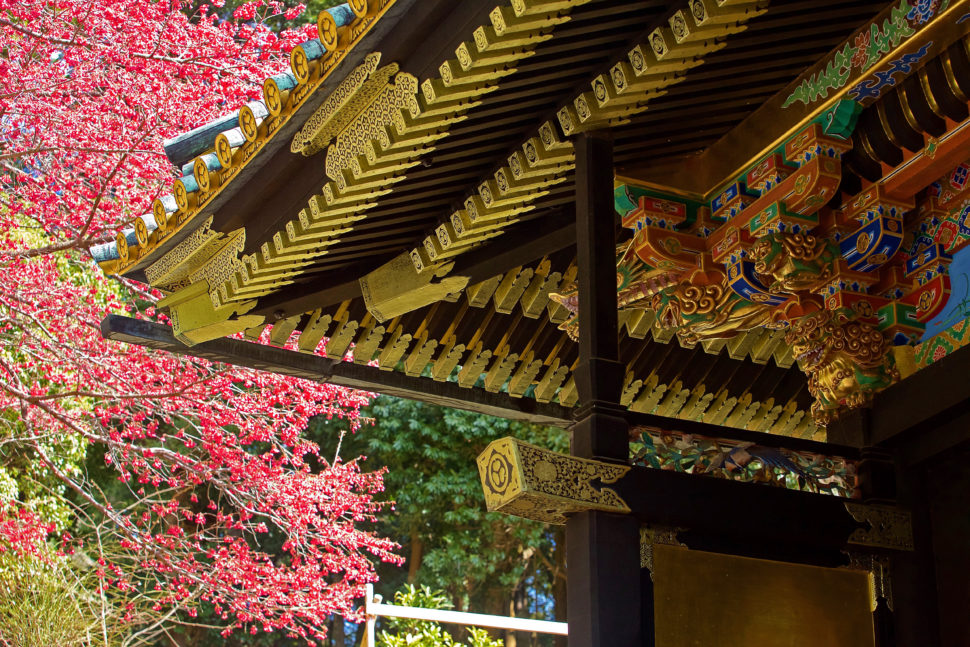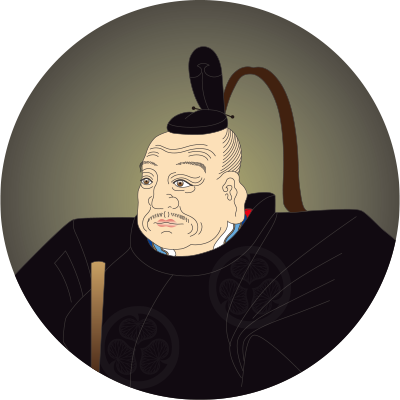 Tokugawa Ieyasu (1543-1616)
Tokugawa Ieyasu (1543-1616), the first Tokugawa Shogun, was buried at the summit of Mt Kunozan on
the day of his death, April 17, 1616, and became a god of peace, and a guardian called Tosho Daigongen.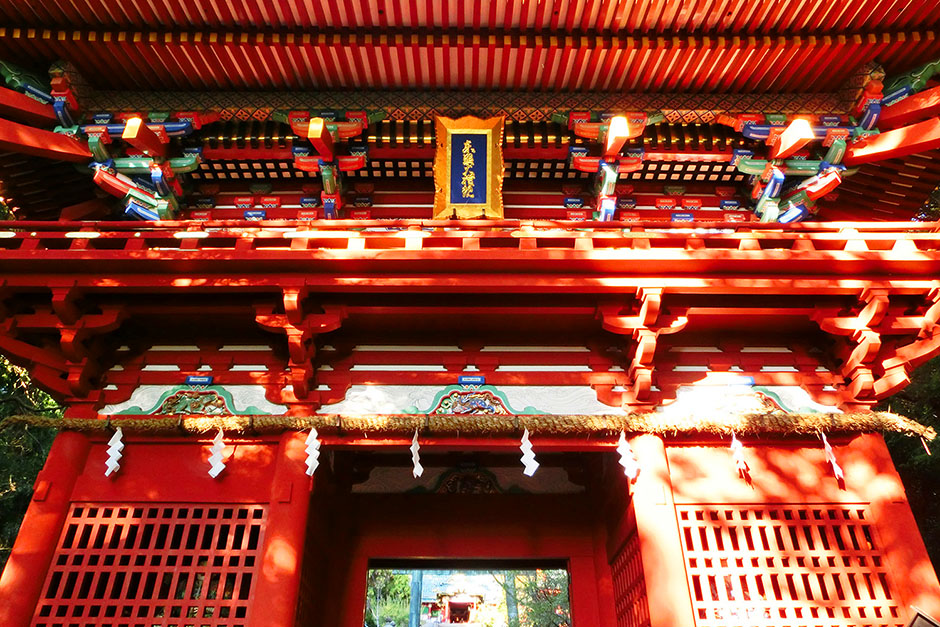 The gate of Kunozan Toshogu Shrine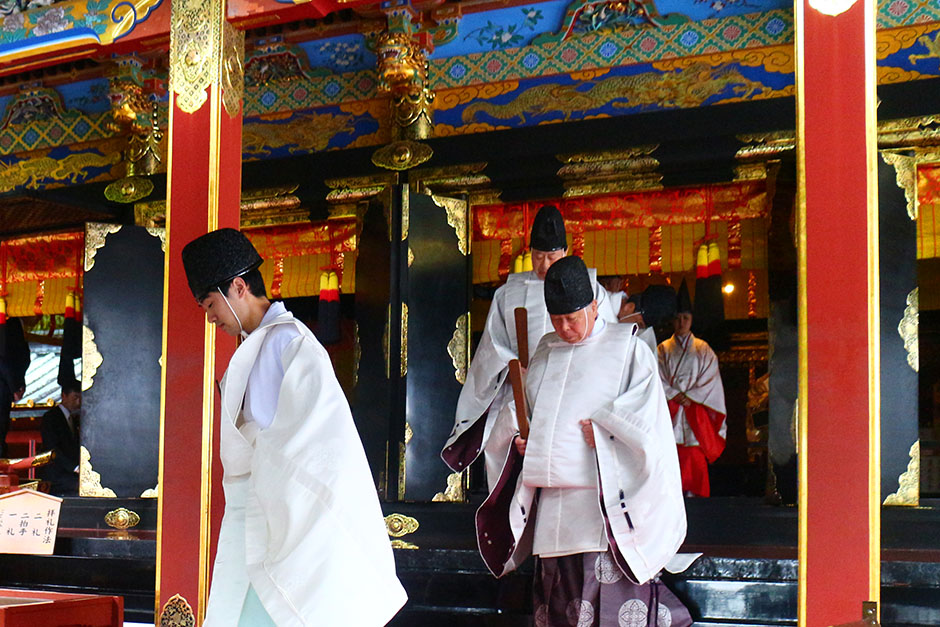 The Chief Priest, Hidekuni Ochiai at a ceremony
After his death in 1616, the remains of Ieyasu, posthumously deified with the name Tosho Daigongen,
the "Great Gongen, Light of the East", were buried at the mausoleum of Kunozan Toshogu.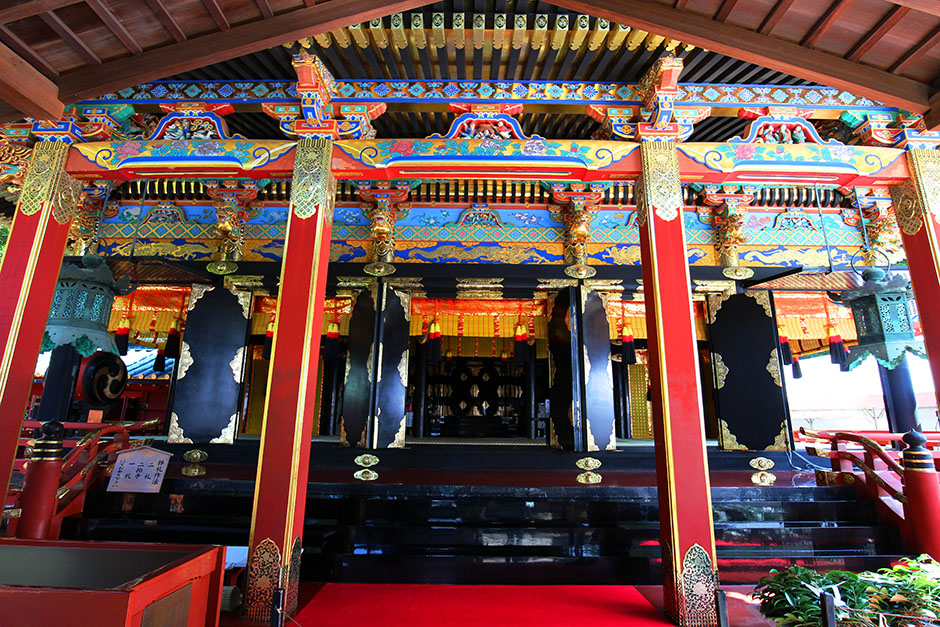 The national treasure shrine that has regained its brilliance from 400 years ago.
Subsequently the common view held was that many people were brought to believe that, " … after the
first anniversary of his death, Ieyasu's mortal remains were reburied at Nikko Shrine, Nikko Tosho-gu.
His remains are still there." In fact, Ieyasu's real mortal remains are actually entombed at Kunozan.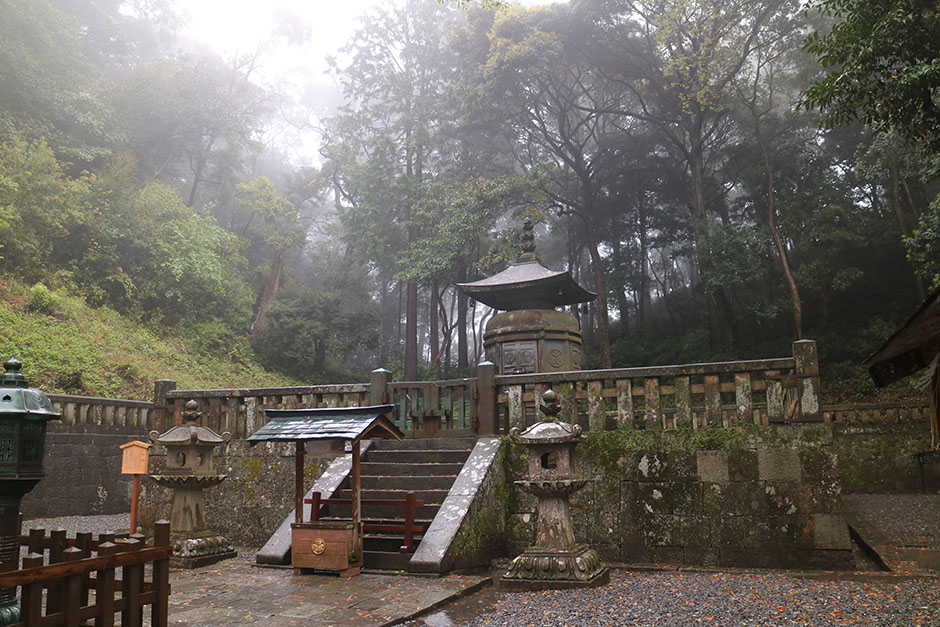 The mausoleum of Tokugawa Ieyasu
The majority of these facts are not yet common knowledge. They have been mentioned only in
speeches made by the Chief Priest, Hidekuni Ochiai, who was helped by the British Museum in 2013 in
his research into the old Spanish clock once owned by Ieyasu, given to him by the Spanish King in the
early 17th century. The clock is one of the most important treasures in the Kunozan Tosho-gu Museum.
A ceremony
You can climb the 1,159-step stone staircase leading up from the Kuno coastline.