Fuji Five lakes
Take your time and relax at the scenic view of the lakes and Mount Fuji.
Fuji Five lakes, called Fuji-goko 富士五湖 in Japanese, is located in the north side of Mount Fuji, in the Yamanashi prefecture. The name Fuji-goko literally means "five lakes of Mount Fuji". They were formed by its previous eruptions : Lake Motosu-ko 本栖湖, lake Shôji-ko 精進湖, lake Sai-ko 西湖, lake Kawaguchi-ko 河口湖, and finally lake Yamanaka-ko 山中湖. All lakes are designated as Fuji-Hakone-Izu National Park. On June 22 in 2013, all of them were registered as World Cultural Heritage as part of "Mount Fuji – Object of Religion and Source of Art".
Many pilgrimage by Mount Fuji's worshippers, called the Fujiko, take place in that area. Those lakes, which water is mostly spring water, remain an object of religious ablutions till nowadays. 
Lake Motosu-ko 本栖湖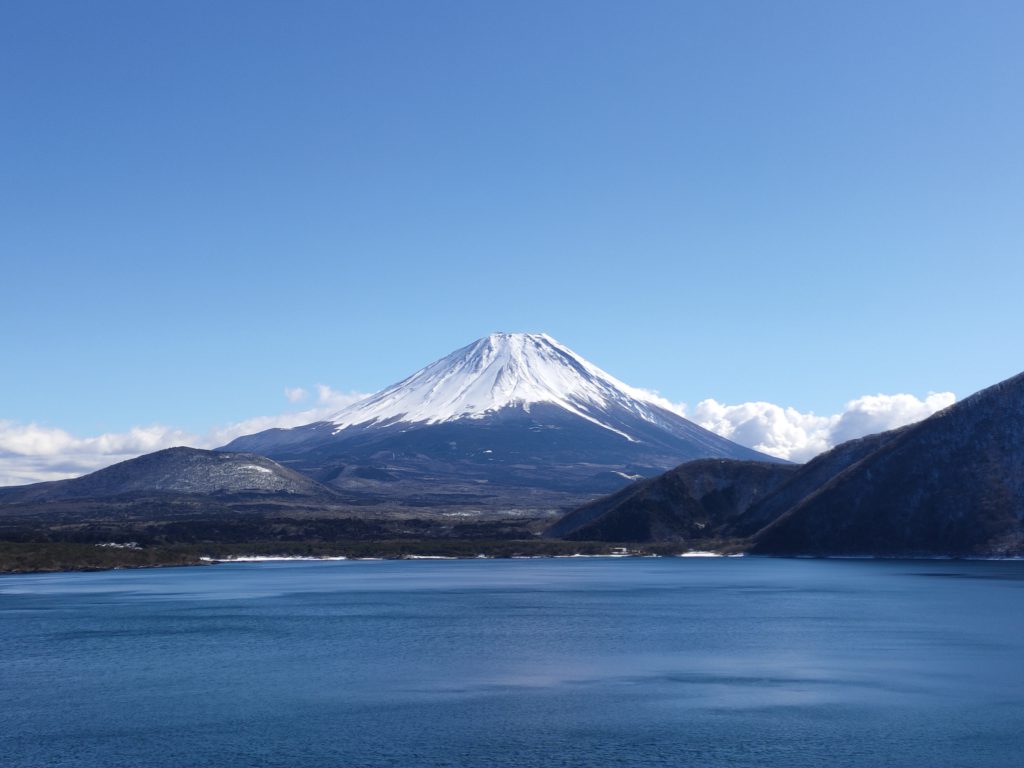 Lake Motosu-ko offers a particularly outstanding scenic landscape, and has been the source of inspiration for many works of art. "Lake Side in Spring" by photographer was used in the design for the 5000 yen and actual 1000 yen bills.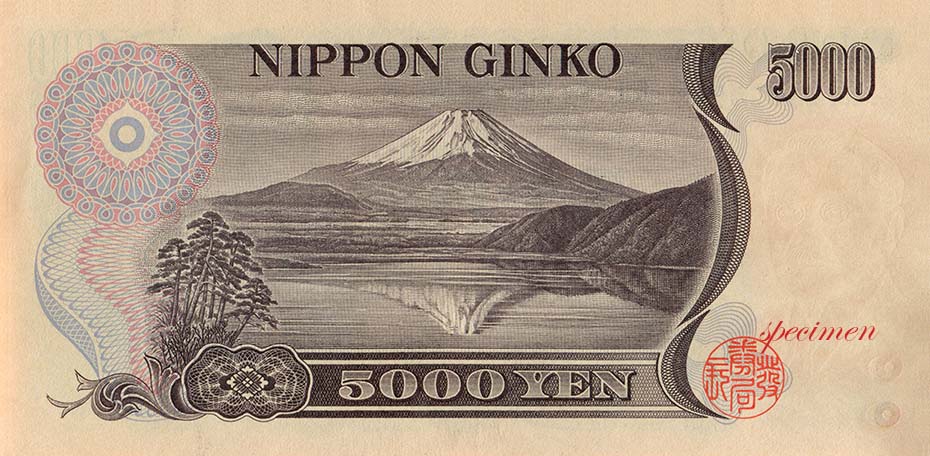 Motosu-ko is also a windsurfing mecca and attracts many windsurfers in summer. Due to its scenic beauty, hotels and training centers are lined up around the lakeside, and it is also used as a leisure spot. Sightseeing boats and fishing for brown trout and nijimasu trout are also popular. It is also known as a fishing ground for himemasu trout. 
If you are a fan of Godzilla, in the 1973 movie "Godzilla vs. Megalo", the scene of the opening dolphin ride was filmed there. The swirling lake, the suspicious light and the dry lake are all special effects.
Lake Shôji-ko 精進湖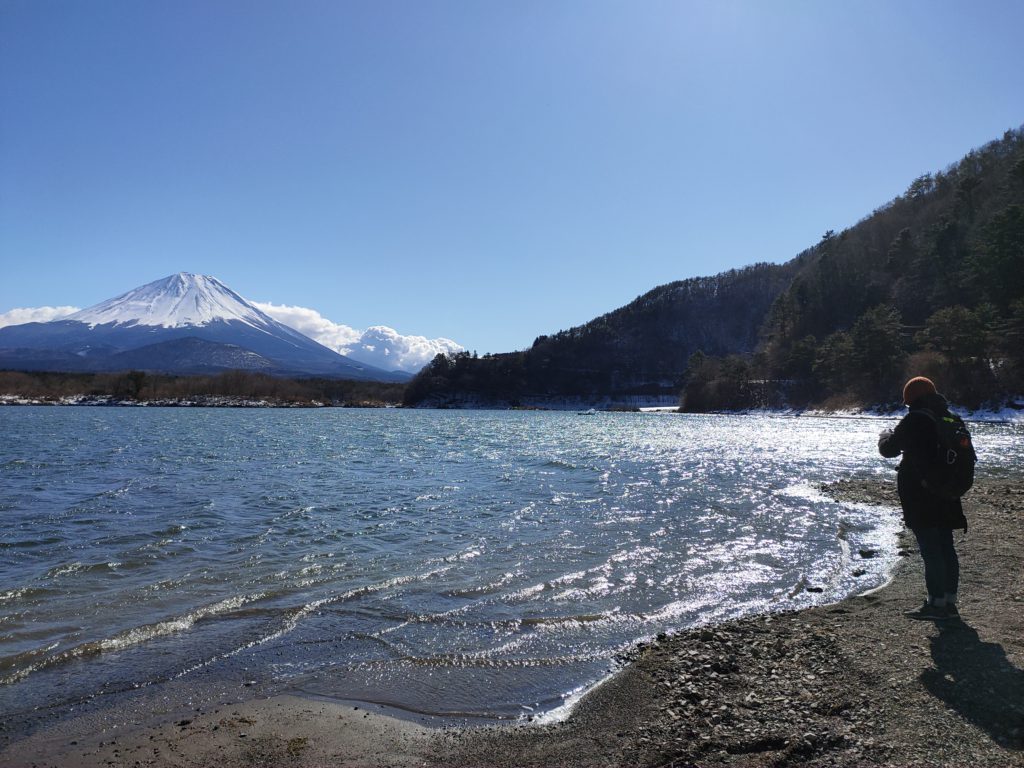 Lake Shôji-ko is the smallest out of the Five Lakes. 
Unlike Lake Kawaguchi and lake Yamanaka which have seen a major development, it remains as a beautiful natural scenery.  A footpath program that allows you to experience spots representative of "The Shoji" is being implemented. Harry Stewart Whitwars, an Englishman, after going around the regions at the base of Mount Fuji, advertised this special lake outside Japan in 1895 as the "Japan Shoji", a summer resort with beautiful views of Mount Fuji. 
If you are lucky, you might also come across a mysterious pond "Akaike" on the side of the lake. It is usually dry but appears when Lake Shôji-ko's water level rises and is called Fuji Roku ko or "Fuji Six lakes". This is thought to be a phenomenon caused by the depression of the terrain and the geology that allows easy water penetration.
Lake Sai-ko 西湖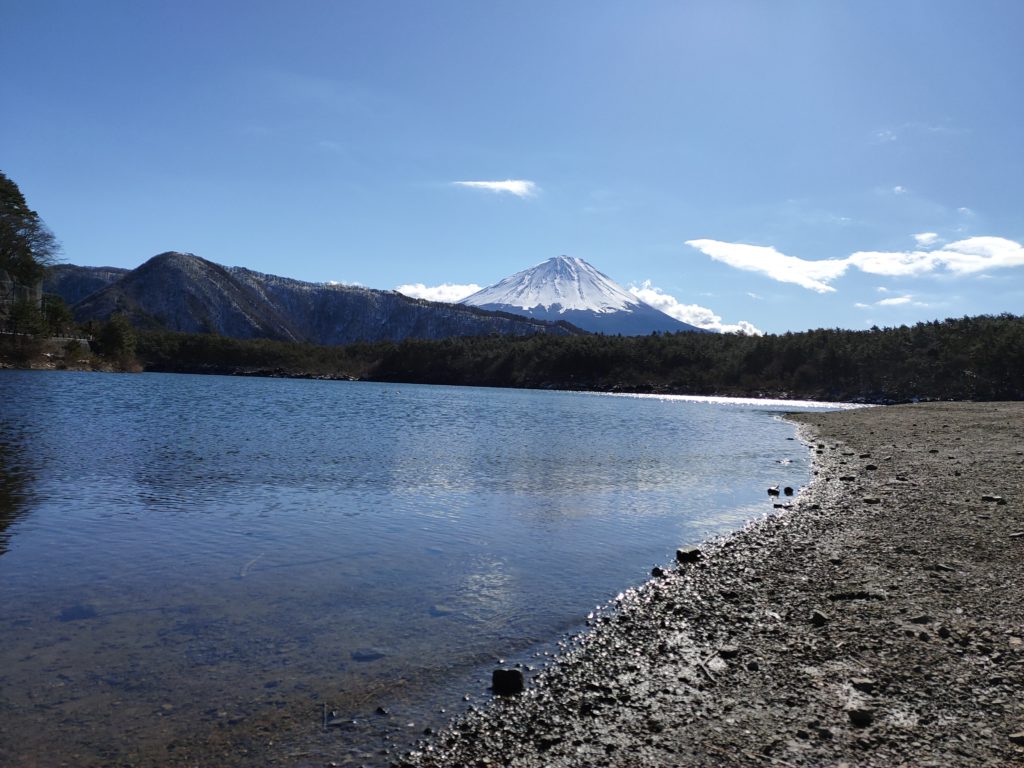 The lake Saiko, along with lake Motosu and lake Shôji, was formed by lava flowing across what is now Aokigahara Jukai Forest and into the enormous lake that once dominated the area, and these three lakes remain still connected by underground waterways. These three lakes were once a large lake called Se-no-umi, meaning "back sea".
There are many caves made of lava around Saiko. Those bat holes and dragon caves are designated as national monuments.
In recent years, nijimasu trout have been cultivated and fishing has become popular.
Aokigahara Jukai forest spreads in the south of lake Saiko. On the shores of the lake, you will find several quiet campsites. They are often used for elementary and junior high school forest camps, or sports camps.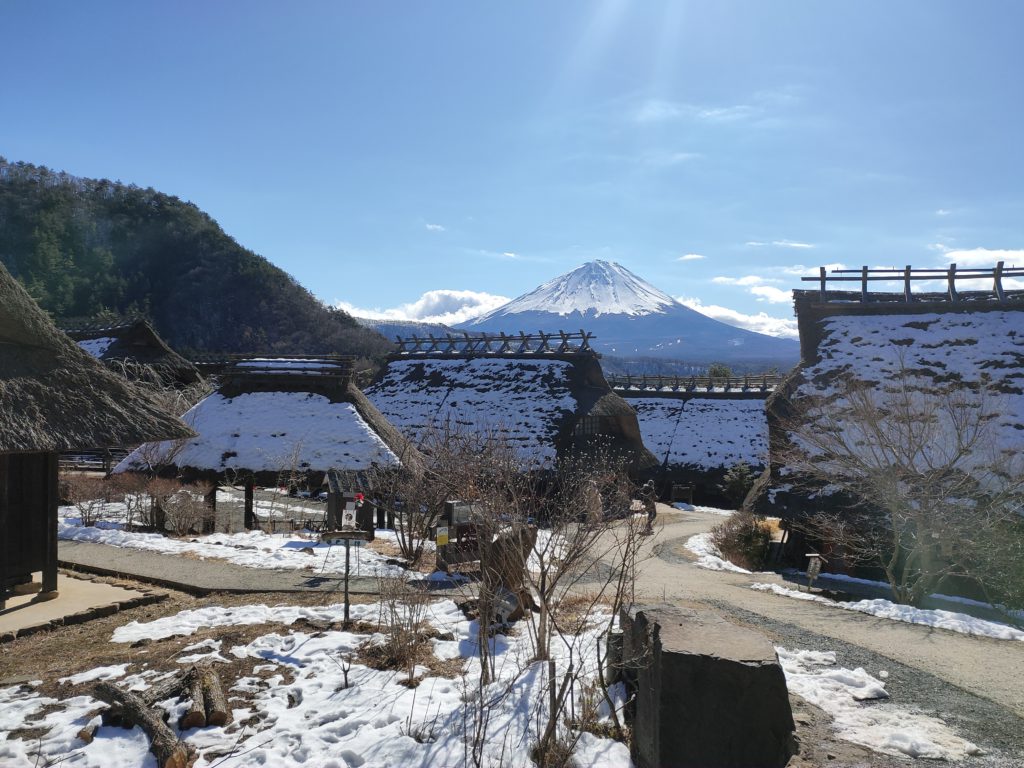 Two inn villages were formed by the relocation of residents following the destruction of the Nenba village due to a debris flow disaster caused by a typhoon in 1966. In 2006, the "Saiko Iyashino Sato Nenba" (on the picture above), a restored village, opened in the place where the former Nenba village was once located.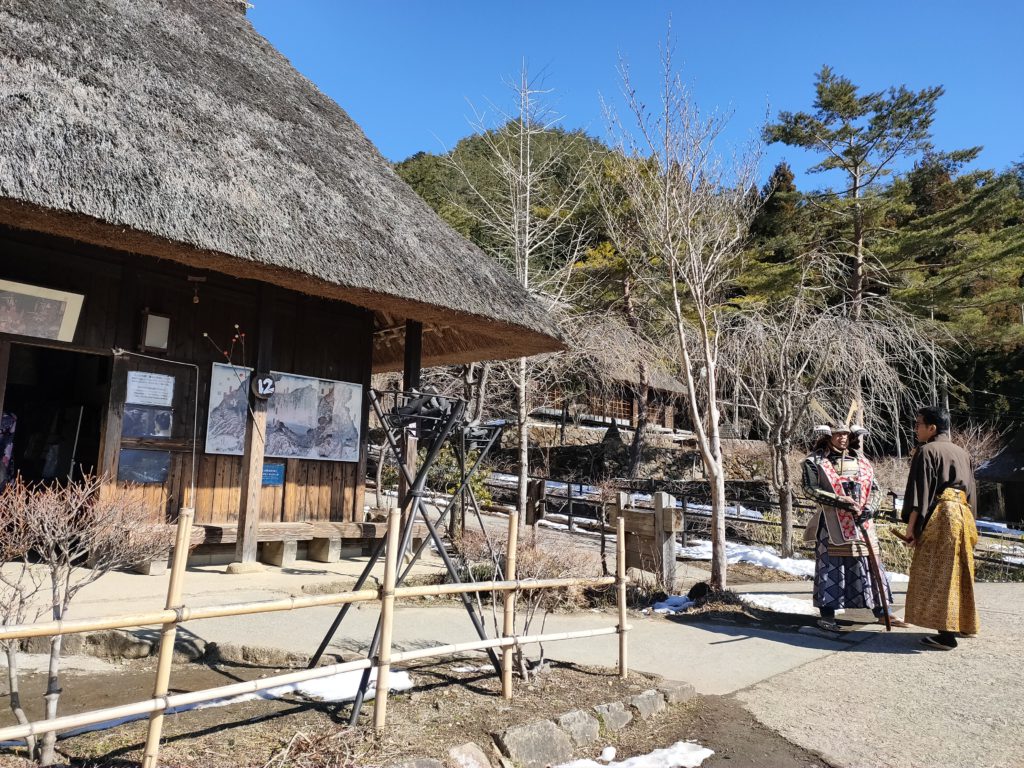 Reproduction of traditional thatched houses can be found in the "Saiko Iyashino Sato Nenba". Some of them are the original thatched house which were not taken by the flow. In each building, you can either experience traditional crafts, shop for local products or eat local foods. 
Lake Kawaguchi-ko 河口湖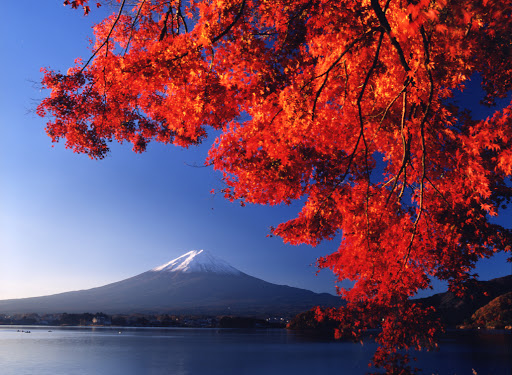 Lake Kawaguchi has been a sightseeing spot since ancient times, and is a lively place with many hotels.
It is also the only lake with an island. On this Unoshima island, the gods of water, Toyotama Himemikoto 豊玉姫命 and Benten-sama 弁天様 are enshrined.
Marimo was discovered from the bottom of the lake, and it was named "Fuji Marimo". Those green algae moss balls live in a clean place where the water spring, it is a uncommon plant that is rarely found elsewhere. It also inhabits Lake Yamanaka.
In recent years, exotic fish such as black bass have increased, and sport fishing has become popular.
Lake Yamanaka-ko 山中湖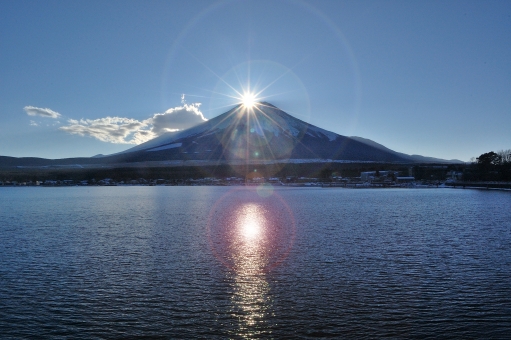 Lake Yamanaka-ko is the largest of the five lakes and is located at a high altitude of about 1,000m. It is cool even during summer so it is popular as a summer resort. The only river that flows out of the five lakes is the Katsura River, which go through Fujiyoshida City and Tsuru City then finally flows into Lake Sagami in Kanagawa Prefecture.
During winter, when the lake freezes, whooper swans can be seen but in recent years ice has become less common due to global warming.
The phenomenon of "Diamond Fuji", on the picture above, refers to when the sun shines on top of Mount Fuji, like a diamond. The sun can overlaps the summit of Mount Fuji at the time of sunrise and sunset. At Lake Yamanaka, it is at sunset. You can observed it for about four and a half months from autumn to winter. Many people visit it as a sacred place of Diamond Fuji because it can be seen for such a long time. 
This "Diamond Fuji" phenomenon can be seen not only in Lake Yamanaka, but also in many places including Lake Tanuki in Shizuoka Prefecture.
You can get more information about Fuji Five Lakes from our blog post written by our staff Saki !
Click here to the blog post in French.