Hello everyone 🙂
Here is Saki, from your Local Travel Partners agency.
In the north of Mount Fuji in the Yamanashi prefecture, is an area called Fuji-goko 富士五湖 or literally "Fuji Five lakes". The name Fuji-goko comes from the fact that there are five lakes formed by previous eruptions of Mount Fuji : Lake Motosu-ko 本栖湖, lake Shôji-ko 精進湖, lake Sai-ko 西湖, lake Kawaguchi-ko 河口湖, and finally lake Yamanaka-ko 山中湖. All lakes are designated as Fuji-Hakone-Izu National Park. On June 22 in 2013, all of them were registered as World Cultural Heritage as part of "Mount Fuji – Object of Religion and Source of Art".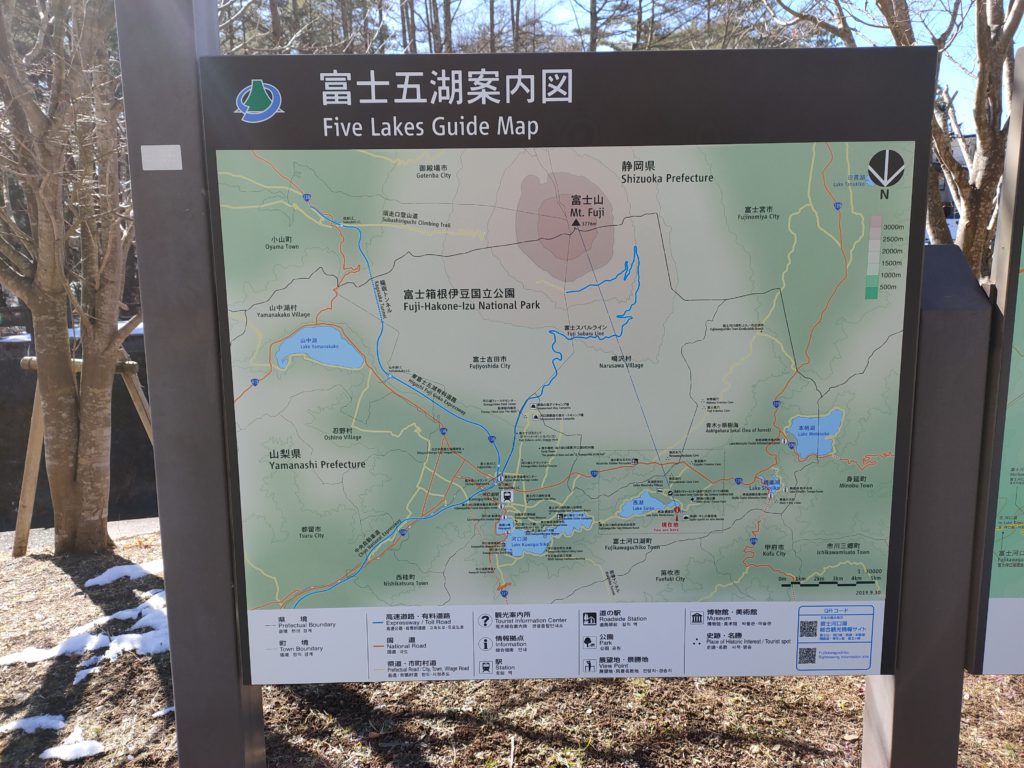 Mount Fuji's worshippers, called the Fujiko, have numerous pilgrimages to religious place. Although the places for these pilgrimages changed over time, the Fuji Fives Lakes, which include Lake Motosu-ko 本栖湖, lake Shôji-ko 精進湖, lake Sai-ko 西湖, continued to remain an object of religious ablutions throughout the ages. In this post, I will present the three of them.
These three lakes were once thought to have been a single large lake called Se-no-umi, meaning "back sea". Lake Shôji-ko was first separated from Lake Motosu-ko in the southwest by the lava flowing out of Mount Fuji. It was separated then from Lake Sai-ko during Jogan eruption in 864, based on "The Real Story of the Third Generation of Japan". These three lakes remain connected by underground waterways.
Lake Sai or Saiko 西湖
Out of the Five lakes, lake Saiko is located in the middle. It has a deep indigo blue color and a rich maritime fauna, such as fujimarimo or kunimasu trouts.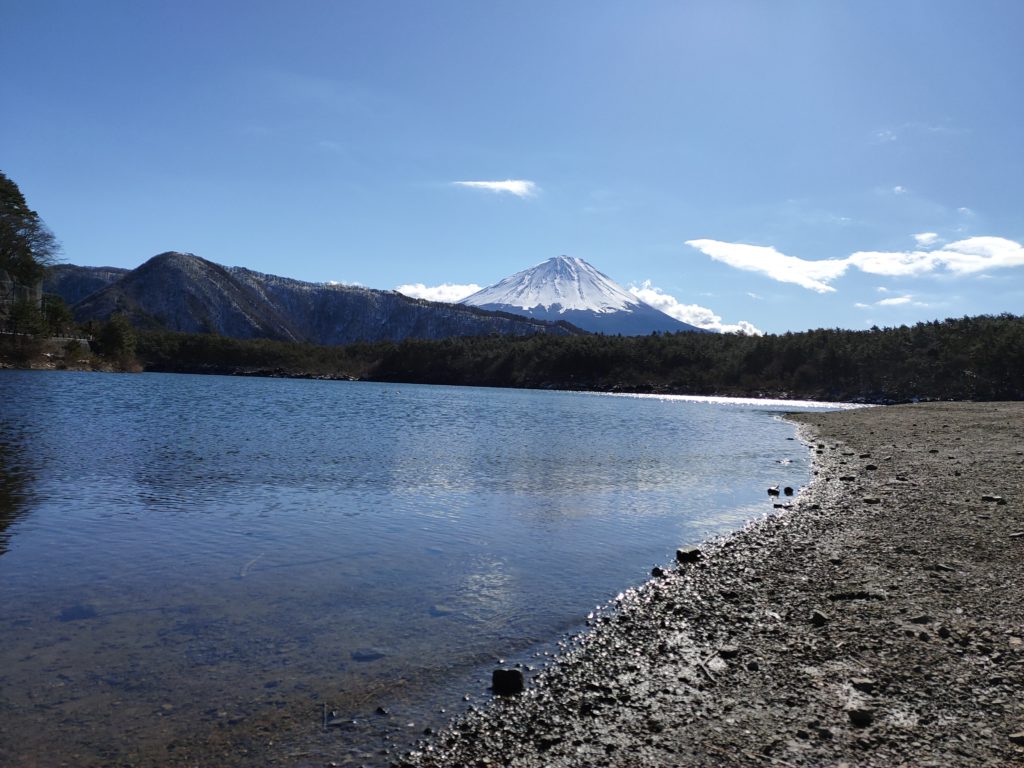 On the southern shore of Lake Saiko lies Aokigahara Jukai forest, also known as the "Sea of Trees". This forest has an amazing natural environment. It is formed on lava that flowed out of Mount Fuji and you can observe a wide variety of animals and plants.
While looking for lake Saiko, you will most likely arrive to a place called "Saiko Iyashi no sato nenba" 西湖いやしの里根場. It is a small village of thatched houses overlooking Mount Fuji. The japanese rural scenery of the past has been revived in this scenic village.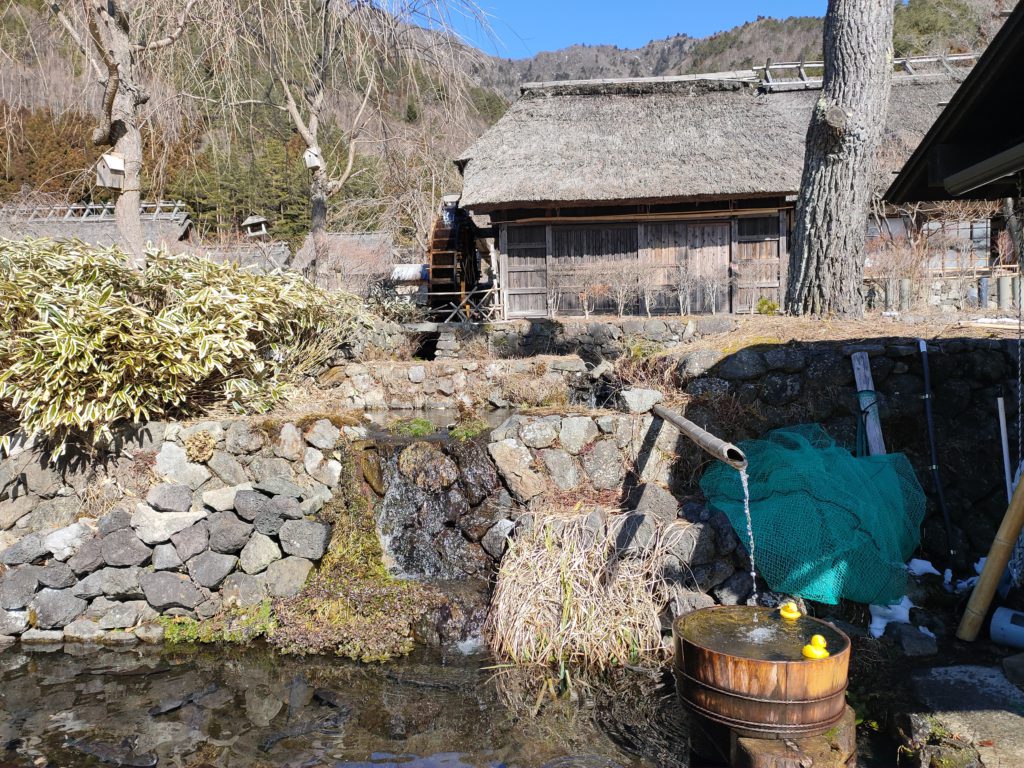 The Nenba area on the west side of the lake offered once a scenery of thatched roof houses lined with beautiful Mount Fuji. However, it was devastated by the typhoon disaster of 1966 and the village became a thing of the past. In 2004, Fujikawaguchiko Town has begun a project to establish the "Saiko Iyashi no Sato Nenba" in an attempt to revive this original landscape of Japan with thatched roof settlements. The village opened 2 years later.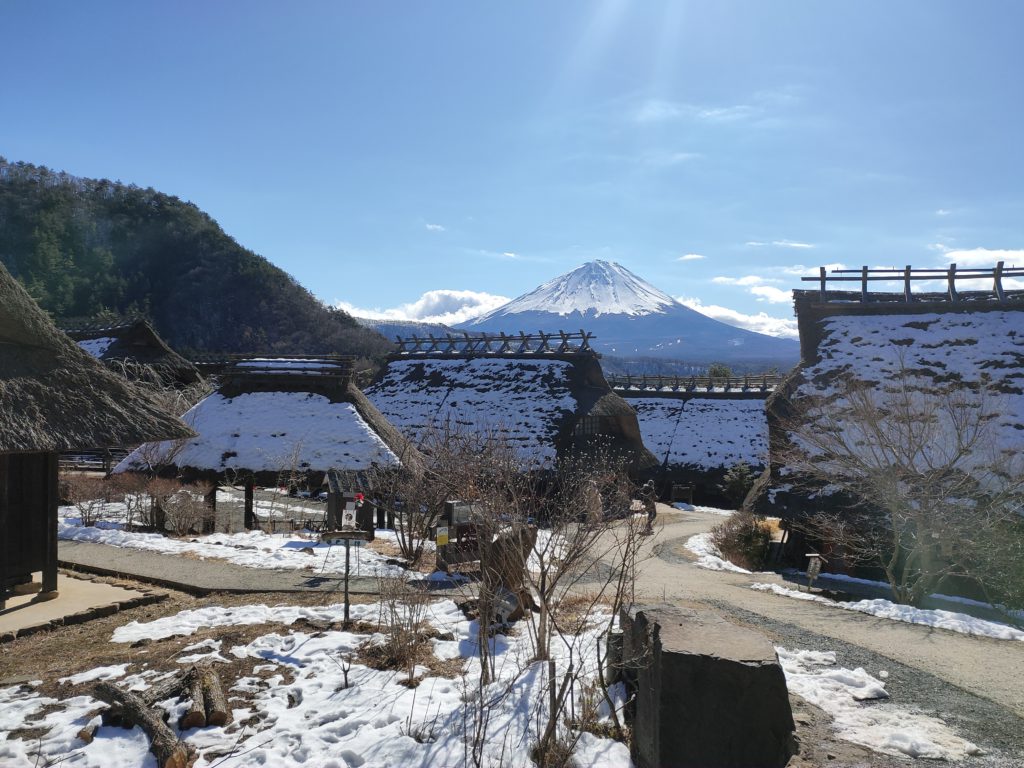 Since then, it is a place where everyone can enjoy from young people to elder.
You can relax in a kotatsu. It is a low, wooden table frame covered by a heavy blanket called futon, upon which a table top sits. Underneath there is a heat source. It was formerly a charcoal brazier but it is now electric, often built into the table itself.
Definitely, a must-have item in a Japanese winter ! You won't easily come across them unless you visit a household.
In each building, you can either experience traditional crafts, shop for local products or eat local foods. There is also a museum. A shop propose to rent kimonos and you may wander in the village as thought you traveled time.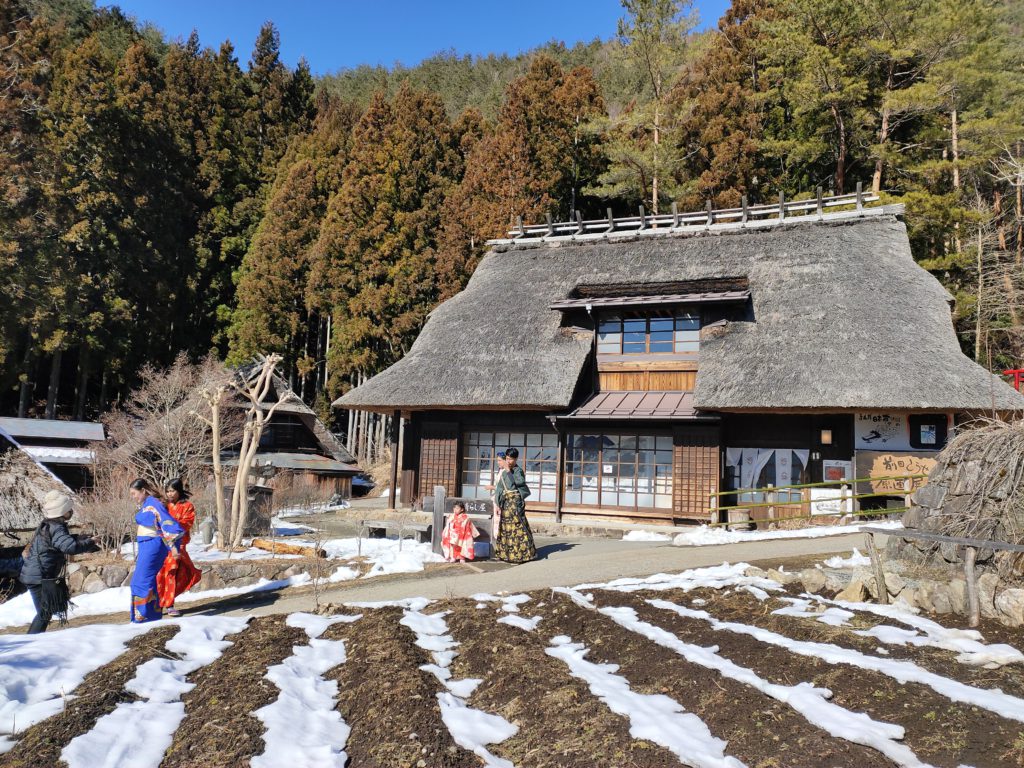 Most tourists visits only the village and does not go to the lake. It would be a shame not to go !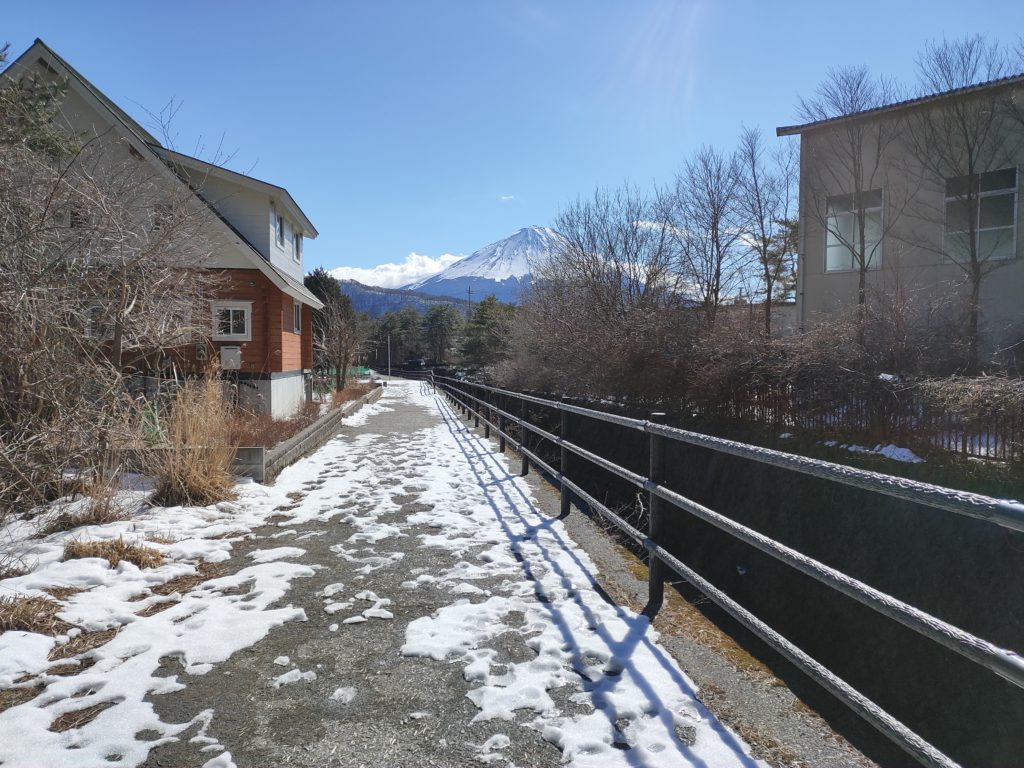 Just go down this path, then walk a bit more along the road…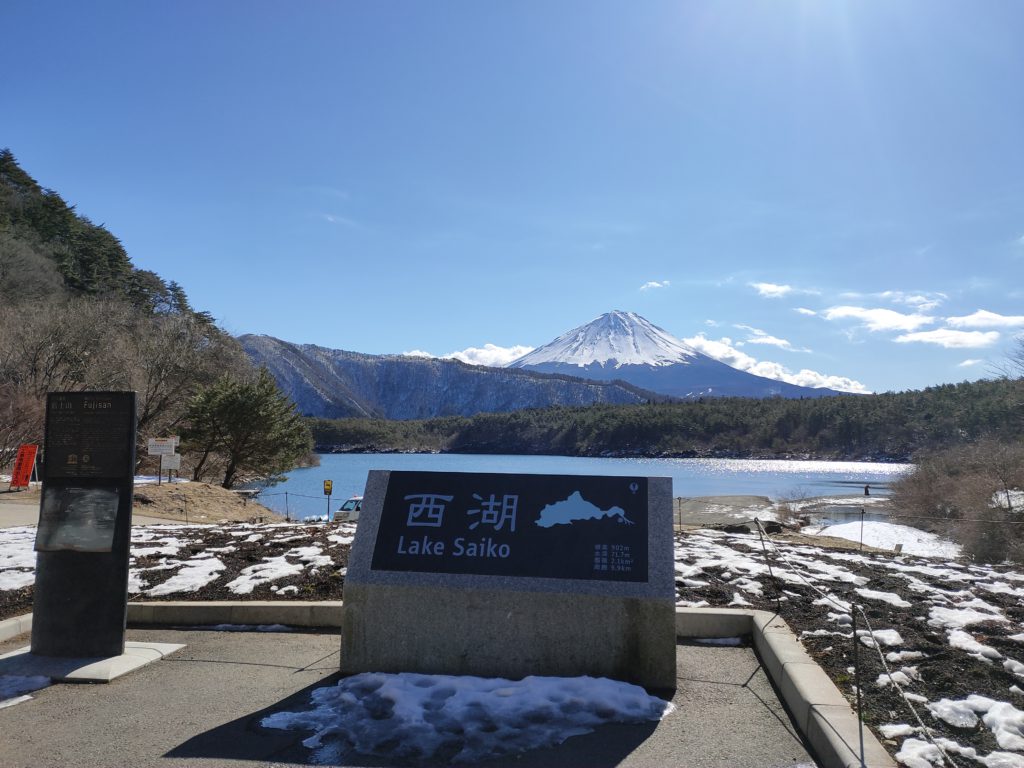 Lake Saiko awaits your visit !
Lake Shôjiko 精進湖
Another beautiful lake, the lake Shôjiko is the smallest of the five lakes. Remnants of lava flow still jut out of the water. Local population usually fish from these rocks.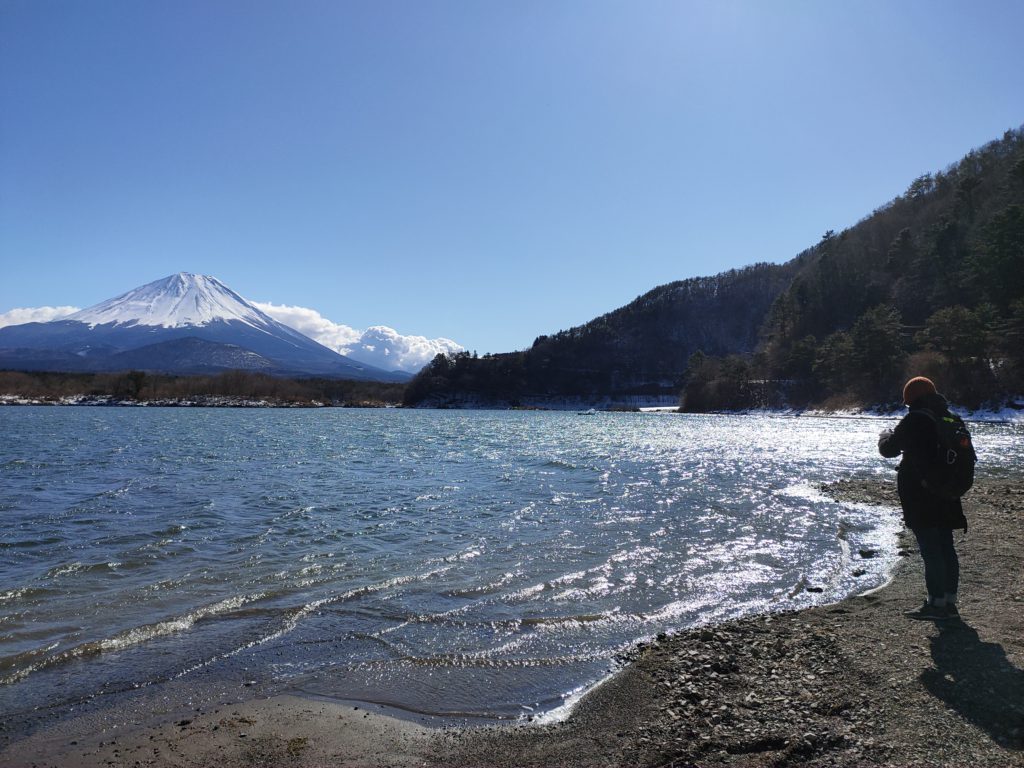 You may see the small hill in front of Fuji-san. It is called Mount Fuji child as it has the same shape.
Lake Shôji-ko is given the name "Switzerland of East Asia" because a British man Harry Stewart Whitwars  explored around the base of Mount Fuji in the Meiji Era in 1895, and thought that the view of the sacred mountain was the most beautiful from Lake Shôji-ko. He advertised outside Japan the area around this lake as a summer resort with beautiful views of Mount Fuji. As a result, many foreign tourists visited the place. It is now a peaceful site.
Lake Motosu-ko 本栖湖
Of the Fuji Five Lakes, Lake Motosu-ko boasts a particularly outstanding scenic landscape, and has therefore been the source of inspiration for many works of art. "Lake Side in Spring" is one of those. It was photographed by Koyo Okada, who has been continuously photographing the Mount Fuji throughout his life. His photograph was used in the design for the 5000 yen and 1000 yen bills.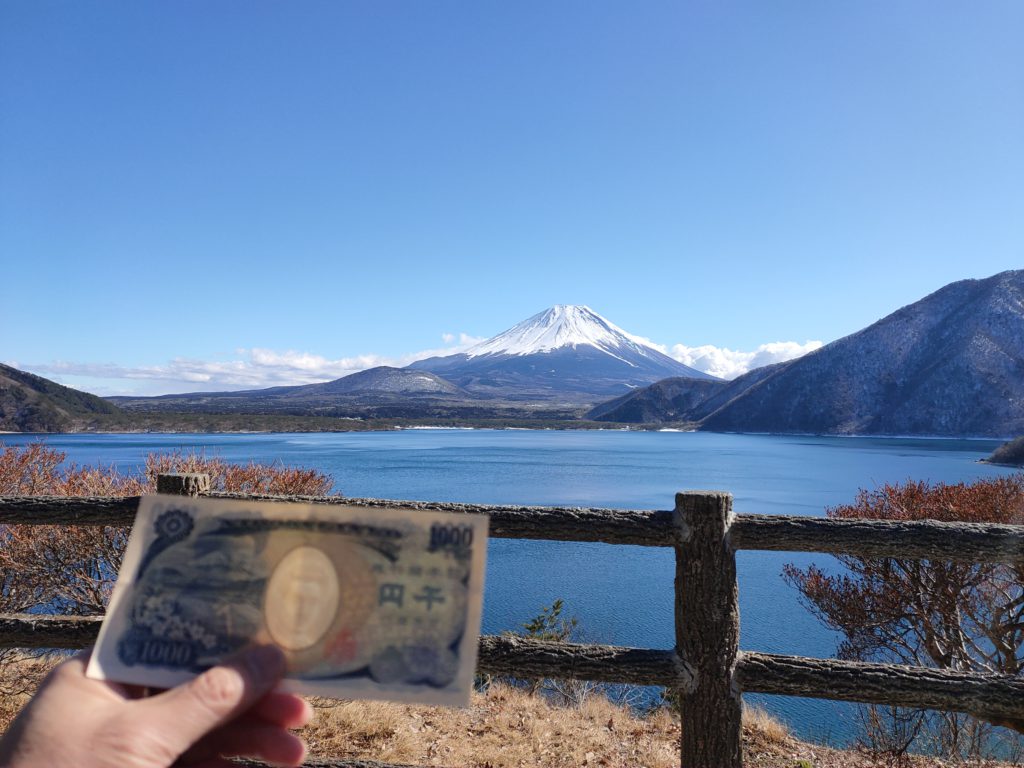 It is also the deepest out of the five lakes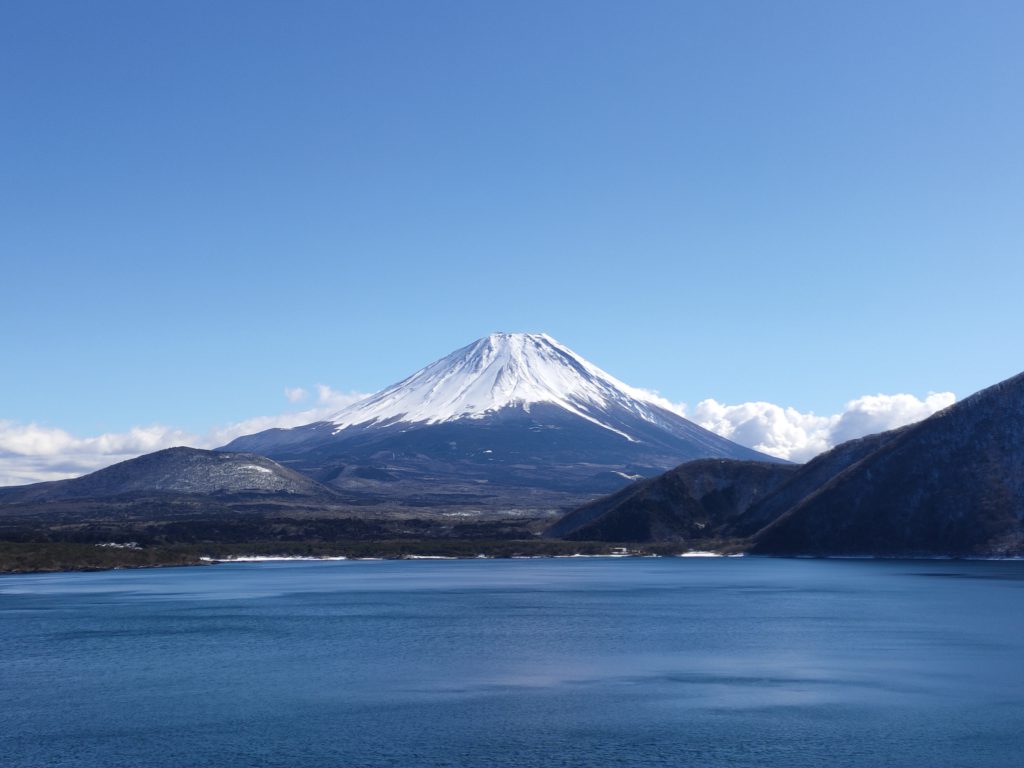 The view really is spectacular and is unique to Yamanashi.
To have a view of Mount Fuji from Shizuoka prefecture, I recommend you to go to the Lake Tanuki-ko. Here is a blog post of the place !
If you enjoy hiking or camping in the nature, the Fuji five lakes is the right place. You will enjoy beautiful scenery, changing along the day and along the season. 
♦〈Access to Fuji five Lakes〉♦
Click here to visualize on google map the way from Fuji JR station.
We recommend to go to the Lakes on your way from Tokyo to Shizuoka.
By car, approximately 1 hour 15 minutes from the Fuji JR station.
You can go to the Fuji five Lakes on your way to Shizuoka. We can include it on our taxi tour !
Please don't hesitate to contact us if you are interested ! 🙂