Shimizu Fish Market "Kashi no ichi"
(in front of JR Shimizu Station)
The market where we can buy seafoods  from local wholesalers directly
The market that we can enjoy seafood lunch, dinner
Shimizu Fish Market "Kashi no ichi" is located in front of JR Shimizu Station.
From Shimizu Port, you can reach there in 20 minutes on foot. (5-10 minutes by car)
As access is very good from both JR station and Shimizu Port, it is recommended to visit there if you come to Shimizu and you are interested in seafoods or local fish market.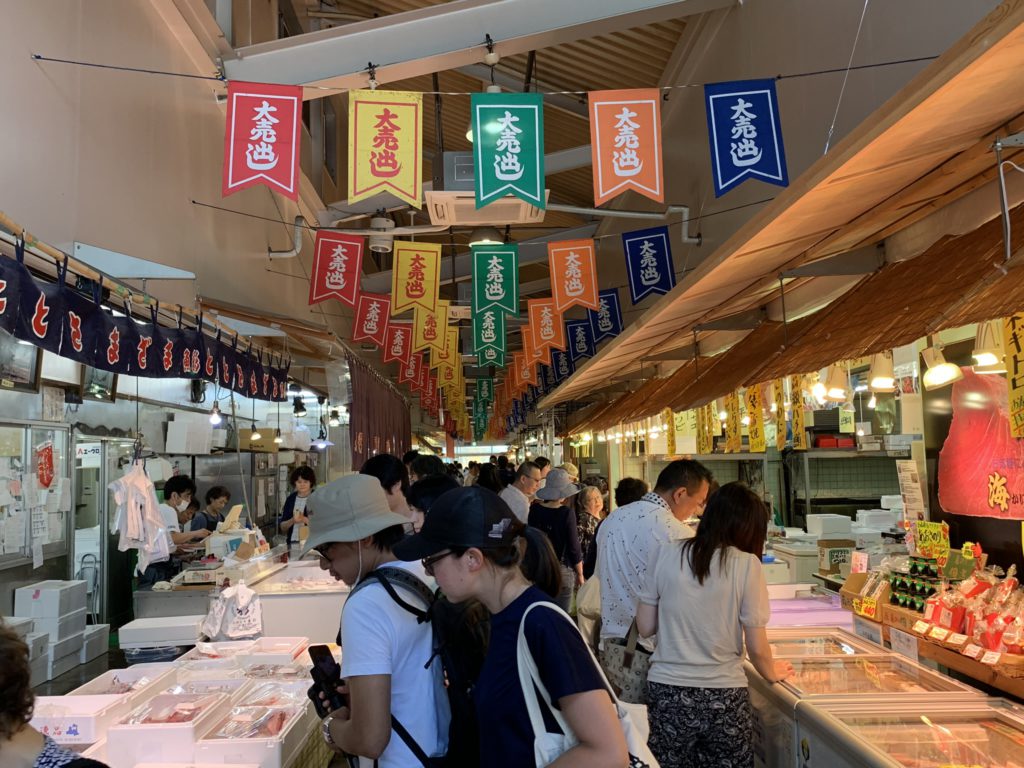 shimizu fish market
Do you know that Shimizu Port boasts Japan's biggest catch of tuna?
This is well known to Japanese, so many tourists come to Shimizu to enjoy fresh tuna and seafoods.
If you are planning to visit this market on weekend lunch time, please note there might be many visitors not only tourists but also local people around Shimizu.
At this market, 20 wholesalers are selling fresh fish, seashell, vegetables to customers directly.
Please check prices. You will be surprised because their prices are much cheaper  than you are expecting.
This fish market is consisted with 2 areas.
One is Ichiba-Kan (いちば館), Ichiba means market.
The photo above is the entrance of Ichiba-Kan.
In this area, they are mainly selling fish, seashell, vegetables, and so on.
Also there are some seafoods restaurant.
Their business hour is from 9:30 AM to 5:30 PM. Closed on Wednesdays
The other is Maguro-Kan (まぐろ館), Maguro means tuna.
In this area, there are many seafoods restaurants.
Their business hour is from 10:00 AM to 10:00 PM.
Closed on Wednesdays, but some of the restaurants are open everyday.
Inside Ichiba-kan
Large Oyster with lemon, 480 JPY! You can eat them at this shop.
Maguro-Kan (まぐろ館)
Inside Maguro-Kan (many seafoods restaurants)

The fishes on the left are raw whitebaits, the second left are cherry shrimps.
You can eat these only in Shizuoka. Cherry shrimp can be caught only in Suruga Bay, Shizuoka.
Suruga Bay is the most deepest gulf in Japan. (2,500 meter).
So various kinds of fishes can be caught.
In Shizuoka prefecture there are the highest mountain Mt.Fuji and the deepest gulf Suruga Bay.
You can get more information about this fish market from our blog post written by our staff Saki.
visit the blog post
For French speaking people, you can read our blog post about this fish market in French.
Visit the blog post written in French
To the website of Shimizu Fish Market Kashi no ichi