Hello ! Welcome to our blog 🙂
Here's Saki, from Local Travel Partners !
Are you an amateur of Ukiyoe ? If so, maybe have you come across those woodblocks prints from Ukiyoe-shi Hiroshige UTAGAWA ?
Those are famous representations of Miho Pine Grove and Mount Fuji by the well known Hiroshige UTAGAWA.
So today, I will take you to a walk in Miho no Matsubara ! The bottom part of the ukiyoe above, with all the pine trees.
The peninsula of Miho is located in Shimizu ward of Shizuoka city. It is a 7km coast line, lined with Pine groves all along. It has often been pictured in Japanese Art. Miho no Matsubara is considered one of the "3 New Views of Japan" with Onuma (in Nanae, Kameda, Hokkaido) and Yabakei (in Nakatsu, Oita). And we can understand why !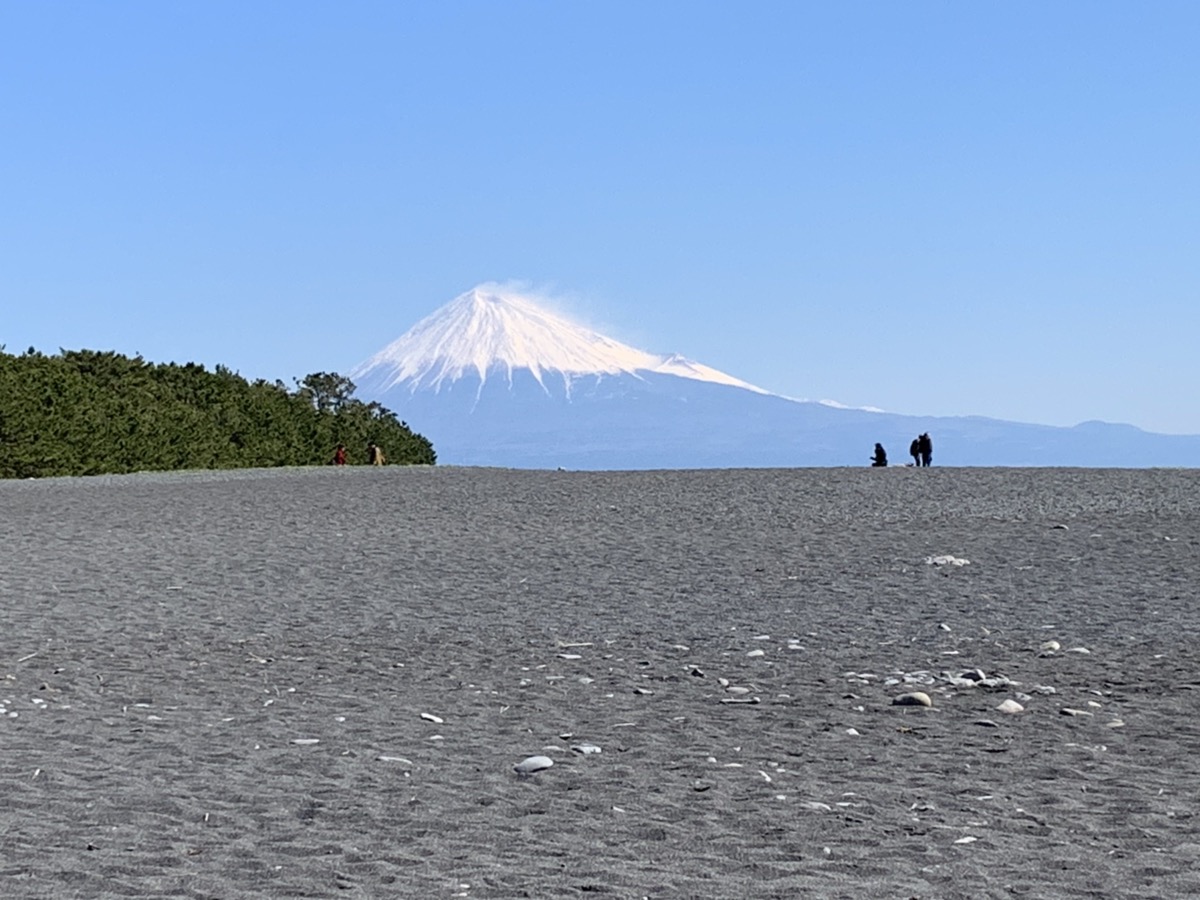 Here is a view from the sand beach, with majestic Mount Fuji and Pine trees grove at the left. Just walking on the beach barefooted with such a view, cuts by civilization thanks to the grove, is already worth the trip !
Earlier this year, in March 2019, has opened "Miho Shirube", or 『みほしるべ』in Japanese. It is Miho no Matsubara Culture and Creativity center. You can visit there just before going to the grove. 
Inside, there is a museum where you can learn more about the history of the pine grove and the effort put by locals to preserve and protect it. The admission to the center is free. 
In the ground floor, there is the 1st exhibition room, about the important place of the Pine grove in the local culture. You can download the audio guide on your smart-phone in 4 languages : Japanese, English, Korean and Chinese ; and know more about various paintings and poems inspired by this scenic place, or discover the "legend of Hagoromo" (I will come back to this legend later on 🙂 ). There is also a video theater for you to enjoy the beautiful landscape of Miho in every seasons.
When you come out the first exhibition room, you may try on the hagoromo cloak of the legend 🙂 and stop by the museum shop with souvenirs only found in there !
On the second floor, you have another exhibition about Pine groves and a library. We could look through a lens and observe the composition of pine needles or play music on a pine wood-made xylophone !
From the center either you go right and you can take a stroll down the "Kami no michi", or the "road of the God", which lead to the Miho Shrine. It is famous for bringing couples together 🙂
It is a 500 meters road. And you can rest half the way to the shrine on a bench and feel the breeze through the pine branch. You're then ready to go wish for love or harmony in your couple at the shrine !
From "Miho shirube" also, you can take left and go up the stairs to the Pine trees grove.
Actually, I've been twice in Miho no Matsubara last month. And once was during the candle night at the end of June ! It takes place once a year around this time : it was the six anniversary this year. If you're in Shizuoka during this period, you might want to see it 🙂
This event starts at 17:00 and finish at 20:30. During that time you can see the dance of Hagoromo !
There was also a Gagaku music representation, just behind the Hagoromo Pine.  From bottom up, you have the shô 笙, ryûteki 竜笛 and hichiriki 篳篥. The musicians played a song at our request and took some times to kindly explain to us the particularity of each instruments. All instruments are made from bamboo trees, but not any bamboo ! They "recycle" bamboo used in the structure of ancient house, so the wood won't rot. It was really interesting !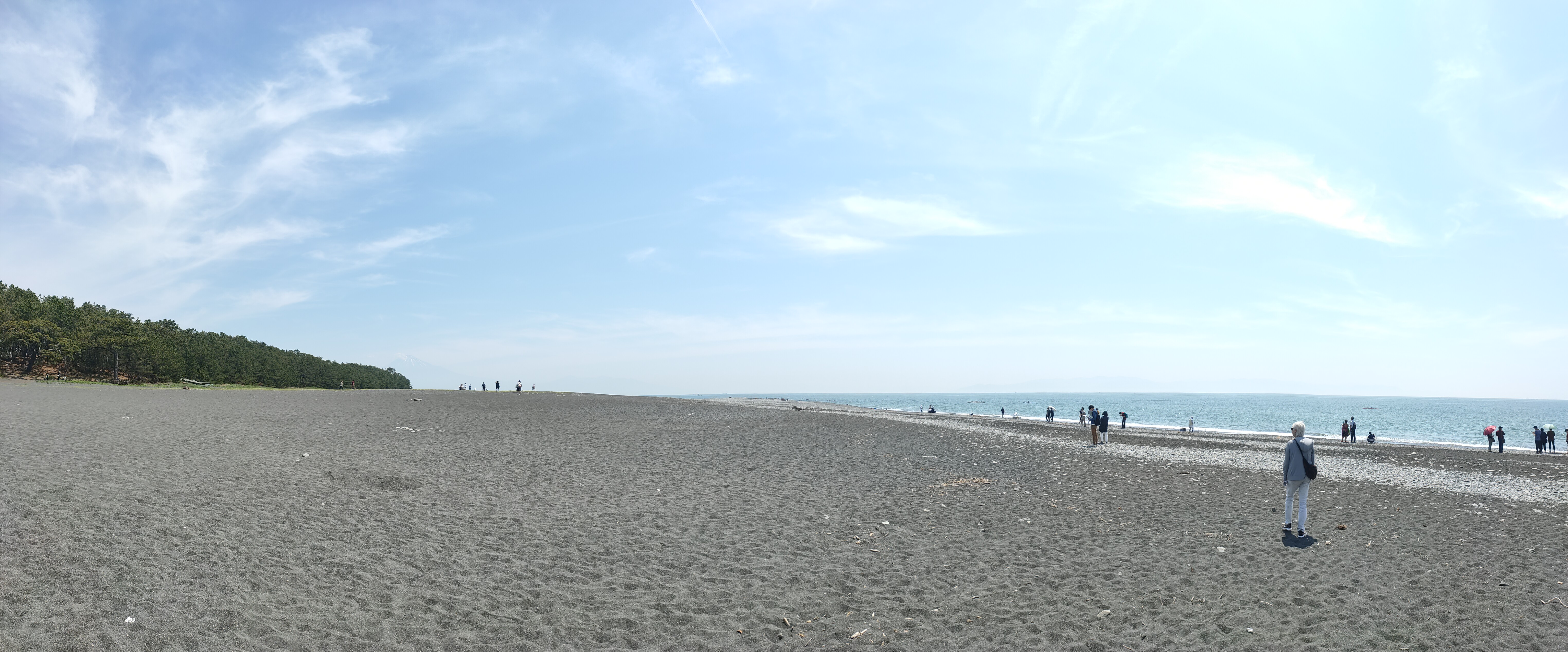 And then, go straight to the beach ! Here is the deep blue Suraga bay and if you're lucky you can see Mount Fuji ! Unfortunatly that day, it was difficult to have a good picture…It is there, but difficult to see. Can you…? Just at the end of the Pine grove !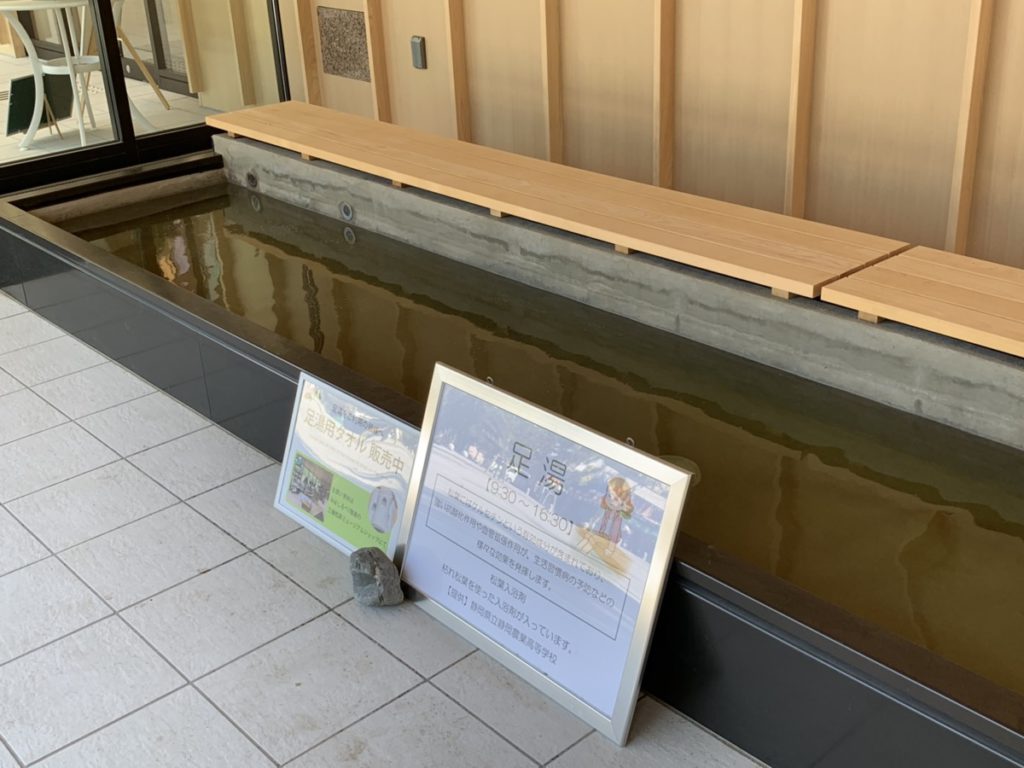 After a good walk on the 7km long beach, or inside the pine grove (your choice !) you may want to have a footbath at miho shirube center, and relax a bit 🙂 It is always welcome !
I have been talking about the "Hagoromo legend of Miho" and the dance of Hagoromo but you must be wondering what it is about !
It is the story of a fisherman and a Tennyo, or celestial maiden. One day, the fisherman Hakuryo, or White dragon, went to Miho's pine trees grove to fish. As though he felt the heavenly presence, everything looked beautiful to him. He then comes accross a splendid kimono hanging on a pine tree branch and thought of taking it home. The Tennyo appears at that moment and asks him to give the hagoromo back to her ; without it she cannot go back to the sky. Hakuryo refuses at first , but he finally accepts in exchange of a celestial dance.
That is the story, really shortened.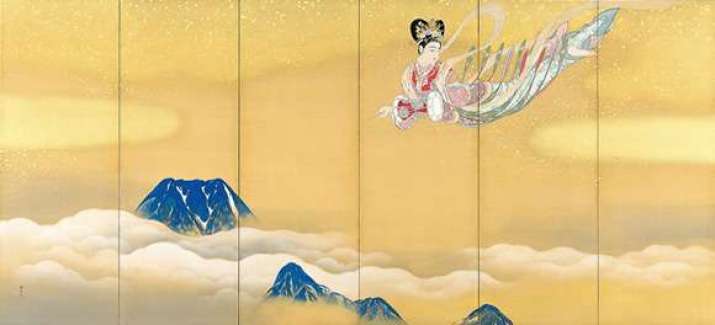 If you're interested you can find the complete story in English here : The Hagoromo Legend of Miho 😉
There is several Hagoromo legend through Japan. Hagoromo is the feather cloak worn by celestial beings in buddhism ; it permits them to fly freely in the air.
This Hagoromo legend of Miho exists as a Noh representation. Noh is a traditional classical Japanese musical drama, since ancient time. There was one lady who was deeply moved by that Noh play of Hagoromo : it is french ballet dancer Hélène Giuglaris. She performed the Hagoromo play on stage. and dreamed of visiting Miho no Matsubara one day. Her fate decided otherwise… Later, her husband came to Japan and explained her love for Miho to the local. Deeply moved, they made her a monument in the pine grove.
You can visit it as well, on your way to the beach 🙂
It was a really nice visit in Shimizu – Miho no Matsubara. My knowledge of japanese culture is growing as I visit all those places. I was moved by the effort put by the local habitants of Miho to make the place welcoming and to protect the natural heritage for the next generation.
Maybe the legend story caught you heart, as it did with Hélène ? 
I hope it made you want to visit !
♦〈Access〉♦
By Taxi in our tour, it takes around 20 minutes from Shimizu port.
By Car, about 25 to 35 minutes from Shimizu IC.
By train and bus, get off the train at Shimizu Station. A bus will take you to Miho no Matsubara Iriguchi in 25 minutes. The Miho Shrine is at 5 minutes walk from the bus stop.
You can visit Miho Pine trees grove in different tours we propose on our website !
You can directly click here to jump in each tour :
ο the first one is a chartered taxi tour in which you can visit 3 popular sightseeing spots in Shizuoka (3.5hours) : Miho Pine Tree Grove, Nihondaira plateau, (by Nihondaira ropeway), Kunozan Toshogu Shrine,  
ο and the second one is also a chartered taxi tour in which you can visit 2 popular spots in Shizuoka ! (2.5 hours) : you may choose from 2 courses ! 
Please contact us if you are interested ! 🙂