Hello everyone 🙂
Here is Saki, from your Local Travel Partners agency.
While traveling through Japan, you may want to discover Japanese traditional craft work. Shizuoka prefecture has been for a long time rich in local craft.
It is said that the roots of many traditional crafts in Shizuoka stem from the construction of the Sengen Shrine in Sumpu (now Shizuoka City) by the third shogun Iemitsu TOKUGAWA in 1634 during the Edo period. The best artisans such as carpenters, plasterers, painters, lacquers, and carvers were gathered from all over the country. When the Shrine was completed, these people stayed in this area blessed with a mild climate, and began making art craft out of their abilities. To this day, these crafts are enriching Japanese people lives, while inheriting the beauty and skills of tradition.
Some famous crafts from Shizuoka are bamboo craft, the making of Hina doll or Suruga japanese dyeing as below. Isn't it beautiful ?
Let me introduce you a place in Shizuoka city where we can discover and experience those traditional crafts : the Sumpu Takumi Shuku 駿府匠宿. "Takumi" 匠 means "skilled artisan" and "shuku" 宿 means "inn".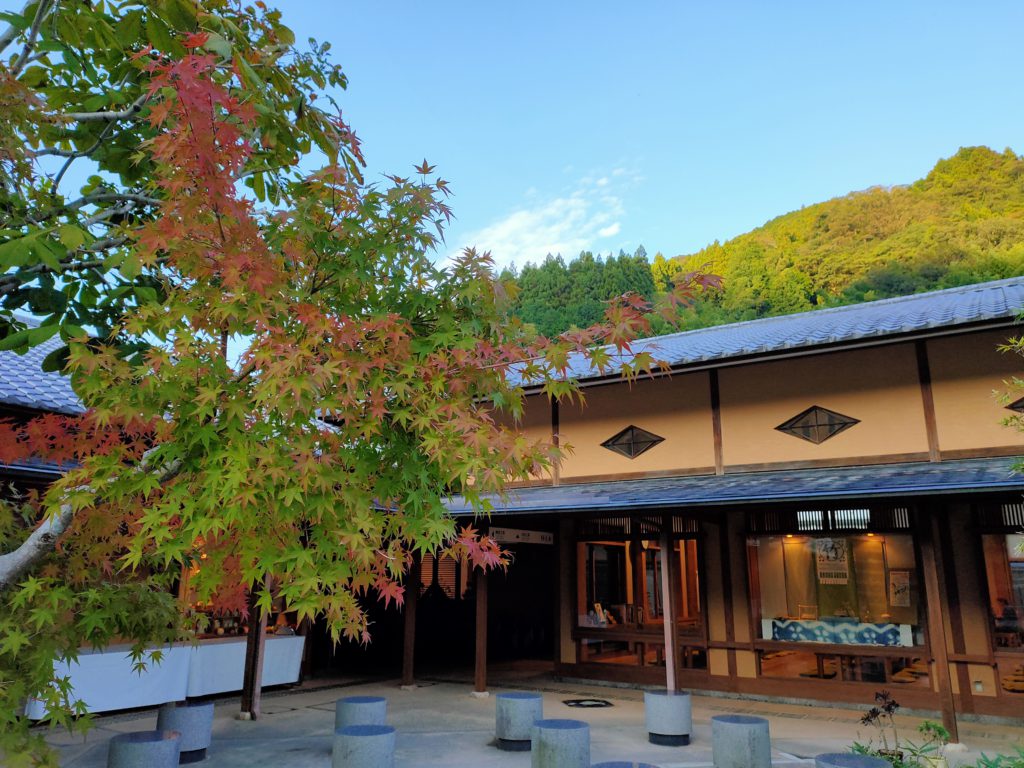 The Sumpu Takumi shuku is a cultural experience workshop facility in Shizuoka.
At the "Sumpu Craft Hall", you can learn about the history of traditional craft work and there are exhibitions of highly skilled artisans.
You can see closely the Hina dolls. Hina dolls are often seen at the beginning of March. Family with daughter bring them out for Hina matsuri or girl's festival on the 3rd of March where people pray for the happiness and healthy growth of girls.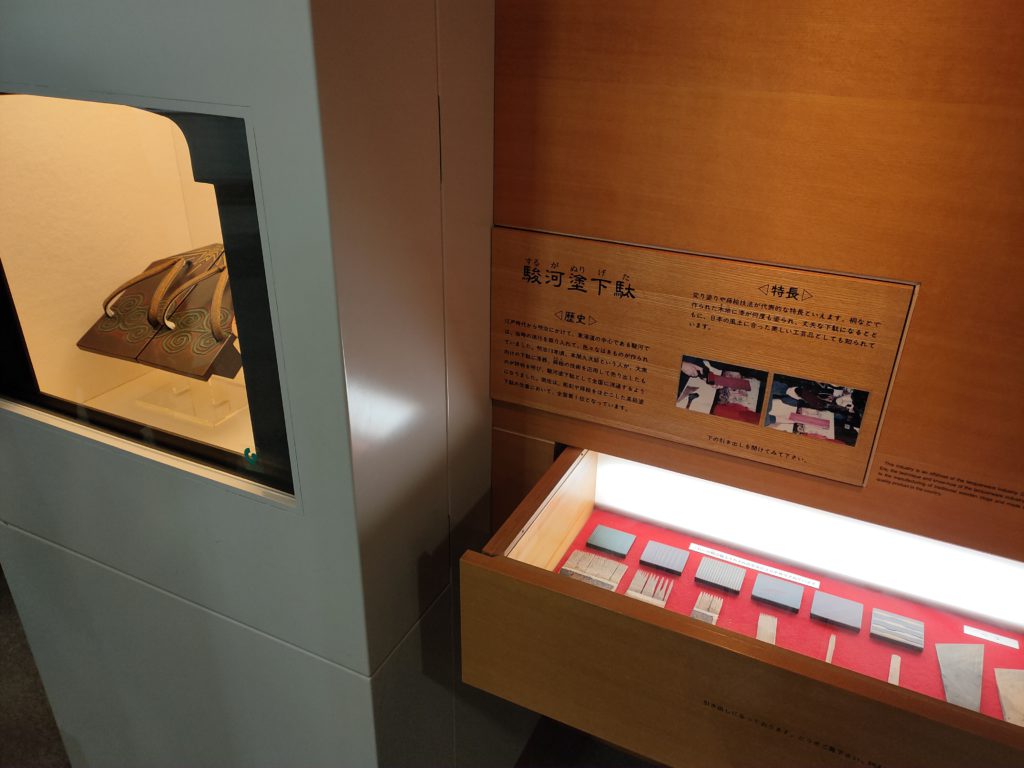 You can also find these little surprise boxes and drawers where traditional crafts are displayed. Here is explained the lacquer work on wooden clogs.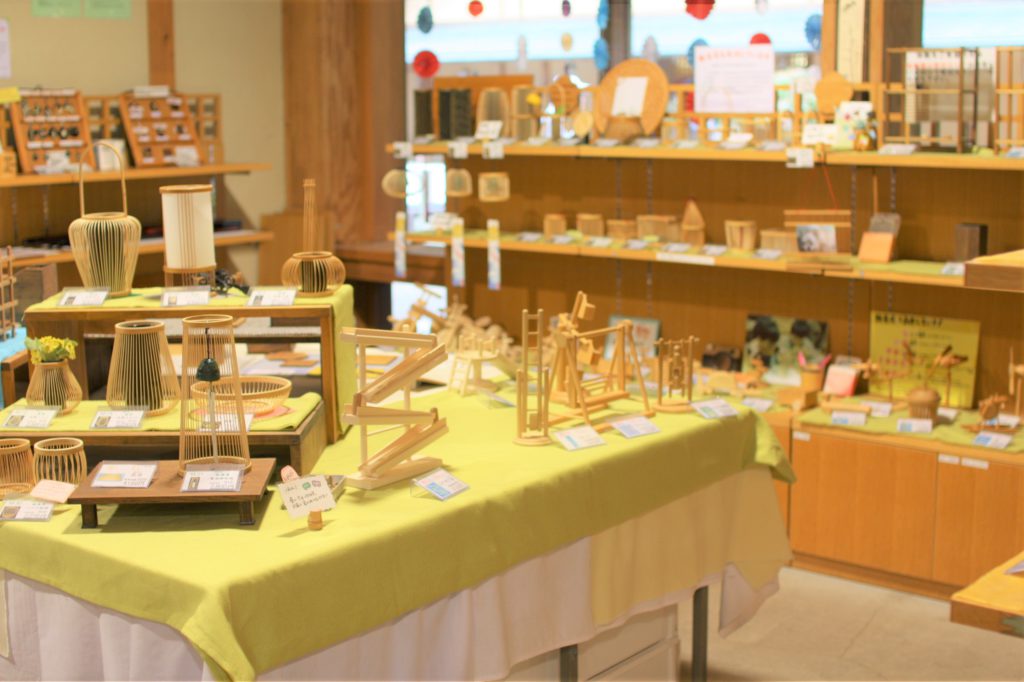 The highlight of your tour is that you can experience making crafts by yourselves at the handcraft workshop. You can choose various kit, from bamboo lattice work to lacquer ware or tie-dyeing !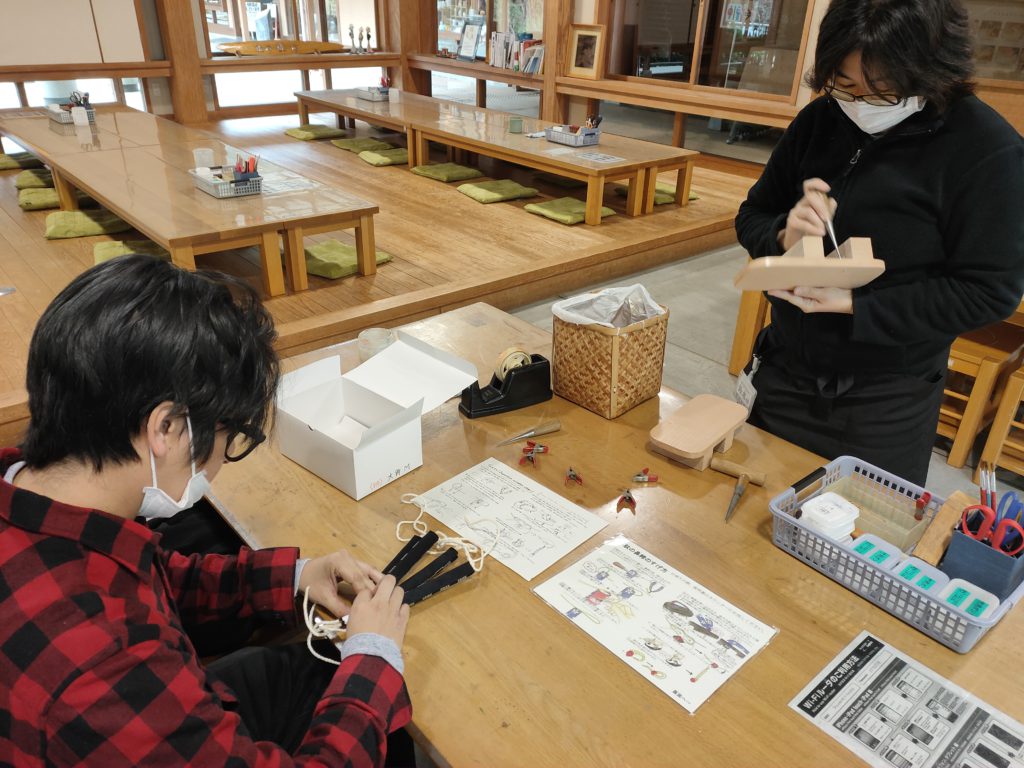 We experienced the making of "geta" or japanese wooden sandals.
A staff has accompanied us step by step…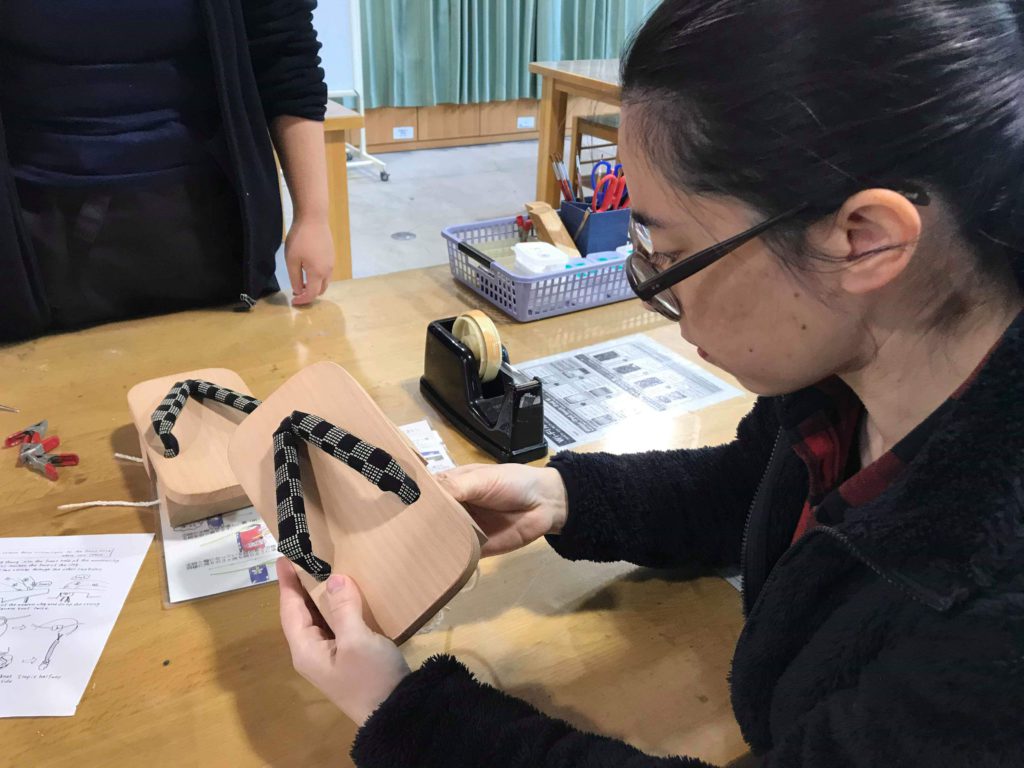 Till the end ! Even personally adjust the geta to our feet !
Surrounded by the mountain, you can also just visit the several buildings and talk with the specialist, or look at the exposed craft work.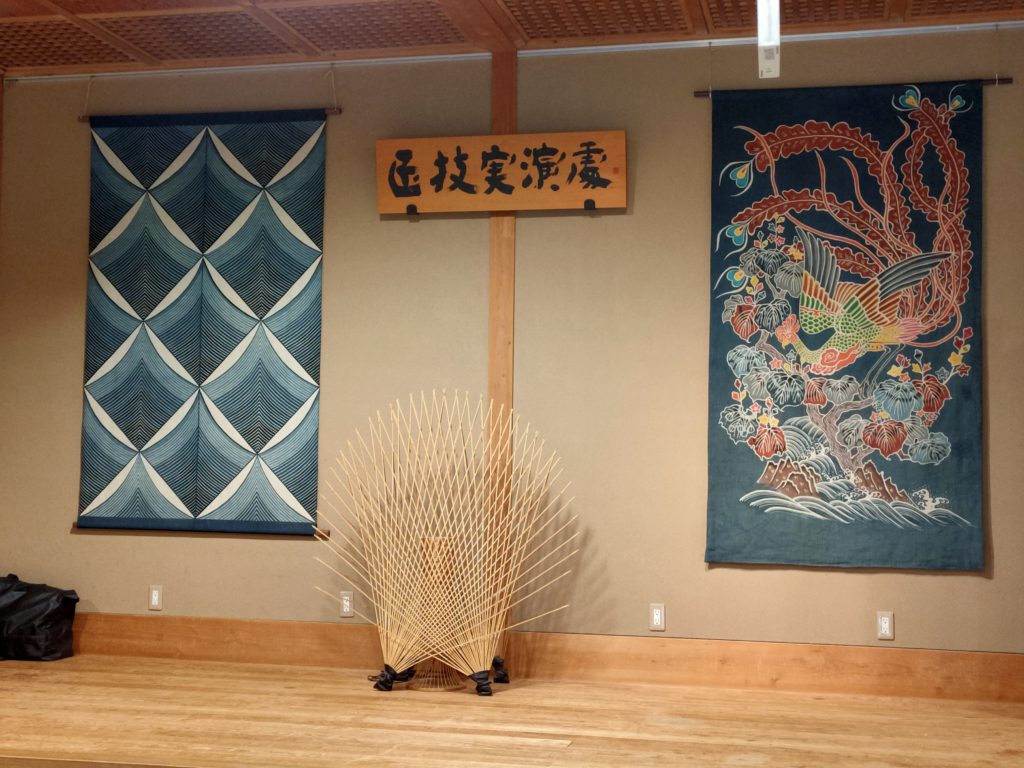 Take a break and discover Shizuoka specialties craft works. Have a nice time making them ! Located in a remote place in Mariko town mountains, there is several temple around to visit as well 🙂
♦〈Access to Sumpu Takumi Shuku〉♦
Click here to visualize on google map the way from the Shizuoka JR station.
By car, approximately 15 minutes from the Shizuoka inter-change once you the Tomei expressway.
By bus, approximately 30 minutes from the JR Shizuoka Station North exit on the "Chubu Kokudo line" to "Togeppo Sumpu Takumi shuku Iriguchi".
You can go to the Sumpu Takumi Shuku during your stay in Shizuoka. We can include it on our bike tour or on our taxi tour as well ! In the neighborhood, there is the famous tororojiru restaurant Chojiya ! Click here to see more about Chojiya as well 🙂
Please don't hesitate to contact us if you are interested ! 🙂