Welcome to Our Shizuoka !!
Hello,
We are Mahiro and Sayaka, internship students at Local Travel Partners.
We are studying English and Tourism at Tokoha University in Shizuoka City.
Thank you for visiting our blog!
Today, we would like to introduce Fuji City in Shizuoka Prefecture and our recommended shops.
The contents are as follows.
We hope you enjoy our blog post with our photos.
Contents

About Fuji City
Omelette rice
Japanese Green Tea
Cherry blossoms & Mt.Fuji
Shaved Ice
Fuji City is blessed with a rich nature.
The feature of Fuji City is that it offers a lot of greenery and a panoramic view of Mt. Fuji

There are many green tea farms where you can enjoy tea picking .
Moreover you can make your own tea with freshly picked tea.
It is a valuable experience to taste Japanese tea that you picked, isn't it?
Moreover, you will discover many cafes and shops loved by the locals.

< Omelette rice >
 First of all, omelette rice is a Japanese dish that is typically a combination of omelette and rice.
It is one of the most popular egg dishes in Japan.
It is said that omelette rice originated around the turn of the 20th century at a western style restaurant in Japan.
 It is popular among many people in home cooking.
*[FLOWERS]
This café is very popular among locals for their Omelette rice.
We love this café and highly recommend it !
If you do not prefer omelette rice, they have other menus.
For example, salad lunch and pasta… and so on.
Soup, salad and drink are included in the price as a set.
Also, homemade sweets are delicious and highly recommended.
Of course, you can enjoy coffee or tea on its own without having to order meals.
This is a salad lunch.

(By adding 60 JPY, you can select garlic bucket instead of normal bucket.)
FLOWERS↓ (access)
*10-minute walk from JR Fuji Station.
There is a parking area at the library in front of this café.
< Green Tea >
[SANO SEICHA-JYO]
If you have the chance to come to Shizuoka, why don't you try a tea experience?
The experience here is amazing.
When you hear about Japanese Green Tea, what do you imagine?
Actually, Shizuoka is famous with the highest production of green tea in Japan.
We recommend a place where you can overlook the tea plantation.
Recently, Matcha has become popular in the world.
There are many kinds of tea.                       
Typical examples are … (in English)
Sencha(Middle-grade green tea)
Gyokuro (Refined green tea
Genmaicha (Brown rice tea)      
Hojicha (Roasted green tea)
Matcha (Powdered green tea)

In Fuji City, there is a place where you can experience tea as below.
Since we learned about it, let us make a simple introduction of how to make tea based on that photo.
~How to make a tea~

*Genmai-Cha (Brown rice tea)
① roast brown rice until it has acquired a nice roasting aroma
② put brown rice into a pot with tea leaves
③ pour hot water into a pot and wait for a while
④ when the color of the hot water is to your satisfaction, pour it into tea cup
*Matcha (Powdered green tea)
① put a small amount of tea powder into the tea bowl, using a bamboo spoon
② pour hot water on it
③ mix it until completely blended, using a bamboo whisk
"chasen"=a bamboo whisk
*handle with care!!!
Made with delicately cut bamboo,
the tip breaks easily
 Be gentle when you handle it.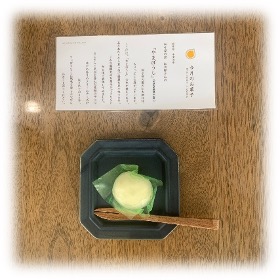 This is a Japanese sweet, not just a sweet. It is made to match the tea.
*If you order tea at this shop, it comes as a set.
< Cherry blossoms & Mt.Fuji >

[IWAMOTOYAMA PARK]


Japanese cherry blossoms are cultivated for ornamental use.
Many Japanese people feel the coming of spring when they see cherry blossoms.
Cherry blossoms symbolize the ephemeral nature of life due to the way it blossoms spectacularly but only for a short while.
This is a large park, where cherry blossoms are in full bloom.
And also you can see Mt.Fuji together with the blossoms.
Not only in spring, but also in fall, you can enjoy beautiful views there.
We can enjoy full color-changing of autumn leaves in the park,
It is so beautiful.
So people come to the park every season.
You can enjoy the majestic view of the Mt.Fuji from the observatory in this park.
Don't miss it.
< Shaved Ice >
[MUJYODO]

This is a Japanese summer dessert made of shaved ice, served topped with various syrups.
Sometimes you can serve it with assorted toppings, fruits and so on.
Variety of syrup flavors include strawberry, melon, lemon, sweet plum, mango, orange, condensed milk and so on.
Especially, " Uji-kintoki " is one of the most popular shaved ice among foreign people.
This is Syrup prepared by adding sugar and water to green powdered tea to give an Uji-Cha flavor (famous as refined tea).
It is whisked using a "chasen" (=a bamboo tea whisk), and poured onto shaved ice and kintoki, another name for red beans, as a topping.
Uji is the name of a town in Kyoto which is famous for top quality green tea production.
Kintoki is a byname of red sweet beans.
Uji-kintoki is shaved ice with sweetened green tea syrup and assorted sweet red beans called Azuki.
If you are interested in Japanese traditional culture and nature, we recommend you to visit Mujyodo.
You can enjoy Uji-Kintoki shaved ice while viewing Mt.Fuji at the café in a traditional Japanese atmosphere.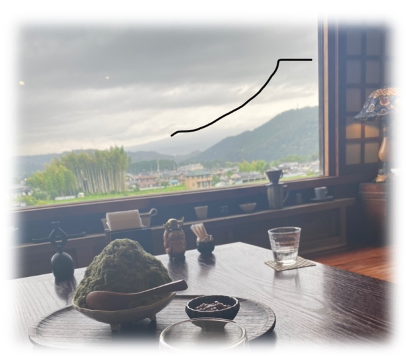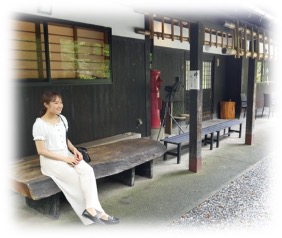 Thank you for reading our post so far!!!
From here if you are interested…
Check it.
< Omelette >
http://flowers.sunnyday.jp
< Green tea >
https://www.seichajyo.com/
< Cherry blossoms & Mt.Fuji >
http://shizuoka-guide.com/english/detail/page/detail/3669

< Shaved Ice >
http://kubotanoen.jp/index.html

Thank you ♡
Have a nice trip!!!