Hello,
Thank you for visiting our blog!
We are internship students at Local Travel Partners.
(From left to right, Risa, Nao, Sana, Miyabi)
We are studying English and media at Tokoha University in Shizuoka City.
Our role as internship students is to visit spots in Shizuoka and write down blog posts in English to introduce Shizuoka.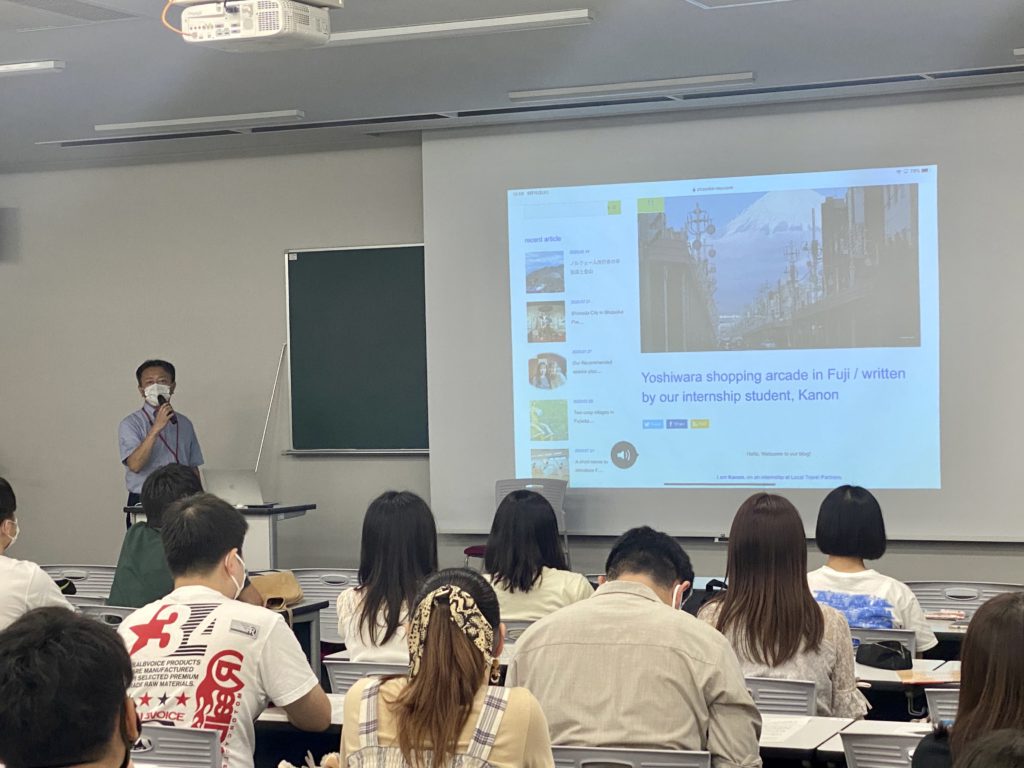 A class to learn how to write blog posts / summer 2020
We would like to take you to a trip to Mochimune in Shizuoka City in this post.
Have you ever heard about Mochimune?
Mochimune is one of the smallest port towns in Shizuoka Prefecture.
It is known by local people for its beautiful ocean and nature.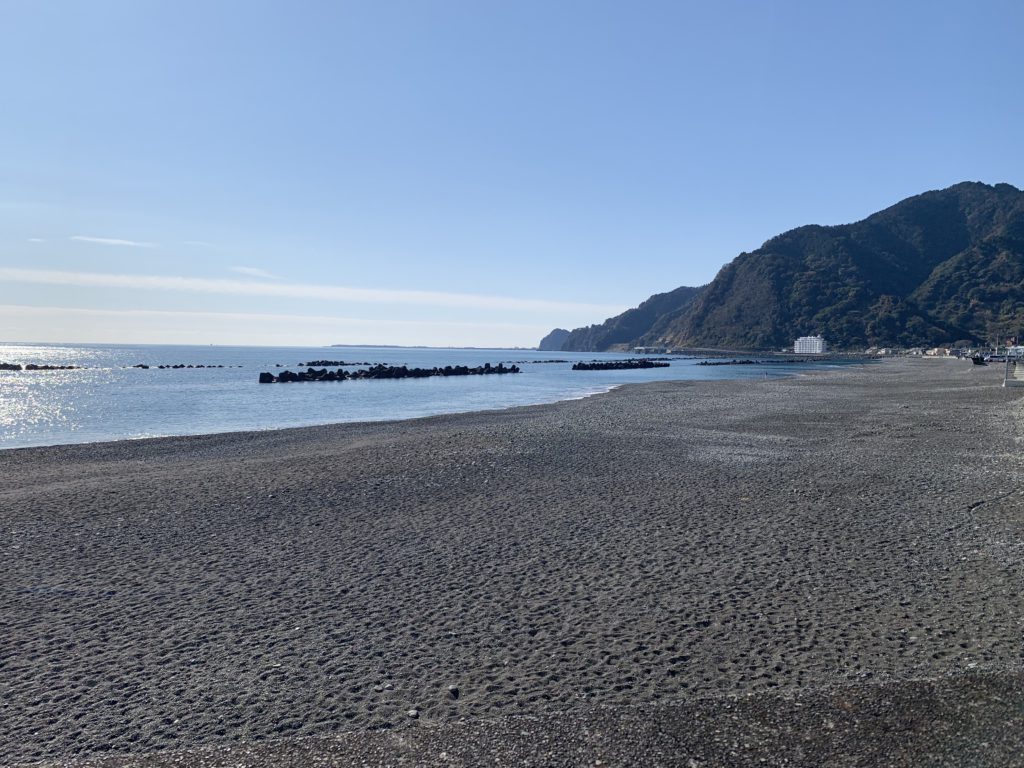 The access is easy.
It takes only 7 minutes by JR train from the JR Shizuoka Station.
If you come from JR Tokyo Station, you can reach Mochimune in 80 minutes by bullet train and Tokaido Line.
The places we visited are as follows
(1) Hirono Seaside Park
(2) Mochimune Minato Onsen (hot spring)
(3) Minato Yokocho Alley
(4) La Palette (Gelato Shop)
(5) Daishin (Tokoroten Shop)
(6) Mochifune-Jo Castle Ruins
(7) Mochimune Beach
In this post, we would like to introduce you from (1) to (3).
(To be continued to our next post)
(4) to (7), Click here
(1) Hirono Seaside Park
These photos were taken by us in Hirono Seaside Park.
Access: 20 minutes walk from the JR Mochimune Station.
This park is popular especially among families.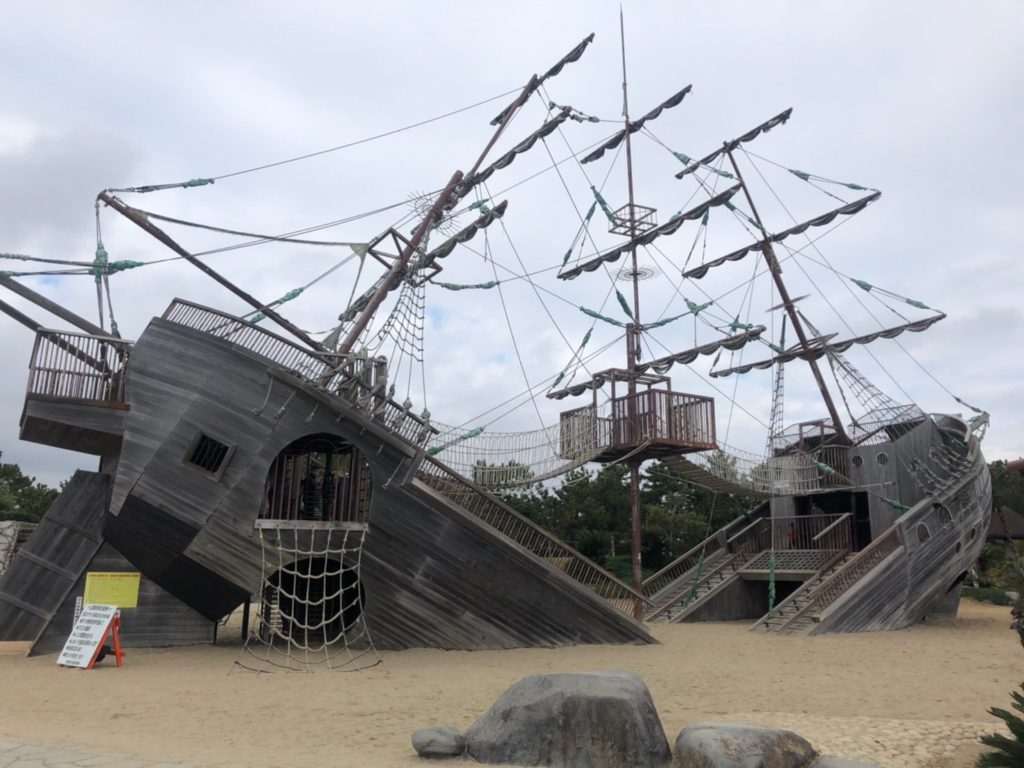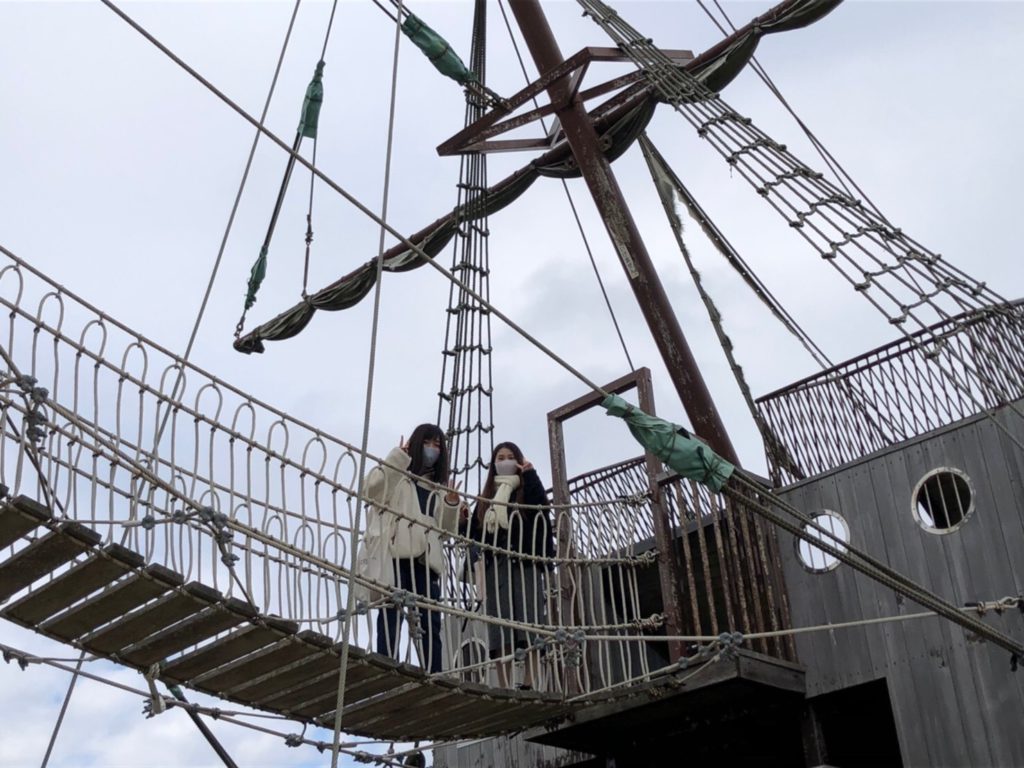 As you can see, there is a big  pirate ship where children can play.
From an observation mountain, you can enjoy great scenery of Suruga Bay.
If the weather condition is good, you might be able to view Mt.Fuji.
As ground around there is flat, it is a perfect place for strolling lovers or jogging lovers!
(2) Mochimune Minato Onsen (Hot spring)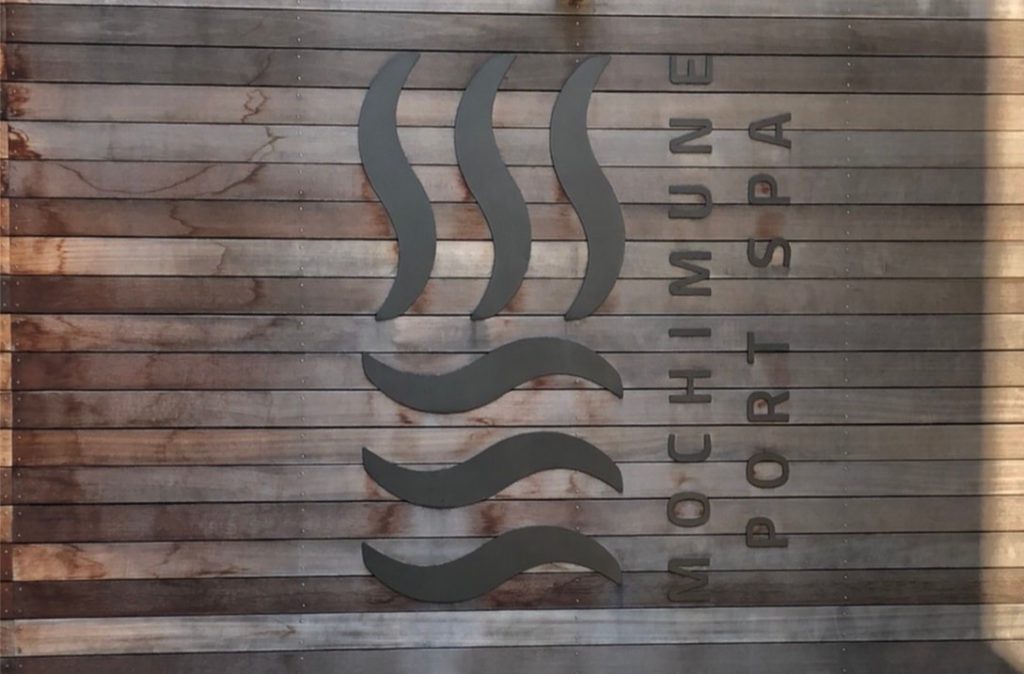 Mochimune Minato (=port) Onsen is one of the popular spots in Mochimune.
Location : Next to the Mochimune fishing port
Access: 10 minutes walk from the JR Mochimune Station
The open air bath and natural hot spring will make you relaxed and help you to recover from your daily life stress.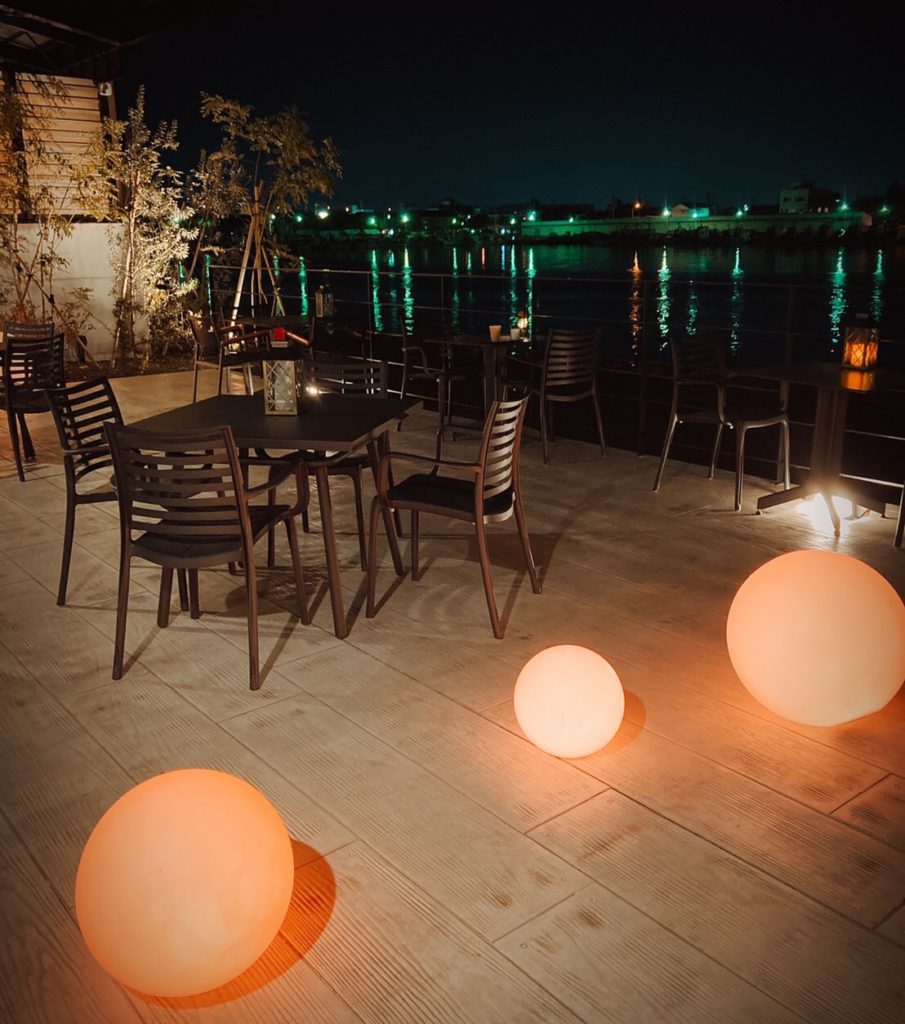 There is a restaurant with terrace, a craft beer bar and a souvenir shop in this facility.
If you are hungry after enjoying the hot springs, we recommend you to having dinner at the terrace. 
Minato Onsen is a nice place to spend relaxing time.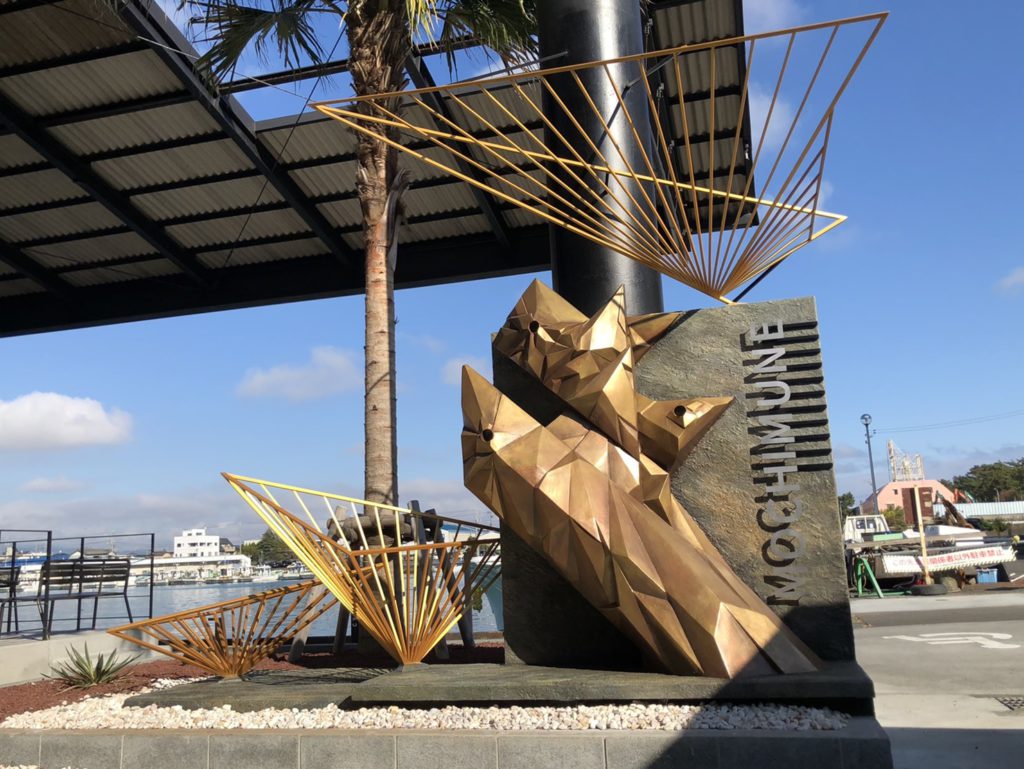 Moreover,  you will find a monument before entering this facility.
An interior designer from Sri Lanka created this monument in 2020.
He came to Shizuoka to meet his wife who was working in Mochimune and  was supposed  to go back to  his home country after the meeting.
But because of the covid-19 pandemic, he could not… 
However,  he got an opportunity to create this monument.
The name of the monument is "The Amible Fish"
The theme of this monument is fish and a sail.
Now it is becoming a symbol of Mochimune.
(3) Minato Yokocho (=Alley)
Location: Very close to the Mochimune fishing port
Access: 12 minutes walk from the JR Mochimune Station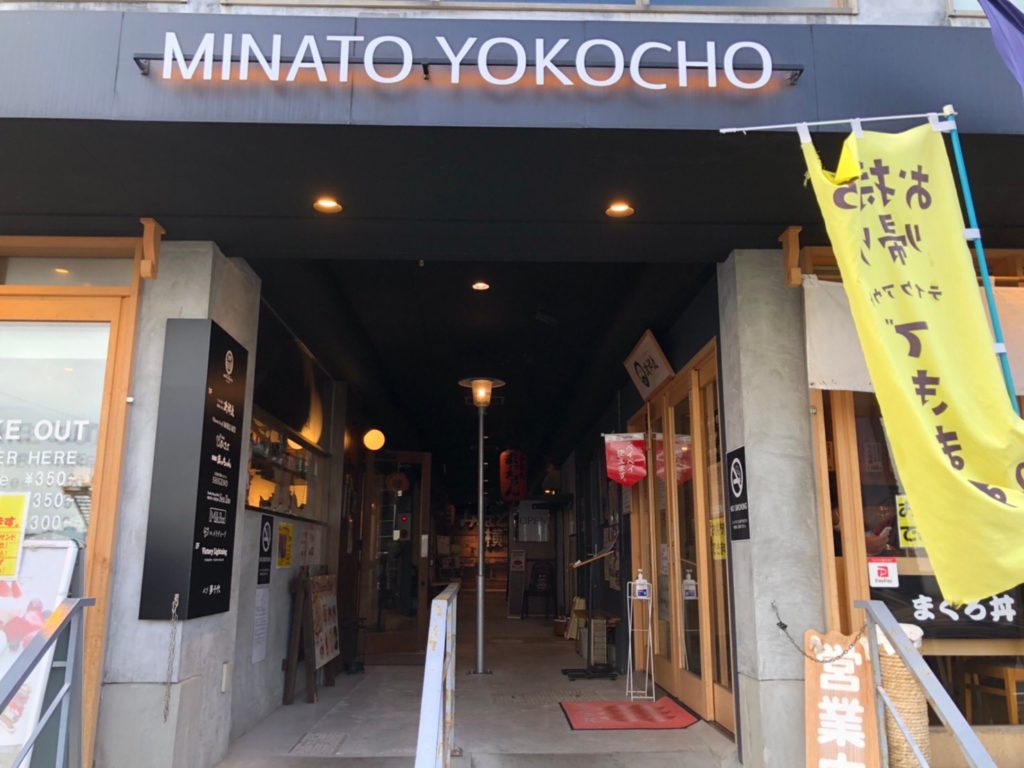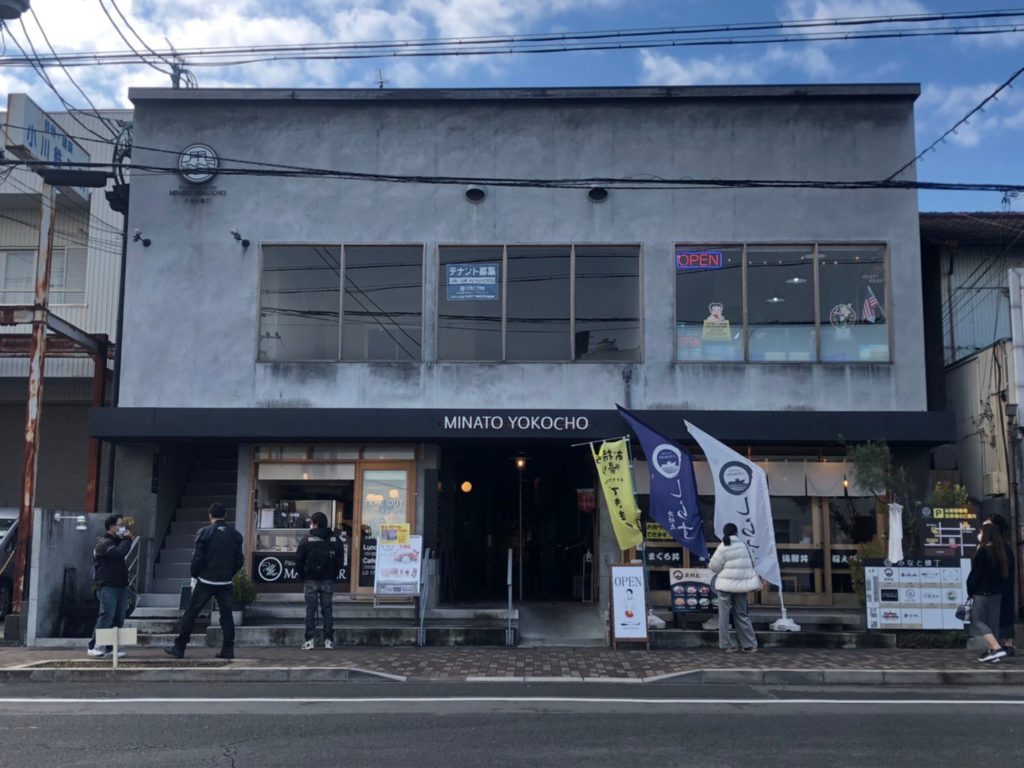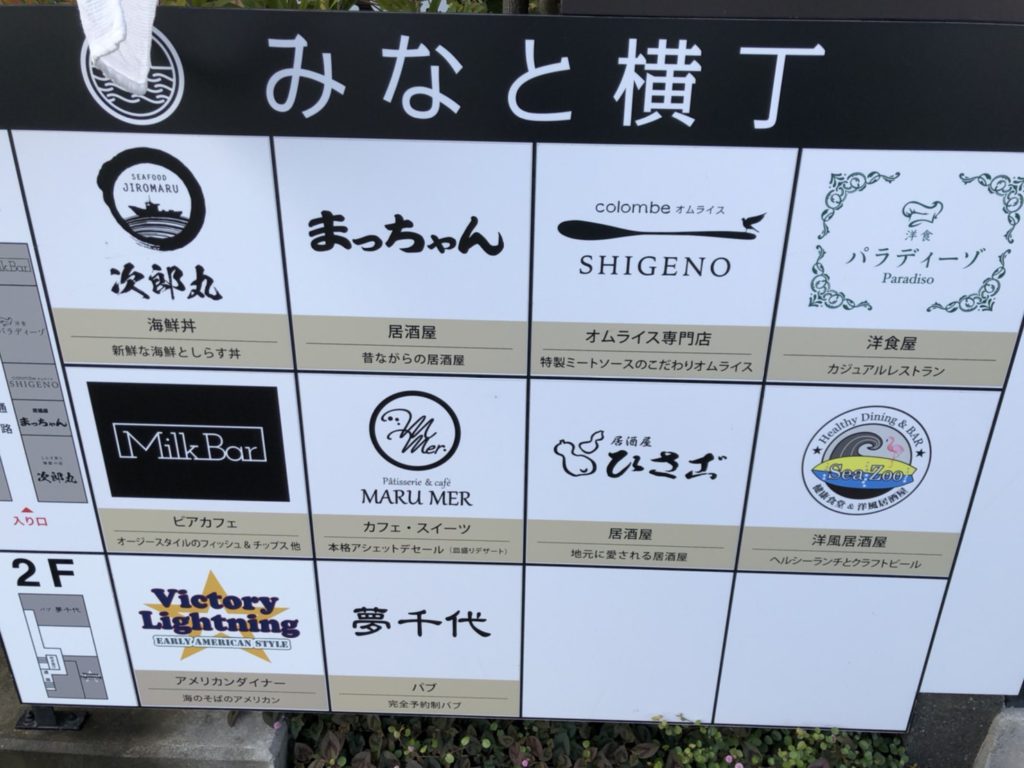 restaurants in this alley
Originally (about 40 years ago), this place was called "Seaside Minato Yokocho".
It looked very old fashioned as you can see from the photo below.
It was like a ruin, and no one went there for a long time.(Please look at the old photo below.)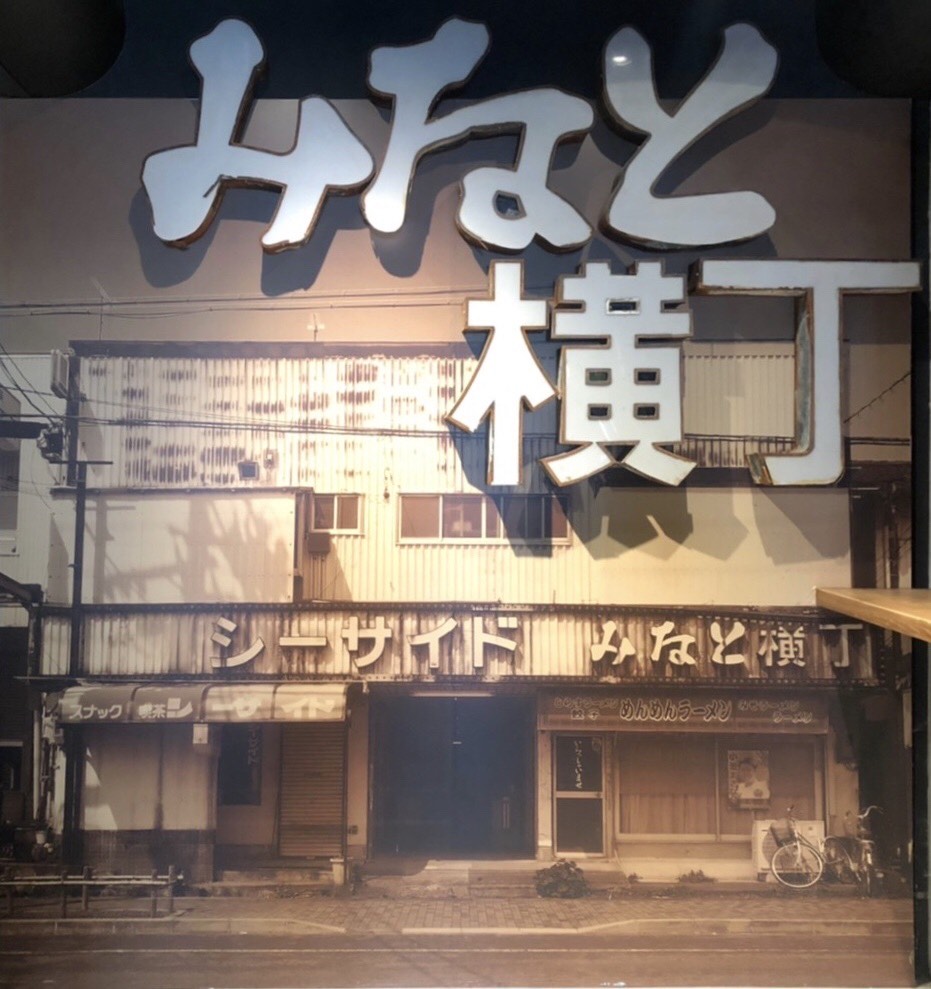 In 2018, this area turned into new place called "Minato Yokocho".
There are some small restaurants in this area.
Therefore, we can spend a special time with wonderful meals.
Now this place is becoming very popular.
At this time, we visited two restaurants for lunch and dinner.
We enjoyed seafood rice bowl at "Jiromaru" on the ground floor for lunch.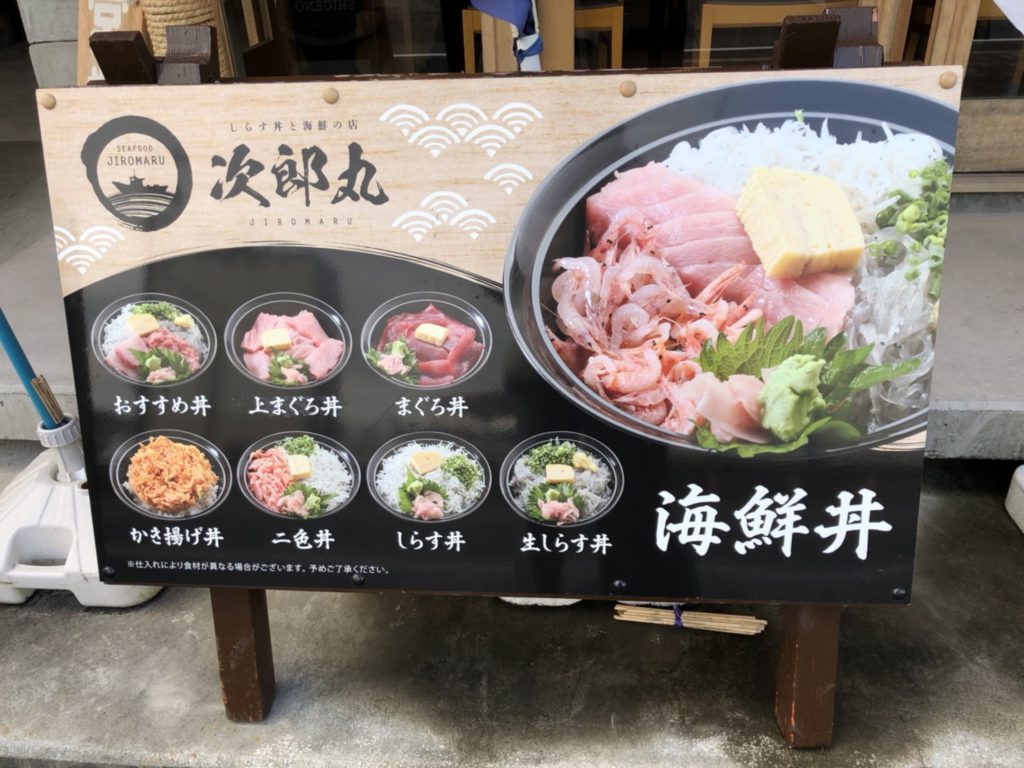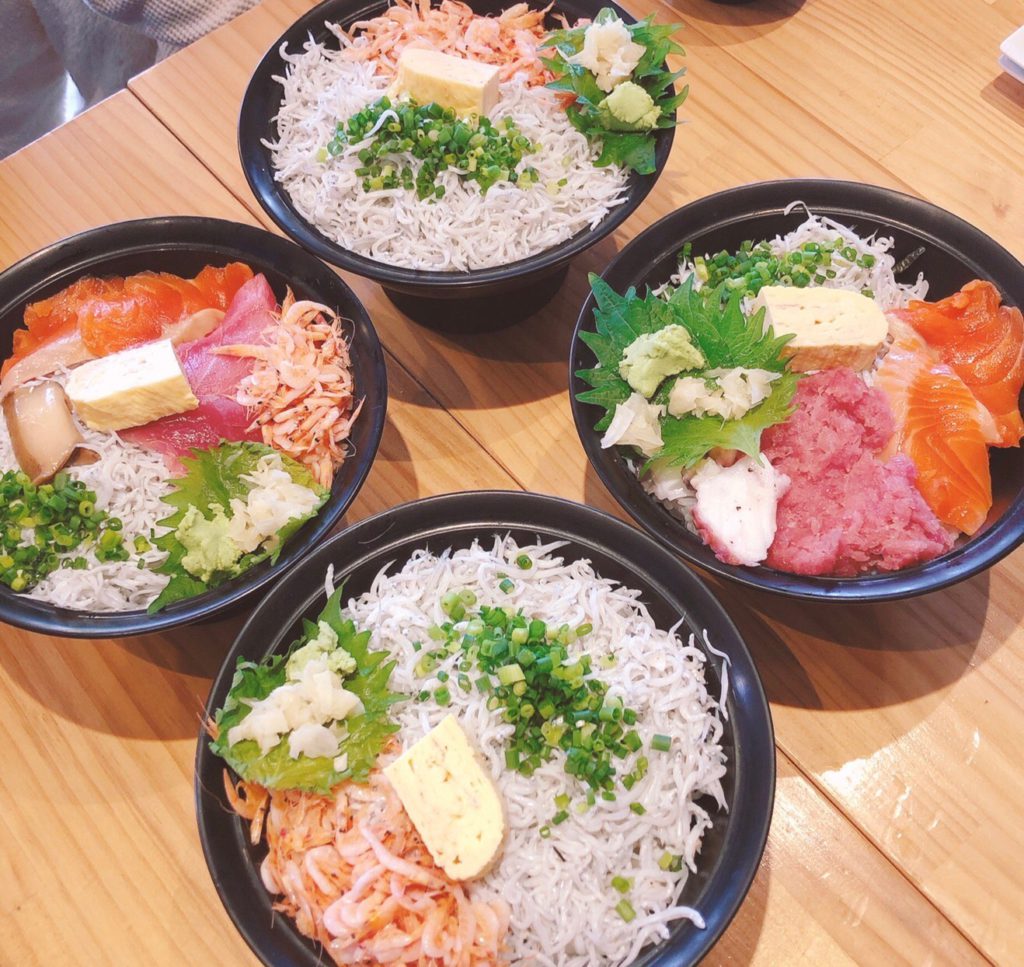 By the way, have you heard of shirasu (sardine whitebait)?
(The white small fish on the ricebowl / boiled)
Mochimune is famous for whitebait.
Shizuoka Prefecture is known as a rare prefecture where people can enjoy raw whitebait.
It is because whitebait is mainly caught in Suruga Bay, Shizuoka prefecture.
At this restaurant, you can enjoy a variety of seafood rice bowls each seasons.
If you are lucky, you can eat seafood ricebowl with fresh (raw) whitebait.
Unfortunately we could not eat it because of poor catch of whitebait these days.
You can eat it on the days when whitebait ships catch enough whitebait.
Why don't you try it?
At this restaurant, we can enjoy not only seafood rice bowls but also beautiful scenery.
From this restaurant, you are able to see the beautiful port while eating or chatting.
For dinner, we had hamburger steak at "Paradiso" on the ground floor.
This restaurant is a "western style" restaurant.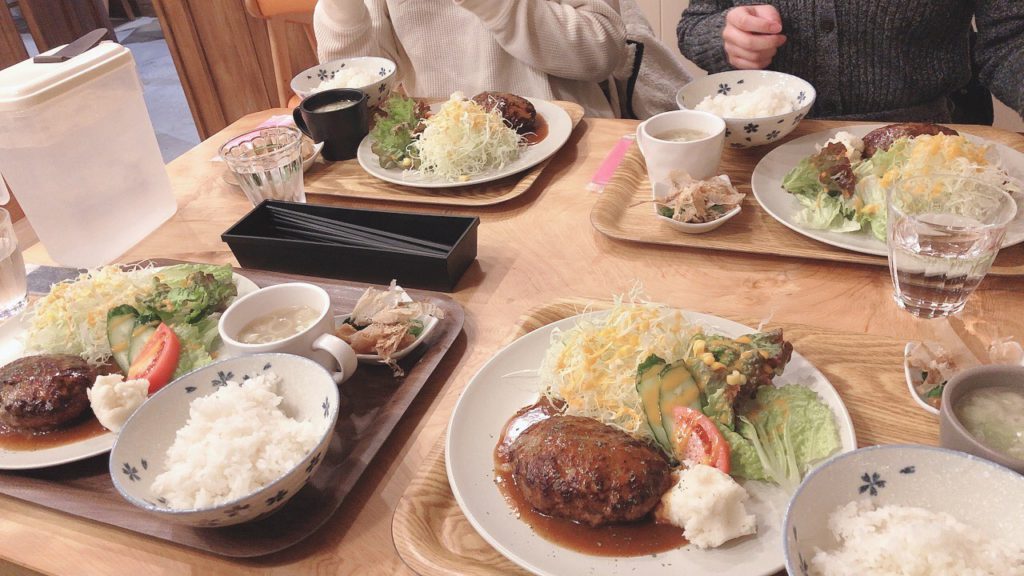 In this alley, we enjoyed both western meal and Japanese meal.
Therefore , everyone has a great chance to enjoy many types of foods.
Enjoy Minato Yokocho!
Thank you!
See you soon.
More information about Mochimune
Excite Mochimune
Visit the website of Mochimune Minato Onsen