Hello ! Welcome to our blog 🙂
Here's Saki, from Local Travel Partners !
Last post about our stroll in Fujinomiya city ! Aready… Last but not least !
After Lake Tanuki and Shiraito waterfalls, we've been to Fuji-san Hongu Sengen Shrine, or 富士山本宮浅間大社 in Japanese. (Please don't hesitate to click on the link for the previous post of this journey !)
Going through Fujinomiya city we arrived at the Fuji-san Hongu Sengen Shrine. 
Sengen Shrines are Shinto shrines dedicated to Asama no Oo-kami – 浅間大神, who manifest as Princess Konohana-sakuyahime no Mikoto – 木花之佐久夜毘売命, the Shinto deity of Mount Fuji. Fuji-san Hongu Sengen Shrine is the head shrine of more than 1300 Asamas or Sengen shrines across Japan. The entire top of Mount Fuji from the 8th stage upwards is considered to be part of the shrine grounds as well, it was given to the shrine by Ieyasu TOKUGAWA
The Mount Fuji is revered as a sacred mountain. This shrine was build to appease the Kami of the mountain in a period of intense volcanic activity, more than a thousand year ago. Since, it has been is a traditional starting point before climbing Mount Fuji. 
Here is the main alley that brought us to the shrine, with its Torii. Torii are always at the entrance of a shrine. If you come across one of them, this door-like gate is a distinct sign that you are approaching a shinto shrine or deity. This special one is made of stone, but you may seen some made of wood and painted in orange and black.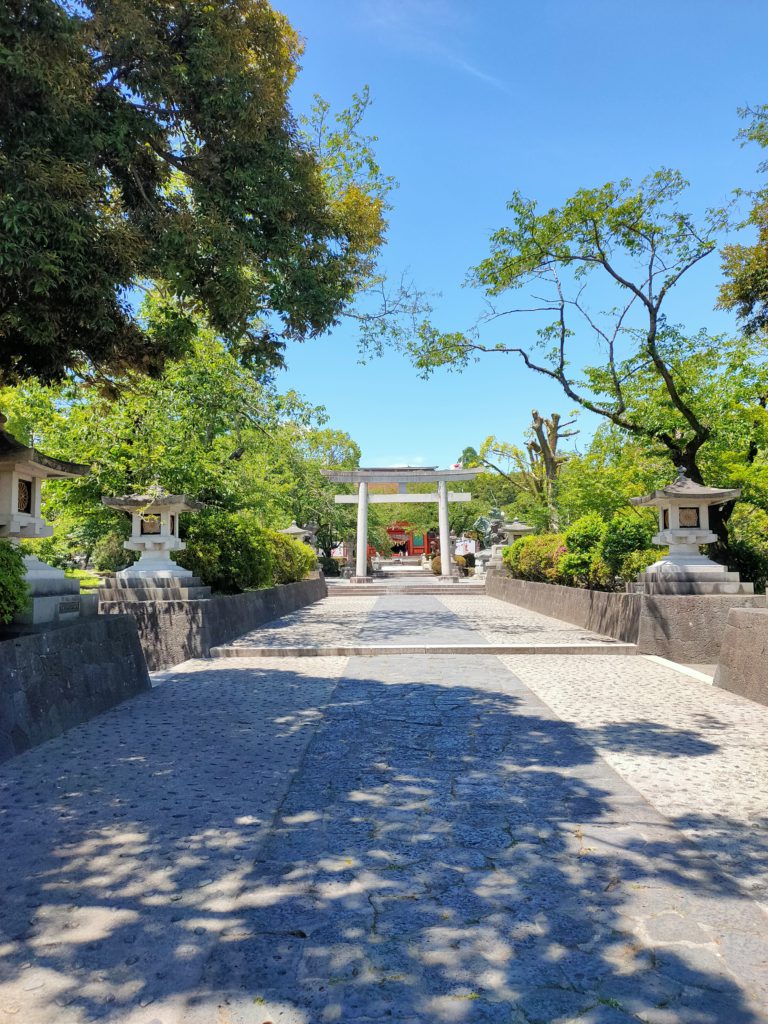 We are in the middle of the city but it doesn't look so ! I am really impressed in the way Japanese people makes ancient and modern get along together. It always blend in the landscape. You would never guess accross the street you'd find a beer brewery or a middle school, don't you ?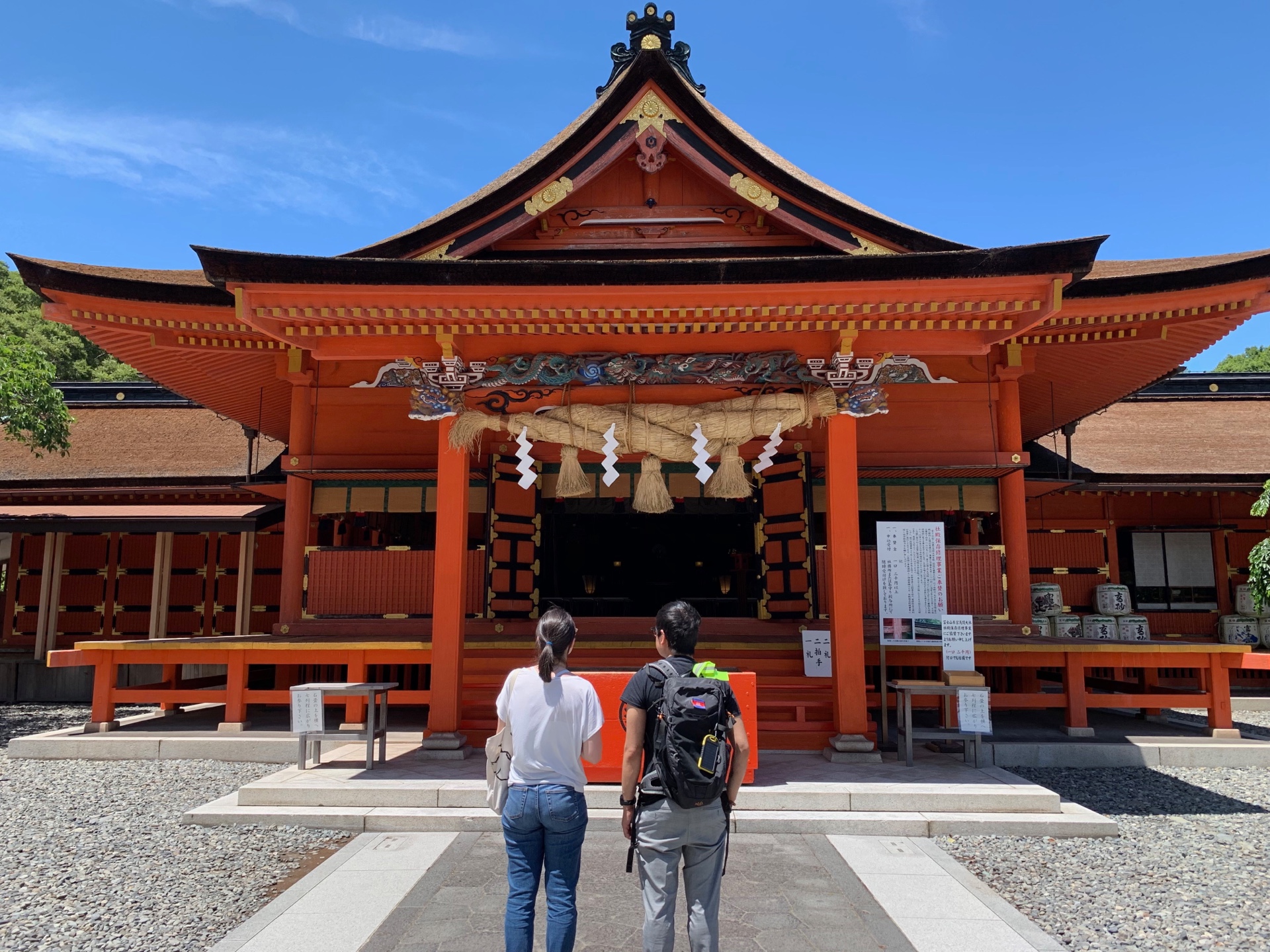 We're here in front of the outer shrine. You can't help but bring your hands together for prayer.
Did you know that in Japan Shintoism and Buddhism coexist ? When you're born, all celebrations take place in Shinto shrine, wedding ceremonies are held there as well. For New year or others festivals, it is a Shinto shrine that one would visit. A contrario, you won't find any cemeteries in them as death is considered impured by Shinto and is take care by Buddhism. That is why red color is used in shrine but buddhism temples are more sober.
You can buy an Ema, a wooden plate and write down your wishes on it. Here, you hang it around the Sakura tree and pray for your wishes to come true. Most would pray for good health for your family, harmony and love, or success… what would be your wish ?
We could see visitors come from all around the world to the Fuji-san Hongu Sengen Taisha, as a lot of ema were in various languages.
At the right of the Sakura tree is the East gate, which lead to the Wakutama pond – 湧玉池. That's where those climbing the Mount Fuji purified themselves before climbing it.
The pond is formed by the melted snow of the Mount Fuji. Here also you can refresh yourself with Mount Fuji's precious water in the shadow of wisteria trees.
Going further, you arrive in the larger Wakutama pond. Wakutama means «Gushing jewels» in Japanese. The naming shows how important Mount Fuji waters is for its worshippers.
The pond water is so crystal clear, you can see the "maritime" life's in it 🙂 Goldfishes and maritime plants. You can enjoy a nice walk in the large ground of the shrine and follow the fully blossom river bank to the next destination.
After visiting the shrine, we went to the Omiya Yokocho, presenting a lot of food shops. We tried the very famous local dishes : Fujinomoya Yakisoba ! It is a kind of fried noodles using thicker noodles produced in Fujinomiya only. It is cooked with pork and vegetables with dried sardine flakes, aonori (green seaweed flakes) and beni-shoga (red pickled ginger) on top. It wons two times the "B-1 Grand prix" of the B-kyu local dish competition throughout Japan ! B-kyu, litteraly B-grade, refers to cheap but good meals. After a good walk in the morning, we enjoyed it very much, for a very reasonable price ! You can also feel the very ambience of a yokocho, with delicious smells and the holler of each shops 🙂
If you go to Fuji-san Hongu Sengen Shrine, you have to go to the new Mt. Fuji World Heritage Centre. It's just a 5 minutes walk from there ! The center was build «to protect forever», «to transmit happily», «to cross widely» and «to study in depth» the World Heritage of Mount Fuji.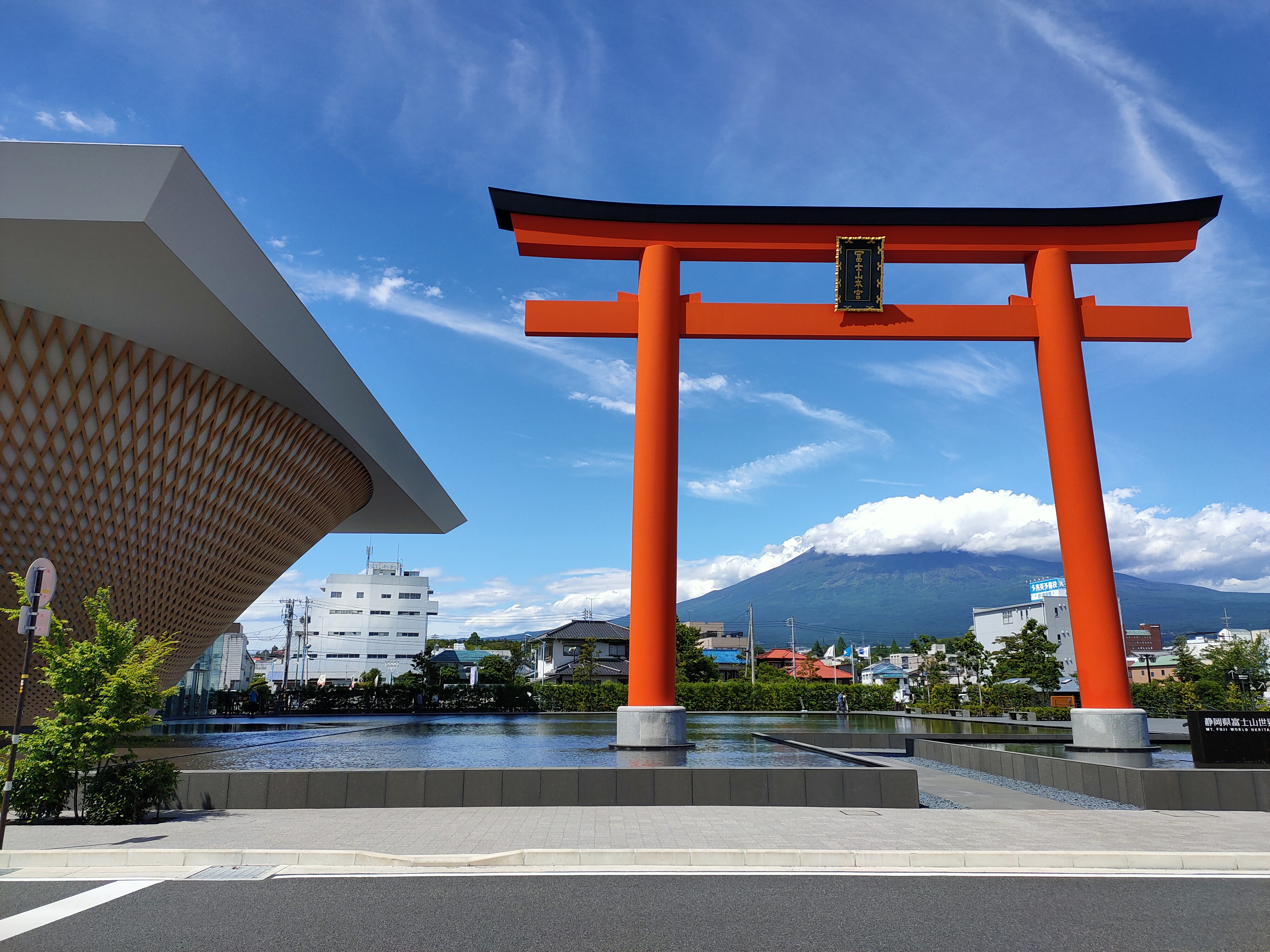 Fuji-san has hide inside the cloud…
Here again you find a red Torii in the direction of Fuji-san Hongu Shrine. At the left side is the center, it has the form of a reversed Mount Fuji, also called Sakasa Fuji, and the wood used are Fuji cypress. The reflection in the pool shows the typical conical form of the sacred mountain. It really shows japanese sense of beauty, don't you think ?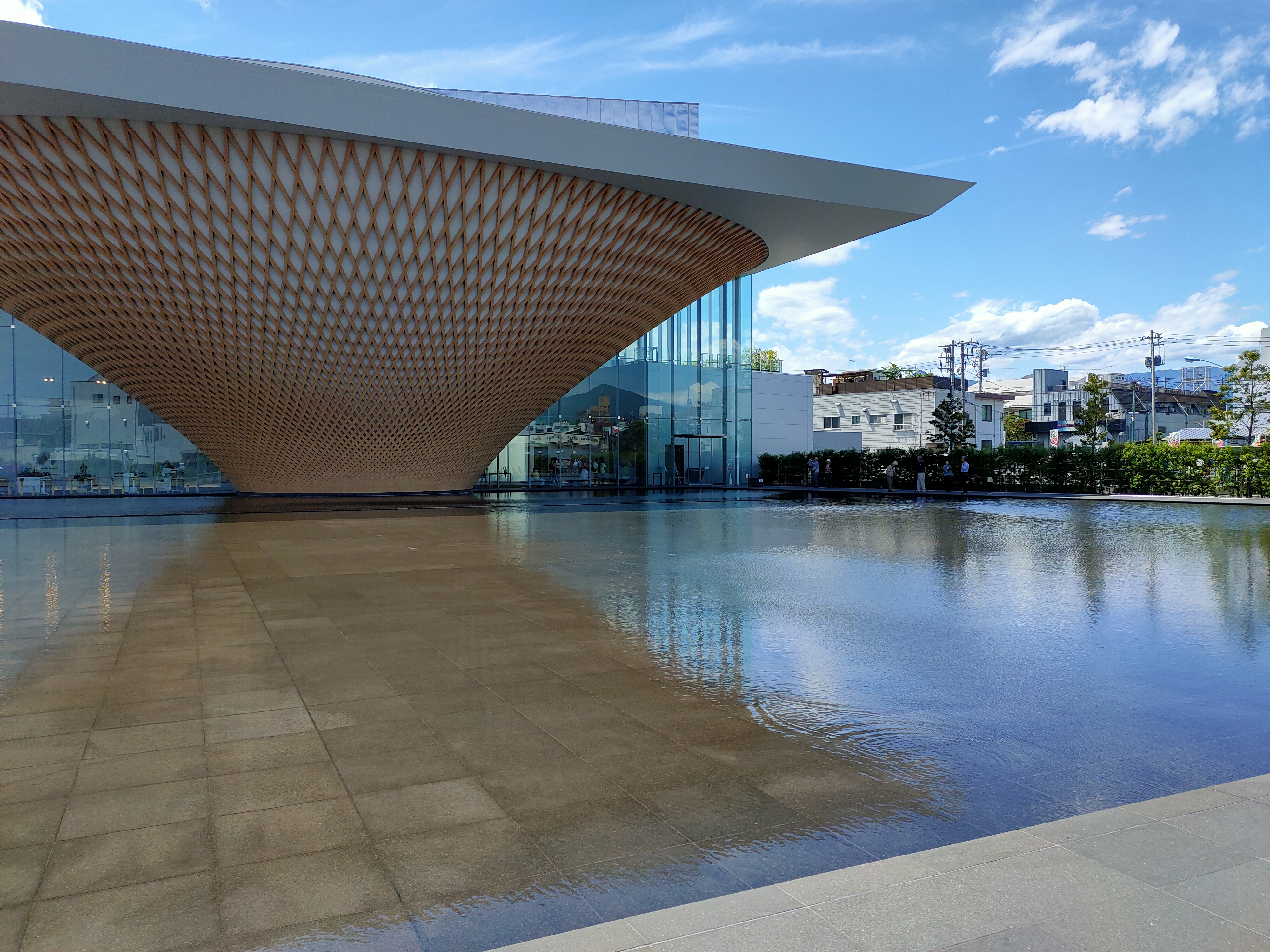 The permanent exhibition is inside the cone, you go up in spiral as if you're climbing the Mount Fuji itself ! It was very fun and we learned a lot of things :
The way going up showed us different face of the mountain or us inside the forest at its foot. There were explanations about the Mount Fuji place in Japanese art, about its worshipers in Fuji shinkou, about its fauna and flora, and much more ! It is really interesting in order to fully understand the importance of the Mount Fuji in their life.
This whole day-trip actually made me think of my mother : her friends in Shizuoka always sends her pictures of Mount Fuji. It really holds a special place in her heart. She always has shared it with us. I'm sure she would have enjoyed this tour.
I now know more about it but I feel that there is still so much more to discover ! 
I really want to thank Hirokane-san for this day ! ありがとうございました !
If you come to Japan, I'm sure you will come across Mount Fuji somewhere. So why not come in Shizuoka and discover the depth of Japanese love for this special mountain ? 
♦〈Access〉♦
By Taxi in our tour, it takes around 30 minutes from Lake Tanuki, or 20 to 25 minutes from Shiraito waterfalls.
By Car, (1) Exit at Fuji IC from the Tomei expressway. Through NishiFuji, it takes around 20 minutes. (2) Exit at Shin-Fuji IC from the Tomei expressway. Through NishiFuji, it takes around 15 minutes. The parking costs 200¥ for 1 hour, and is open from 5:00 to 19:00 at the shrine.
On foot, it takes around 15 minutes from Fujinomiya station.
♦〈Hours and fees〉♦
Fuji-san Hongu Sengen Shrine : Opening hours are from 5:00 to 20:00 (April to September), from 5:30 to 19:30 (March and October), from 6:00 to 19:00 (November to February). The admission is free.
Fuji-san World's Heritage center : it is opened from 9:00 am to 5:00 pm, and to 6:00 pm during July and August. The admission fee is 300¥ for adults.
You can visit Fuji-san Hongu Sengen Shrine and Mount Fuji World's Heritage Center in different tours we propose on our website ! 
You can directly click here to jump in each tour : the first one is a chartered taxi tour in which you can visit 3 popular sightseeing spots in Fujinomiya (5.0 hours), and the second one is also a chartered taxi tour in which you can visit 2 popular spots and a green tea farm in Fujinomiya ! (5.0 hours) !
Please contact us if you are interested ! 🙂
It was Saki, from Local Travel Partners.