Hello ! Welcome to our blog 🙂
This is Saki, from your Local Travel Partners agency !
Today will be step 2 of our stroll in FUJINOMIYA city with Hirokane-san ! As I mentioned on my previous spot, Fujinomiya is hiding a lots a beautiful spots. Some of them are SHIRAITO waterfalls and OTODOME waterfalls, or Shiraito no taki 白糸の滝 and Otodome no taki 音止の滝 in japanese. We were at Lake Tanuki beforehand and it tooks us less than 15 minutes to arrive to the waterfalls by car. On the way there we passed by rice farm and green tea farm and it was very pleasant ! Times pass quickly in front of such landscape 🙂
So we arrived at Shiraito and Otodome waterfalls and left the car in the parking for the visitors and headed toward our destination. 
There is a lots of souvenirs shops around this area, with a Showa-era kind of feelings 🙂 Showa's era 昭和 started in 1926 and lasted till January, 7th 1989. In Japan, Era change with its Emperor reign and this special one is known as the longest among the Emperor reign ! Showa was named that way to be the era of "enlightened peace". You surely heard that Japan just recently changed Era, we are now in Reiwa – 令和 since May, the 1st of this year. Reiwa would mean "beautiful harmony".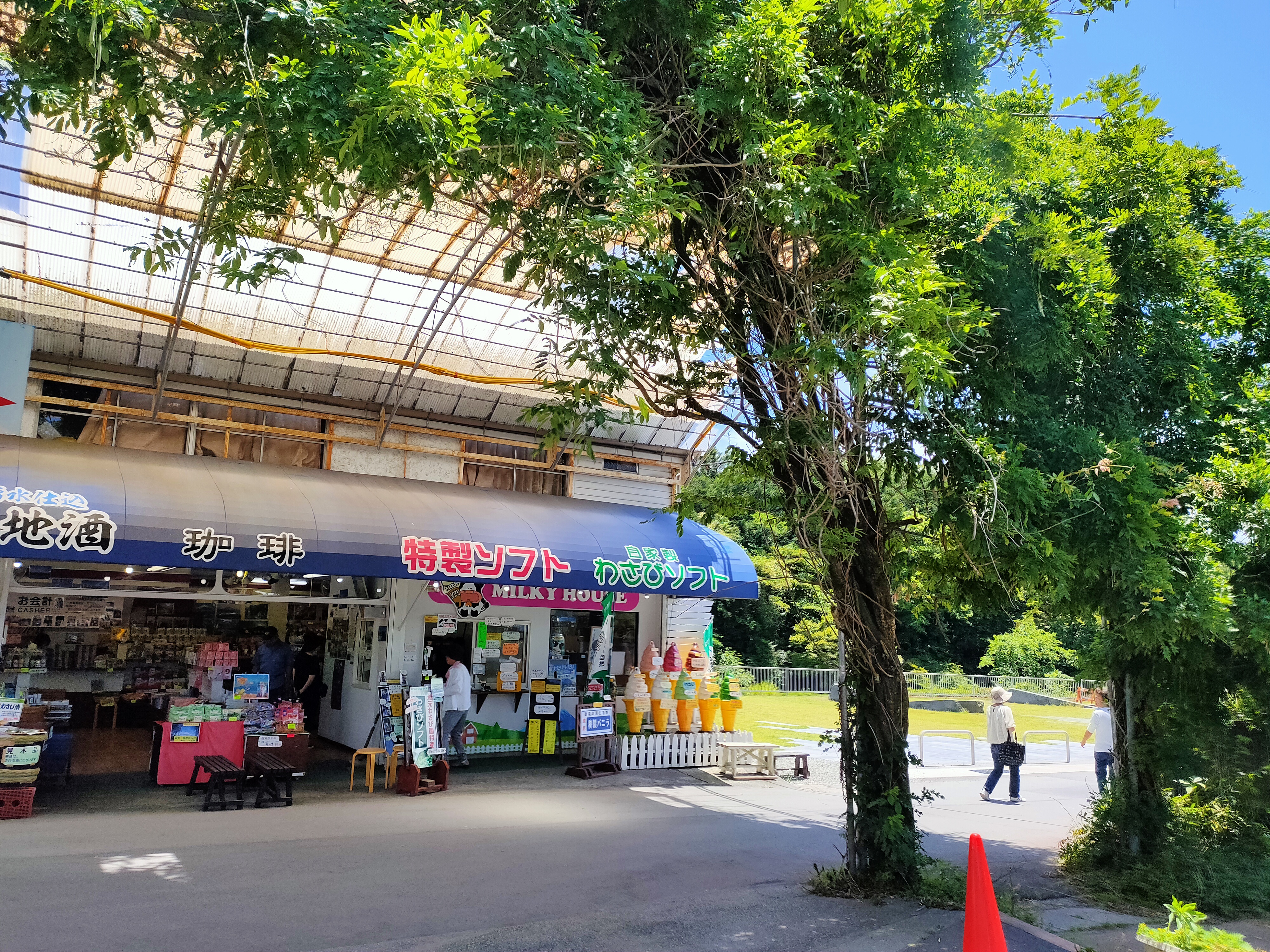 Here is one of the first souvenir shop when you arrive, with a big wisteria tree ! It must be beautiful when its flower is blooming !
You can also enjoy the season at the Fujinomiya waterfalls : Wisteria during spring, Autumns colorful leaves in fall.
From afar, you hear the sound of the water and it gives you this refreshing feeling ! Here is the Otodome waterfalls :
Otodome literally means "Stop sound". There is a saying that the SOGA brothers were planning for revenge against Suketsune KUDO at that very place. They couldn't hear each others due to the water and they prayed for it to stop. It then stopped for an instant, hence the name till nowadays.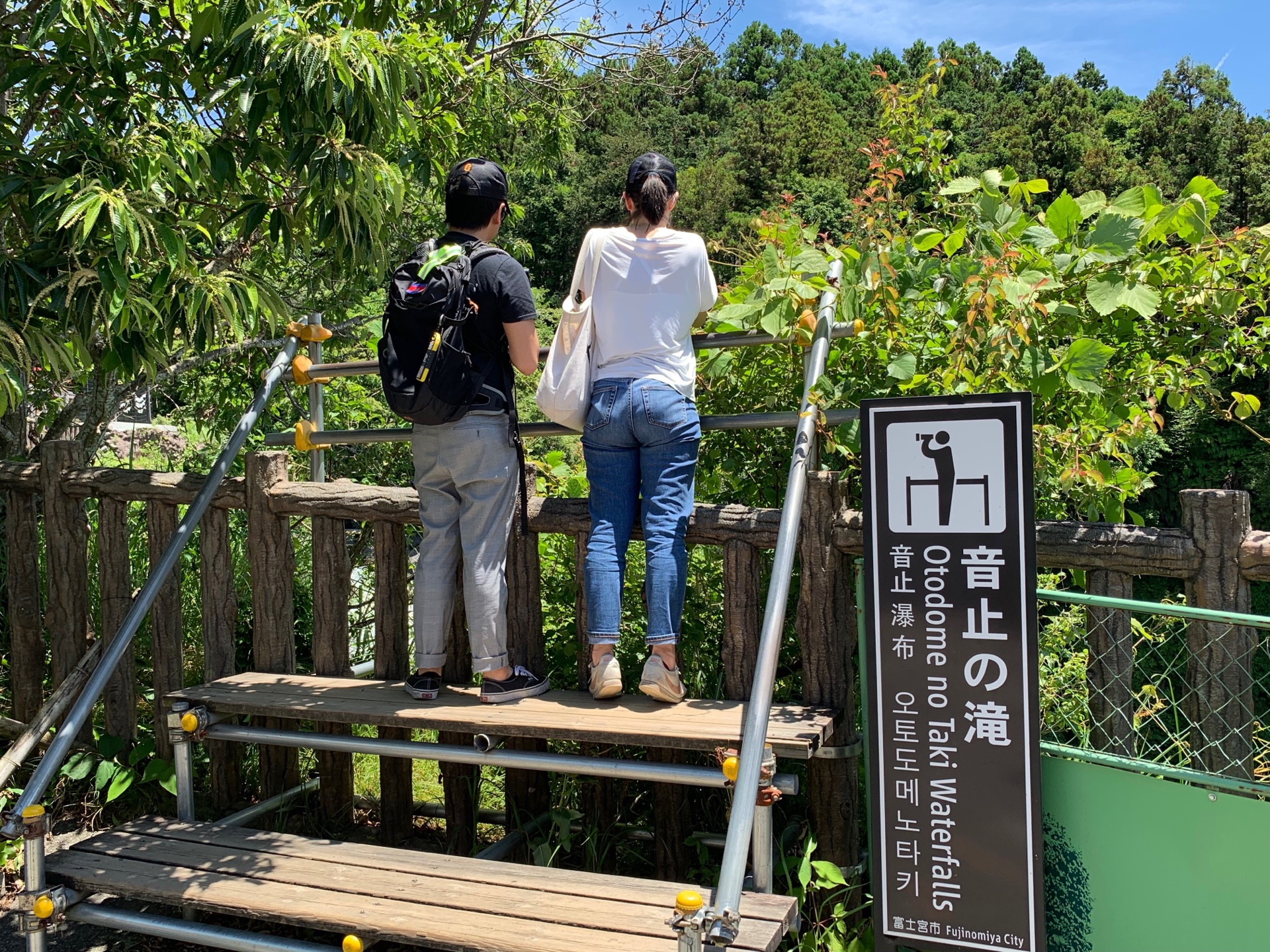 You have to go up one of those stairs so you can see the Otodome waterfalls from the alley. To see it without them, you can enter the Taki cafe OTO, there is a small deity shrine in the backyard.
Going down the shop alley, you approach the stairs to Shiraito Waterfalls. On top you have one great view spot for those to whom it is difficult to go down the stairs :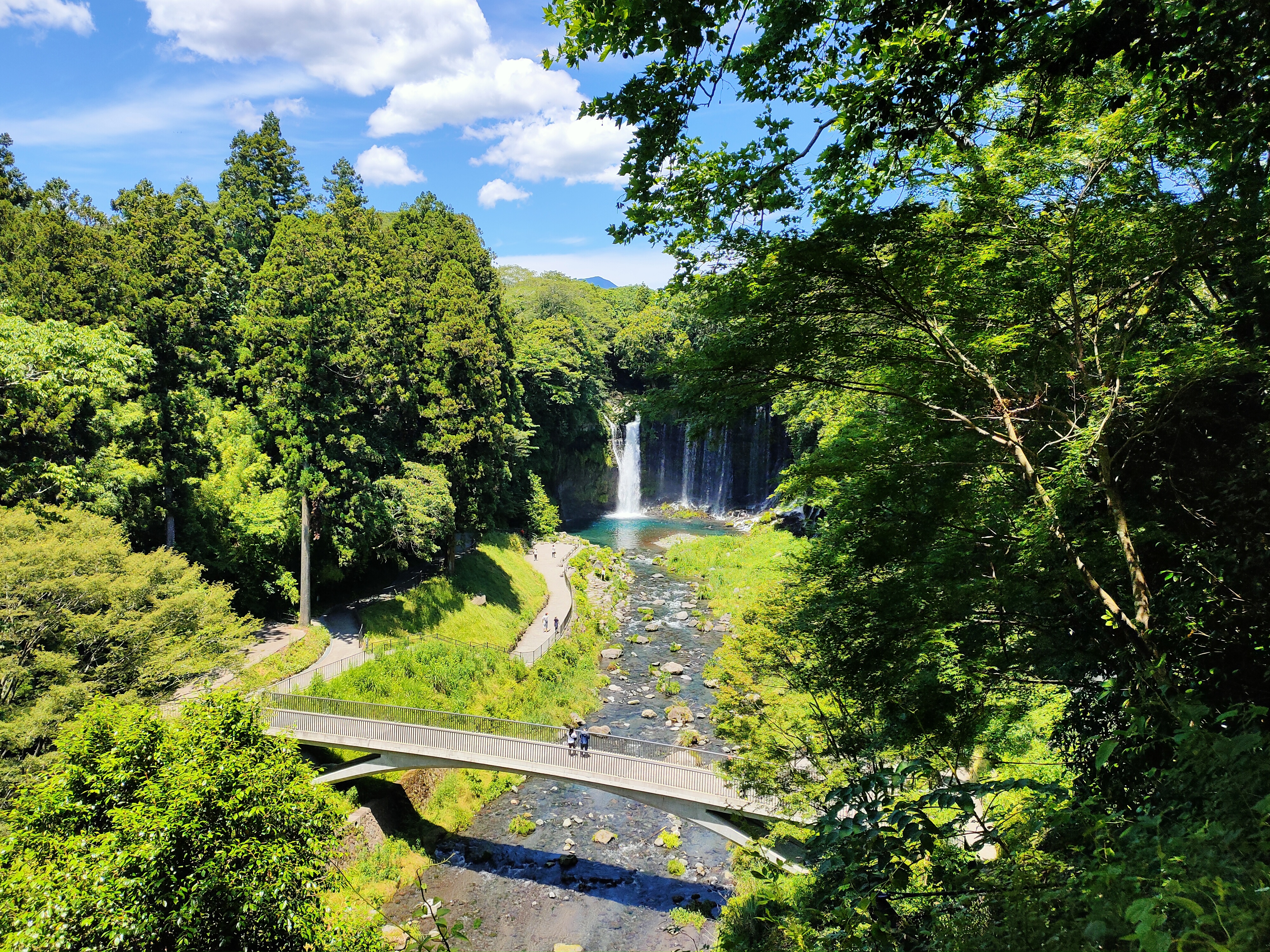 Shiraito means "white thread" in Japanese. It is named like this for it appears like such. The water is actually mostly Mount Fuji spring water ! And a small amount of it is snow melting and coming down the mountain through its stratum. The waterfall length is approximatively 150 meters, it is said 1.5 tons of water flow each second ! Wow, that's impressive…
So beautiful ! And in contrast with the previous Otodome fall which was quite powerful, the Shiraito waterfall seemed very soothing to me.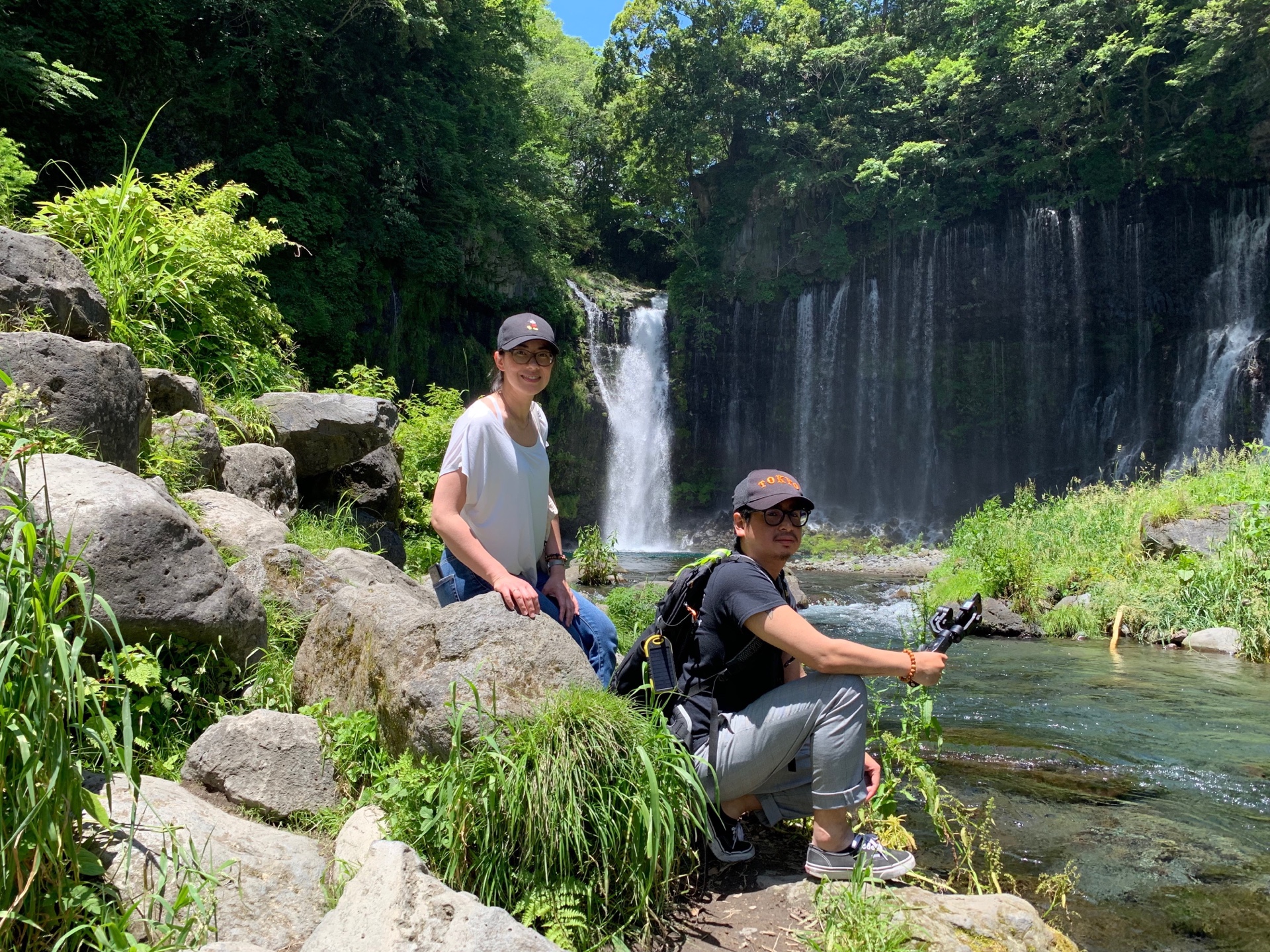 You can go down to the river and put your hand and have a touch of the Mount Fuji water ! Cool ! I could have stayed a long time on the rock, looking at the water flowing.
There is one more spot, less known but from which you have a magnificent view of Shiraito's waterfalls with the Mount Fuji. You have to climb up some more stairs but it is definitely worth it !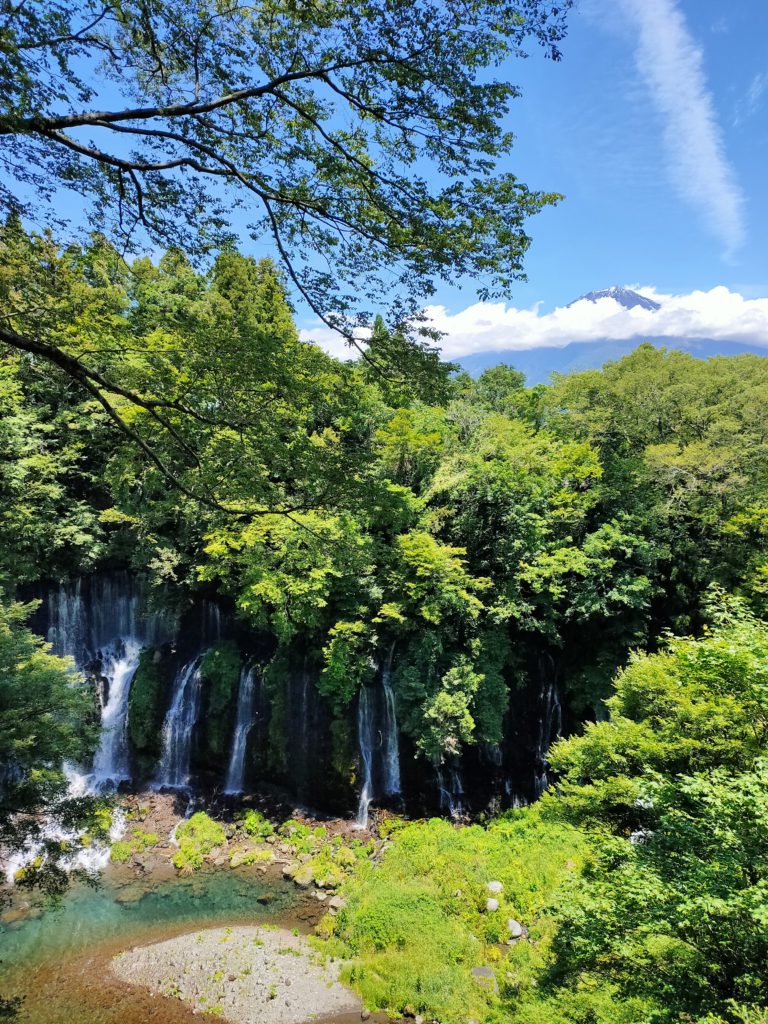 What do you think of this view ?? I felt so lucky looking at it.
Just one shame if I can say… All explanations on the sign are in Japanese only. It would be interesting to have them in English as well. But with this post, you now know about the waterfalls and where they come from 🙂 
It was rather hot that day, and a good excuse for us to try some soft cream 😉
So we did at the Taki Cafe OTO on top of Otodome waterfalls ! Delicious !
Glace à la myrtille
Café, ouvert aux chiens également !
Glace au Maccha
Among the shops you can find Wasabi taste ice cream as well, or other original flavor ! You might want to try one of them before heading to you next destination 🙂 
Unfortunately for us, most shops were closed on monday, but the rest of the week you can also enjoy shopping typical Shizuoka sourvenirs, like real wasabi roots for exemple ! 



The Shiraito and Otodome waterfall are definitely a must-see in Fujinomiya city ! You feel like you have come in another era and that's very enjoyable. And this tranquilizing atmosphere, you have to feel for yourself ! It is my second time there, and I enjoyed it very much !
Thank you, Hirokane-san for this visit ! There is still some more of this day trip to Fujinomiya city. For today, that will be all ! Please look forward for our last stop to Fuji-san Hongu Sengen Shrine 🙂
♦〈Access to the Waterfalls〉♦
By Taxi in our tour, it takes approximatively 10 to 15 minutes from Lake Tanuki to the waterfalls parking area.
By Car, exit at Shin-Fuji IC from the Tomei expressway. It takes around 40 minutes. You have to pay the parking. It is open from 8:30 to 16:30.
By Bus, 30 minutes from Fujinomiya station.
You can visit Shiraito and Otodome waterfalls in different tours we propose on our website !
You can directly click here to jump in each tour : the first one is a chartered taxi tour in which you can visit 3 popular sightseeing spots in Fujinomiya (5.0 hours), and the second one is also a chartered taxi tour in which you can visit 2 popular spots and a green tea farm in Fujinomiya ! (5.0 hours) ! Please, don't hesitate to contact us if you are interested ! 🙂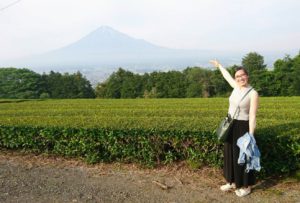 It was Saki, from your Local Travel Partners Agency.