Hello, Welcome to our blog!
We are Kilari, Haruka and Hinako. (from left to right)
We are studying English at Tokoha University in Shizuoka City.
Now we are on an internship at Local Travel Partners.
Our role is to introduce Shizuoka in English by writing a blog post.
We would like to introduce our recommended ceramic workshop in Hamamatsu City and Wind Bell Festival at Hattasan Soneiji Temple in Fukuroi City.
Hamamatsu City and Fukuroi City are both located in the Western part of Shizuoka Prefecture.
Kohan no Tokobo (湖畔の陶工房)(=ceramic art workshop at a lakeside)
We visited this Ceramic Art Workshop near Lake Sanaru.
This workshop has 5 kinds of programs. (60-90 minutes)
1. Hand potter's wheel course (rice bowls, tea cups, shochu drinking cups, salada bowls etc)
2. Plates making course (various kinds of plates)
3. Electric potter's wheel course (same as 1.)
4. Making general merchandise course (pendants, brooches etc)
5. Bridal course (for couples who want to present a pair of cups etc to their parents)
We chose 2, plates making course. (60 minutes, 3,500JPY : June 2021)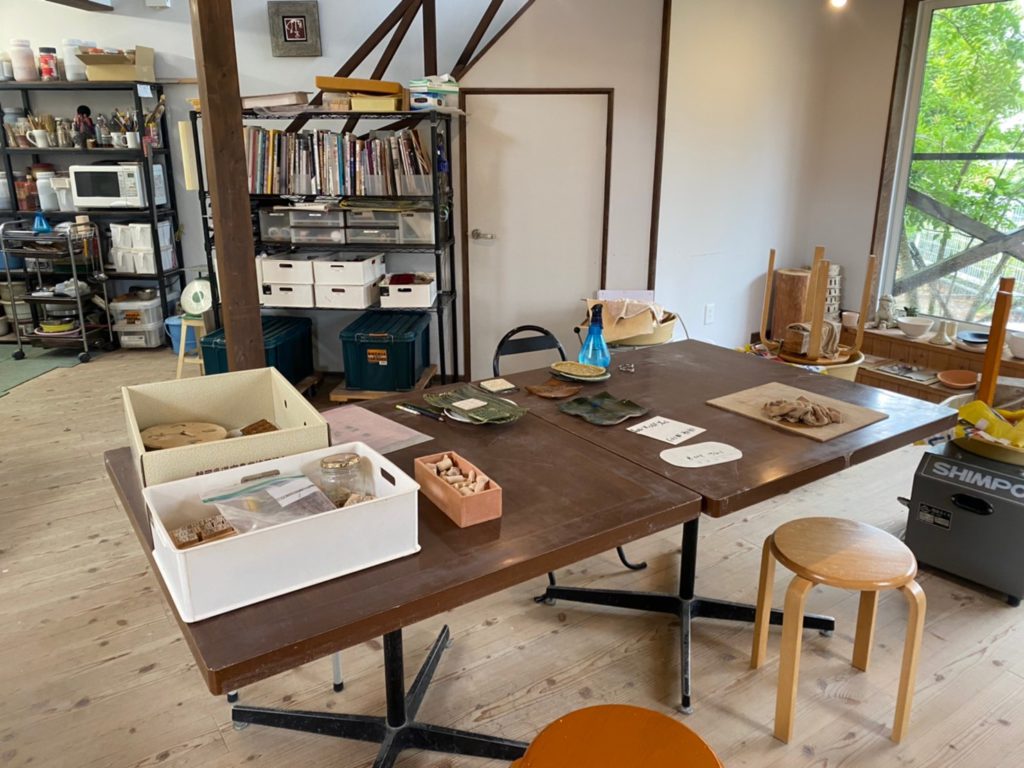 inside the workshop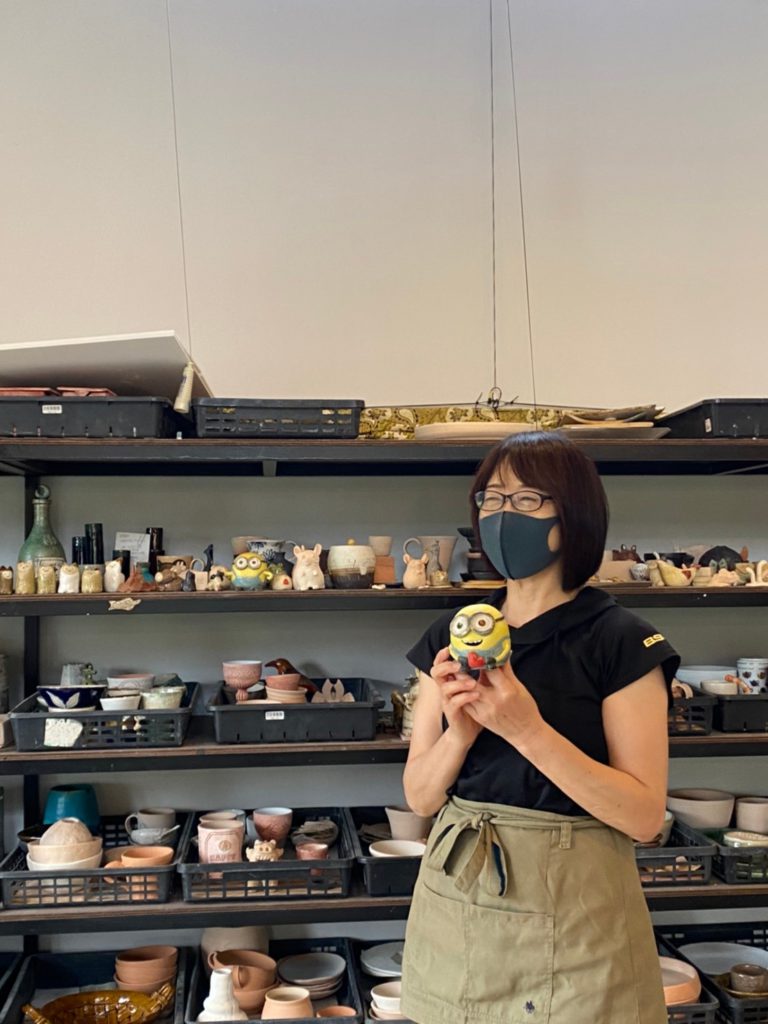 This lady taught us how to make plates.
After deciding on the shape of the plates we wanted to make, we started to make them.
The first thing we did was to roll out the clay-like material that the teacher had prepared for us.
Then we shaped the clay into the shape we wanted to make.
Next, we transformed the edge of the plate to our liking.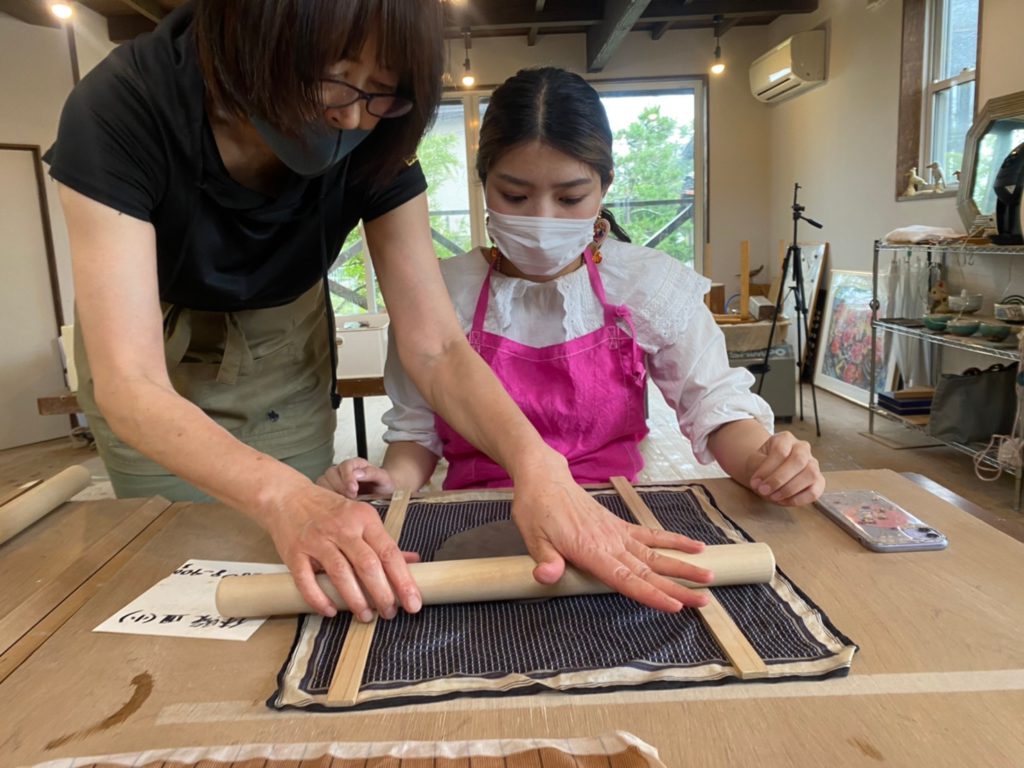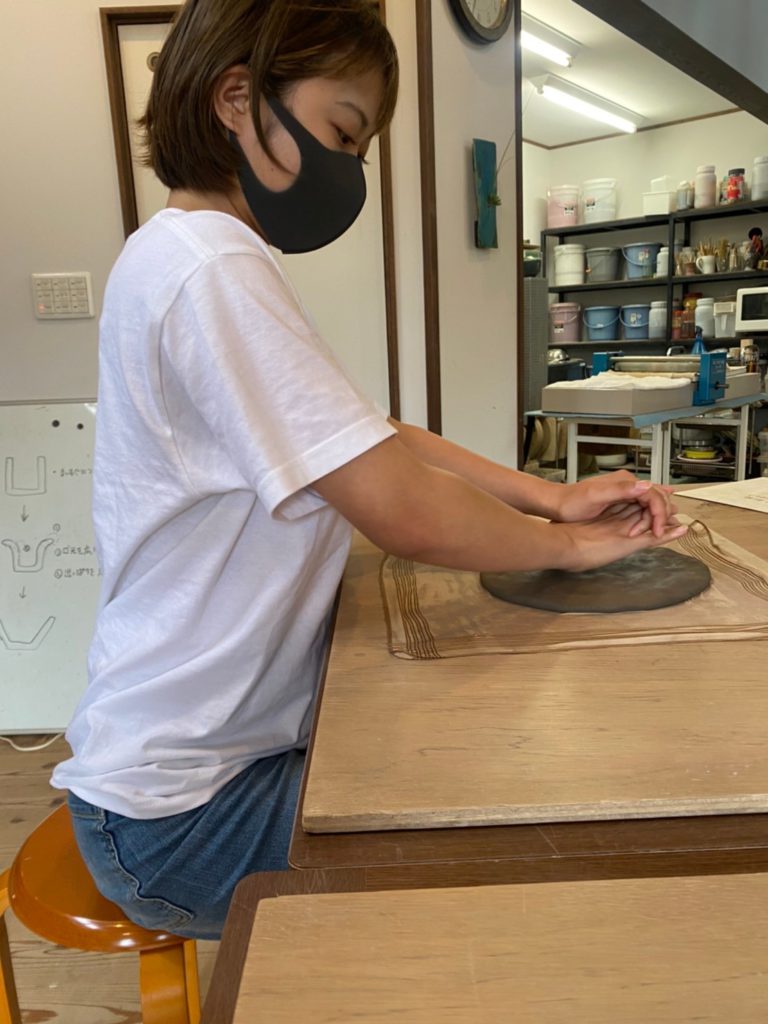 At the end of the work, we used stamps to decorate the plates with our own designs.
We decorated the plates with our own names.
The plates turned out very pretty and we were very happy with them!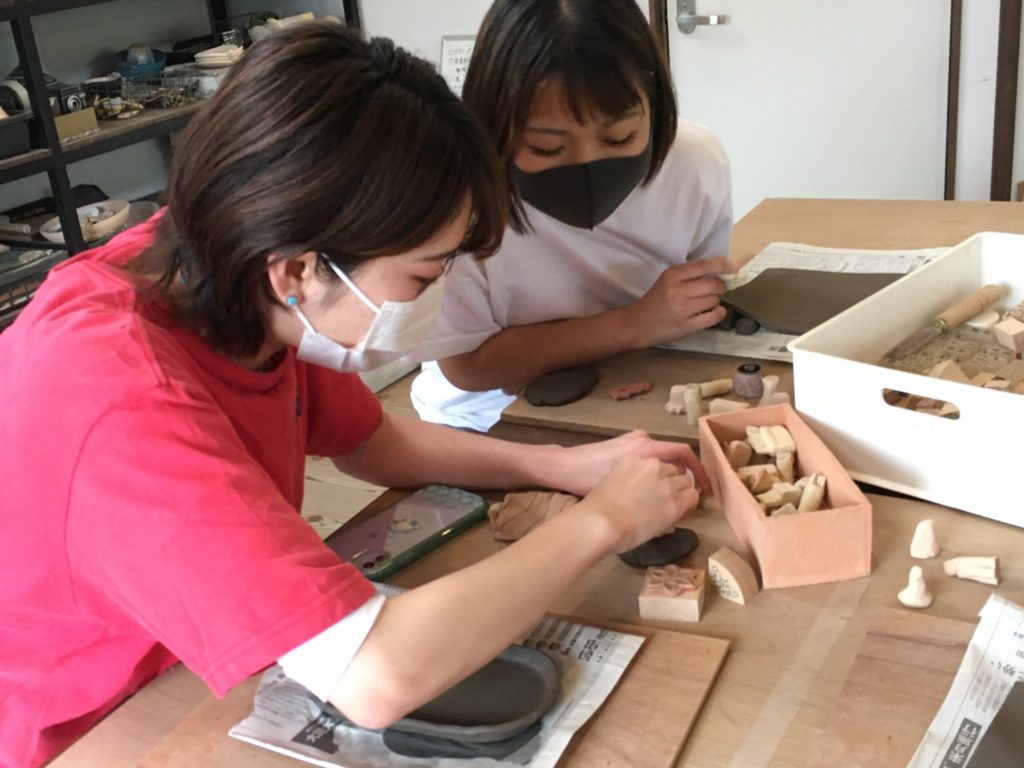 Our plates will be completed and delivered in a month and a half.
We are very much looking forward to receiving the works!
If you are interested in ceramic art, we recommend you this workshop.
More details about visit their website (in Japanese language)
※For travelers from abroad, they can not ship the completed products to abroad but they can provide the workshops only (the price will be lower than the standard programs.)
In this case, please contact to Local Travel Partners from the button below.

Next, we visited Hattasan Soenji Temple to see wind bells and eat Yaku-yoke dango.
Now Furin Matsuri (=Wind Bell Festival) is held. (from May 22nd to August 31st 2021)
The official name of the festival is "Enshu San-zan Furin Matsuri".
San-zan means 3 mountains (=temples) in Fukuroi City
(Hattasan Temple, Kasuisai Temple and Yusan-ji Temple)
It is recommended to visit these 3 temples in this season.
Please check our previous blog post about this festival, too. 
There are a lot of wind bells and these are beautiful.
The wind bell is called Furin in Japanese.
They are made of metal or glass.
When the wind blows, they ring.
The sound makes us a little cooler in hot summer.
There is a special dumpling (dango in Japanese).
It is called Yaku-yoke dango.
This is very popular with people who visit Hattasan Temple.
Many people buy it as a souvenir.
There is a lot of red bean paste on the dango.
5 dango are stuck together.
It is said that each dango means head, neck, body, hands and legs.
It goes well with Japanese green tea.
We had a lovely green tea break.
If you have a chance to visit Hattasan temple, we recommend you to try it.
Price (June 2021)
5 pieces of dango : 200JPY/ stick
take-our menu : 600JPY/box
(Postscript)
We can see hydrangeas for a limited time in the rainy season.
There are also colorful umbrellas.
These are amazing so it might be a good idea to visit there on a rainy day.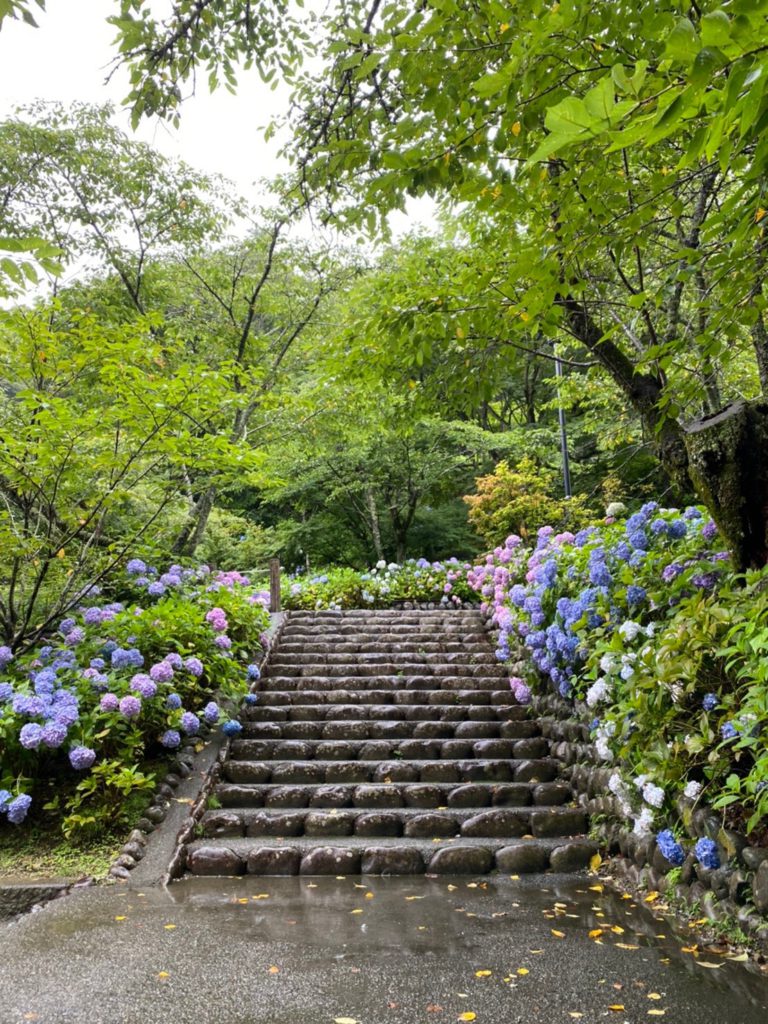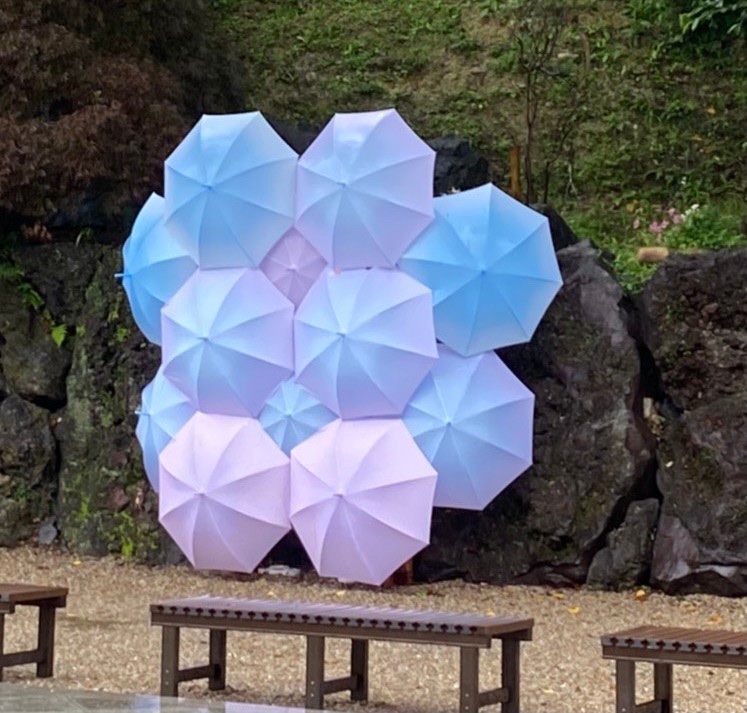 Access
by train : get off the JR Tokaido line at Aino Station. take a taxi (about 12 minutes)
Did you enjoy our post?
It is our great pleasure if you have an interest in our area.
We look forward to welcoming you in Shizuoka!
Thank you!