Hello ! Welcome to our blog 🙂
Here's Saki, from Local Travel Partners !
I've been presenting a lot of major tourism spots in Shizuoka the last posts. Today I will bring you to less known but nonetheless interesting Port Town : Mochimune 用宗 !
The previous post by Ishikaki-san about the private bike tour passed by Mochimune as well !
With my fellow companion, we sometimes go off on our bikes to discover Japan. I have heard about Mochimune by Ishikaki-san. And so beginning of July, we decided to have a stroll over there. We took our cap, bottles of water and bicycle to head out to Mochimune !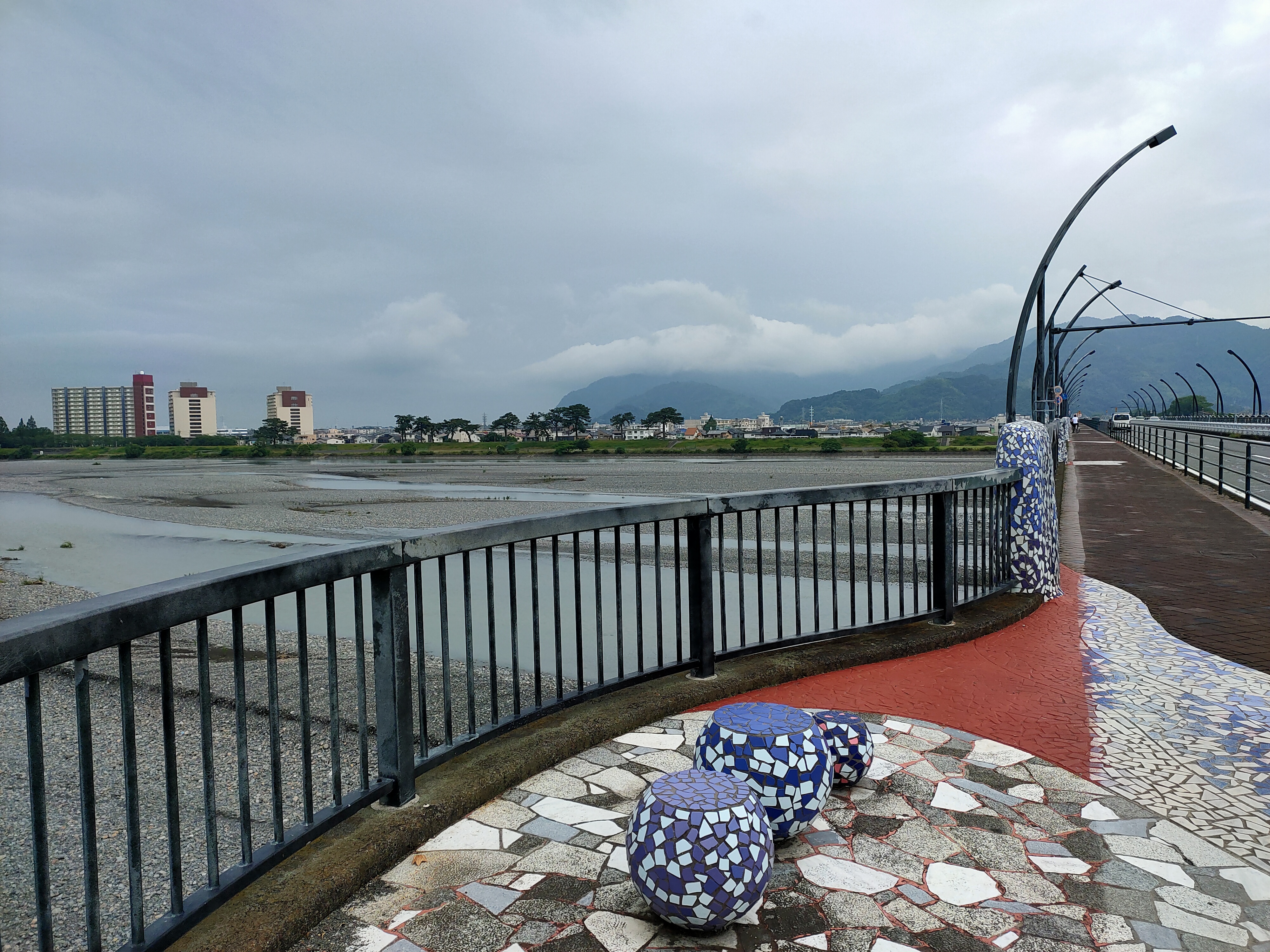 Mochimune is located on the other side of the Abekawa river, if you come from the center of Shizuoka city. You first have to cross one of the many bridges across the river. This one is the Shizuoka ô-hashi.
Abekawa river is known for its clear stream and forms part of the main water supply for Shizuoka city. If you travel from Tokyo to Kyoto- Osaka by Shinkansen, you will cross Abekawa river, without doubt !
If you prefer to go to Mochimune by train, it is 2 stations away from Shizuoka station. You can find there a nostalgic Japanese town and escape from the effervescence of the city only with a 7 minutes ride away by train. 
On our side, we decided to go slowly by bike. It tooks us around 45 minutes from Shizuoka station to arrive at the minato of Mochimune, or port in Japanese. 
We arrived at the port ! The Osaka river flows into the harbor. It is nice cycling by the river, as it is flowery !
Mochimune port is known for its fresh shirasu ! Have you ever heard of shirasu ? It is the sardine baby. It is really small fish, up to 2 centimeters long. It is rich in calcium, so really good for growing children or to strengthen your bones.
From middle of March to middle of January of the next year, the fishermen of Mochimune will go Shirasu fishing. Its fishing is a race against time. Shirasu needs to be kept fresh and the fishing technique is also unique.
That is also why you can find a lot of restaurants around the port that serves freshly caught shirasu.
We went to one of them in the Minato Yokocho, near the port. And we had a fresh bowl of Kaisen donburi. Kaisen donburi are bowls of rice with seafood on top. You won't find fresher than in a port town to have a delicious one !
Above, it is the special donburi of Jiromaru, with raw shirasu, steamed shirasu, tuna tartare and octopus. All, freshly caught that morning. And I must say, it was very satisfying. Really good indeed. 
Sated with the donburi, we went off once again on our bike, to look around the port !


At the end of the street, we passed by an onsen : the Mochimune Minato onsen. The building used to be a tuna processing factory. And now, it has been renovated into a spa inside, where you can relax. There is also a craft beer brewery : the West Coast Brewing, with an american feeling.
A spa, then a fresh beer on the terrasse, isn't it a good plan ?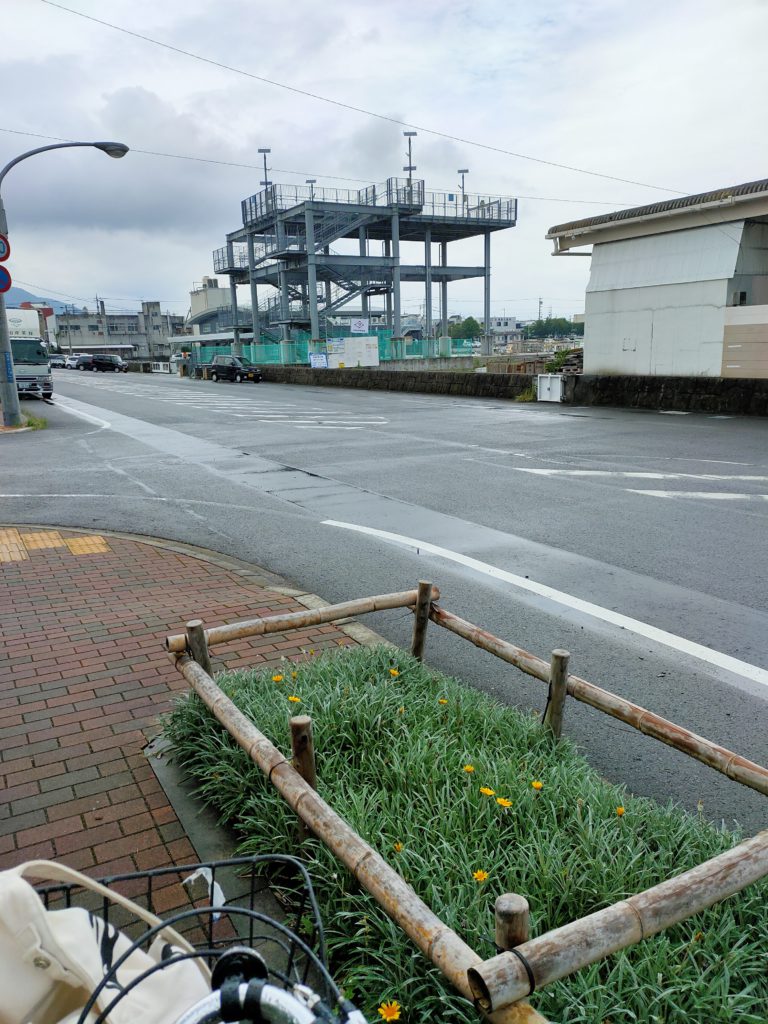 You may find several constructions like this one on your way. Those are tsunami evacuation towers. All coast town have take tsunami measures like this. But while you visit, you can go up one and have an overview of the town and the port. On clear day, you can even see Mont Fuji !
Then we stopped by La Palette. On your way to the beach, you may be drawn to this modern Gelato shop. We did ! They offer homemade gelato, using local products : from Shizuoka specialty like Green tea, Orange, Wasabi, Osada's Peach to particular flavor like Shirasu-yogurt ! The proposed flavors will change with the season. And the staffs are very welcoming.
During summer, they propose also Parfait with a mix of Gelato and shaved ice, like the peach one above ! It was so tasty !
Continuing our rode, on the other side of the port. We found a park : the Hirono Seaside Park. You can come there with your family and enjoy the Pirates ship on the sand beach ! 
I've been presenting you all the new spot of Mochimune.
But I can't talk about Mochimune without showing you the typical rustic town. The charm of Mochimune is that you can stroll around the town and find nostalgic houses.
The Maeda shop stand there since the Taisho era (1912–1926). It used to serves as Bonito flakes warehouse, and now serves as an office.
While going around, you may see those Jizô, that have watched over generations of citizens. 
People in town don't want those landscape to be lost. They are actively building a welcoming town. And we could feel that they really love Mochimune.
Why don't you come to Mochimune as well, for a bike tour or for a walk ?
♦〈Access〉♦
By train, 7 minutes from Shizuoka station. 
By car, 20 minutes from Shizuoka station.
By bike, 45 minutes from my experience.
We can organise a bike tour going through Mochimune. Please contact us if you are interested ! 🙂