Hello, Welcome to our blog!
We are Miyuki and Azumi, internship students at Local Travel Partners.
We are both majoring in English at Tokoha University in Shizuoka City.
Today, we would like to share with you our recommended temples and shrines which are famous in Fukuroi City and Mori Machi town, westen region of Shizuoka Prefecture.
Our goal is to guide you through Shizuoka and enjoy it through our blog post.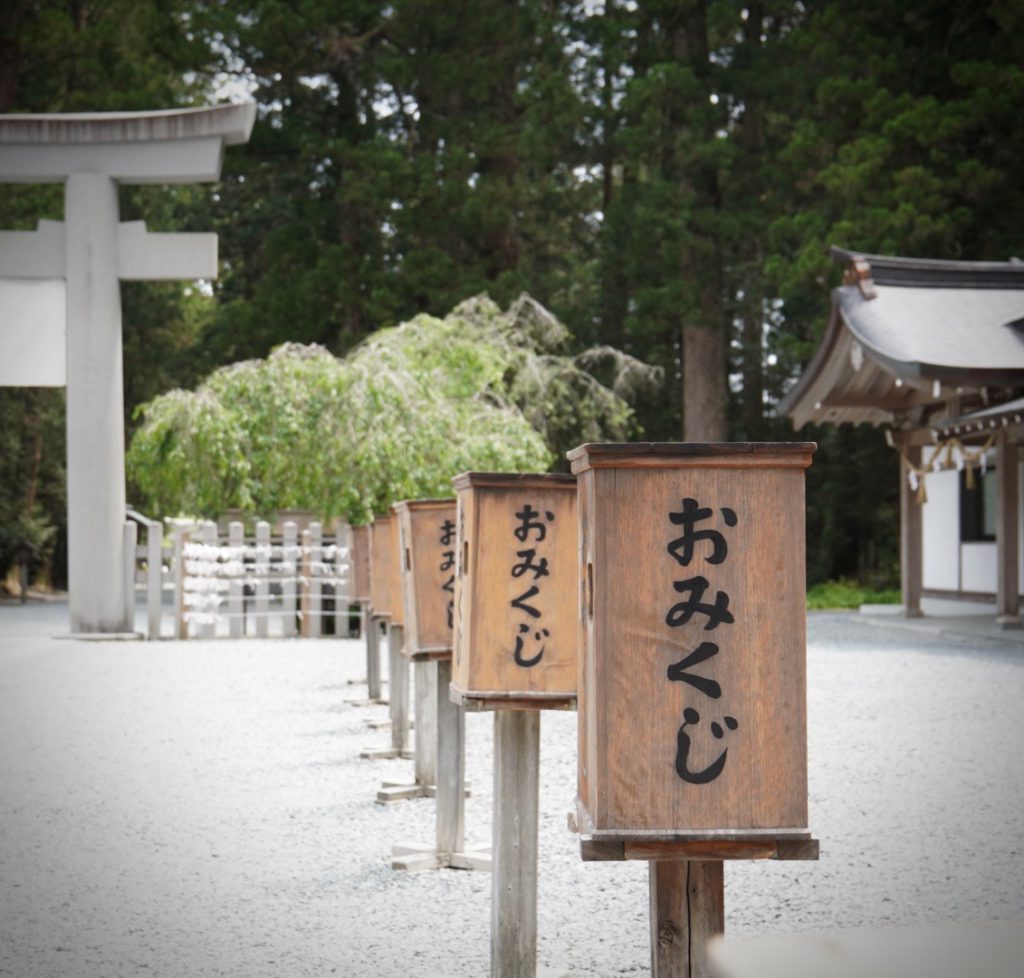 Contents
1. Hattasan Sonenji Temple & Amulet Dumpling in Fukuroi City
2. Hisayama (久やま)/Steak RIce Bowl restaurant in Iwata City
3. Okuni Shrine in Morimachi Town
First, we visited Hattasan (法多山) Temple.
Hattasan is a special head temple of the Koyasan Shingon Buddhist Sect.
The history of this temple dates back to the 8th century.
The current main building was rebuilt in 1983.
The temple's main feature is the Sacred Avalokitesvara (聖観音像).
It is called Apotropaic Kannon because it offers believer's good luck.
Many worshipers visit this temple not only from Shizuoka Prefecture but also from outside Shizuoka.
Hatta-san is a beautiful and relaxing temple in harmony with nature.
If you have the chance to visit this area, we recommend you to visit this temple.
Access: 
▶︎ By train: Take a taxi from JR Fukuroi Station (5.3km)
▶︎ By car: Bypass, Get off at Fukuroi
You can also get there by bicycle, too.
There are some parking spaces for bicycles near the entrance.
This bike was brought by our English teacher.
Relaxing on your bike is also a good way to enjoy the fresh and cool air around there.
Next, we would like to introduce you to "the must try confectionery" at this temple.
This is the speciality of this temple called amulet dumpling "(厄除団子 yaku-yoke dango)" 
It is delicious without being too sweet.
As you can see, 5 skewered dumplings are stuck together.
It is said that each dumpling means head, neck, body, hands and legs.  
This dumpling is very popular in Shizuoka.
Many people buy it as a souvenir.
When we hear about Hatta-san, we imagine this dumpling (厄除団子 yaku-yoke dango).
How to eat?

Please enjoy it in your favorite way of eating.
Some people say, the best way is to eat 5 dumplings at once (not to divide head, neck, body, hands and legs.)😄
We recommend you to enjoy it with Shizuoka green tea like the locals do.
They  harmonize so well with each other.
How much?
200 JPY / 1 stick=5 pieces of dumpling
They have a take-out menu, too. 600 JPY /box
How to buy?
First, buy the ticket at the vending machine and receive the dumplings with green tea.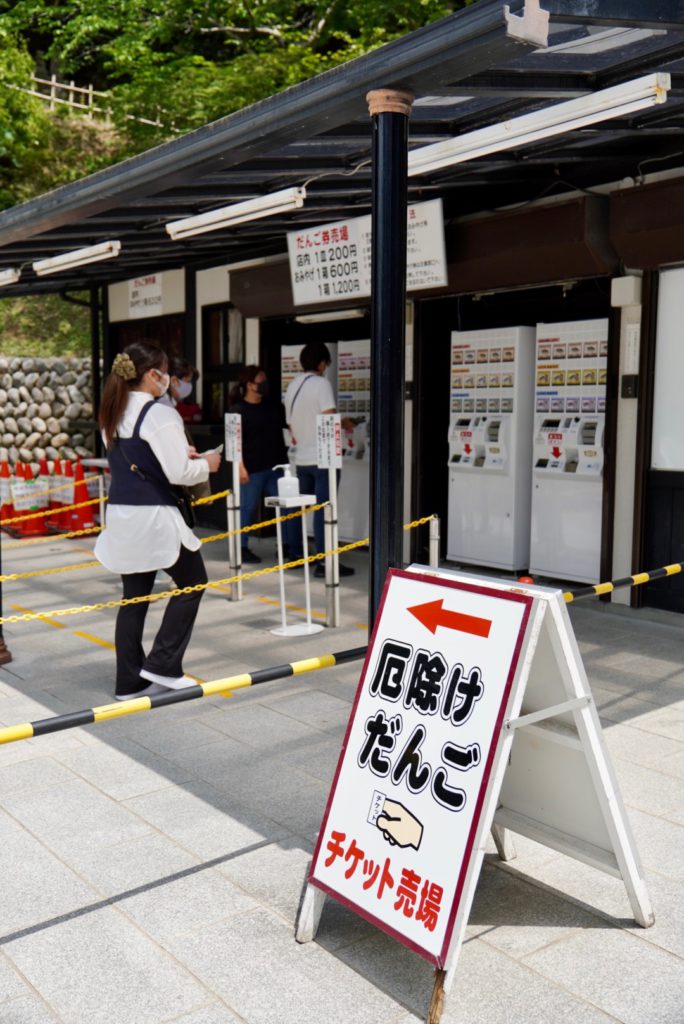 Now, It is lunch time!
Hisayama (久やま)
We had lunch at Hisayama (opened in 2020).
This restaurant is located in Iwata City, Shizuoka Prefecture.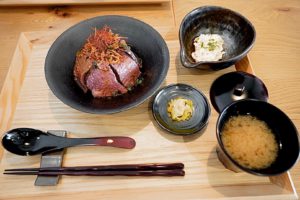 This restaurant serves delicious steak rice bowls!
You can choose your favorite steak flavor and if you want to add some dishes, you can add them as a set.
Access:From JR Iwata Station South Exit
▶︎ Take Entetsu bus, Get off the bus at "Sangyo Daigaku (University)" .
From the bus stop, 4 minutes walk
▶︎Take a taxi, 5 minutes
Open / 11:00-15:00 (last order at 14:30)
Closed /  Wednesday
Google Map
Finally, we want to show you the beautiful Okuni Shrine in Mori-Machi town.
This is a famous powerful place known as a shrine where you can realize your wishes for good luck with your marriage or work.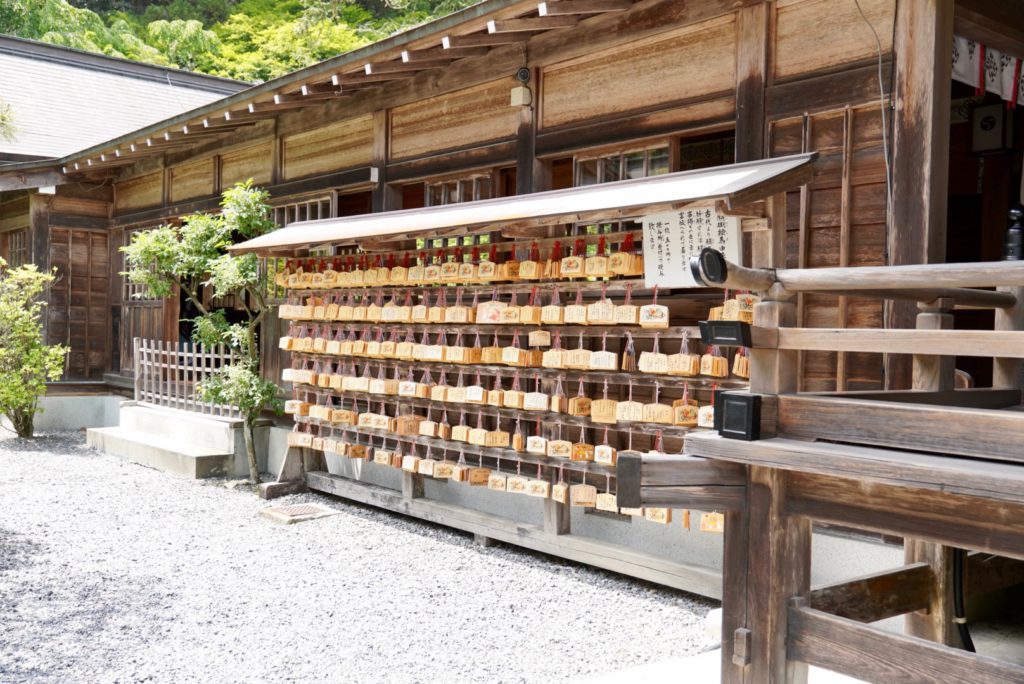 These plates are called "Ema" 絵馬.
We write down our wishes on these plates and hang them like above.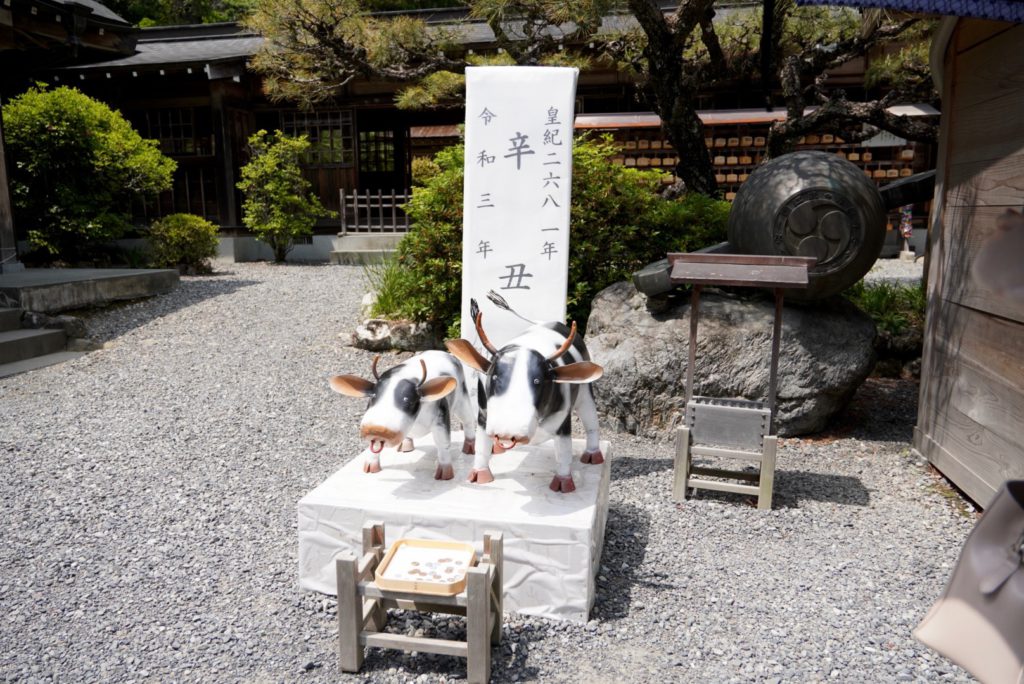 Have you ever heard about "Ju-nishi"?
"Ju-nishi" is the Chinese zodiac.
There are 12 animals, with one animal allocated to every year.
Rat (last year 2020), ox (this year: 2021), tiger (next year 2022), rabbit, dragon, snake, horse, sheep, monkey, rooster, dog and boar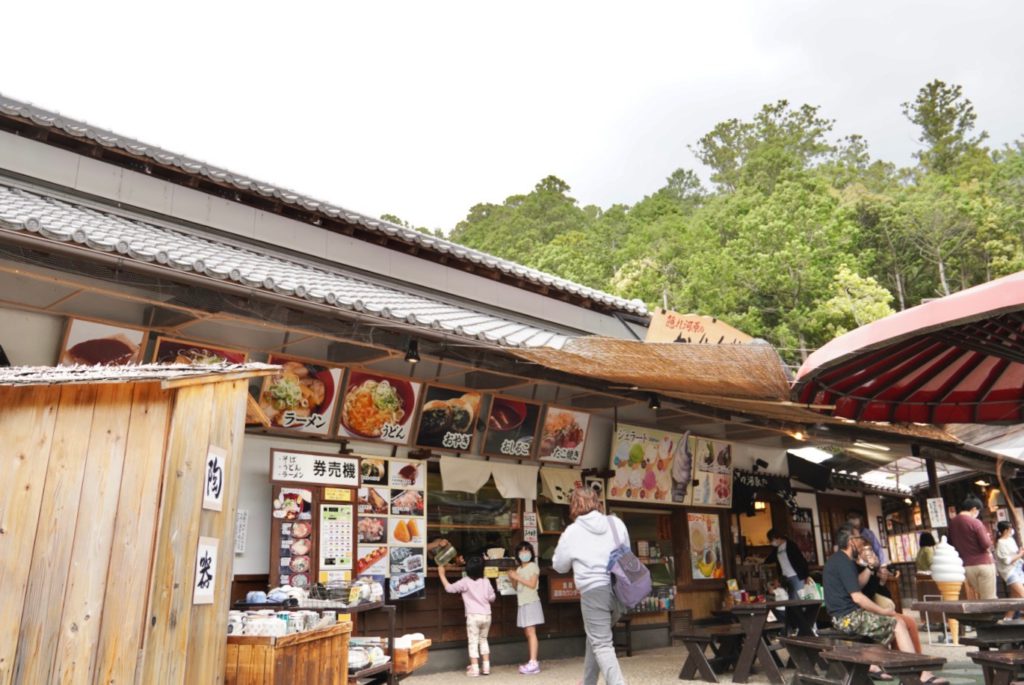 There is a small shopping and food court area called  Okuni Kotomachi Yokocyo (alley).
You can have ramen, takoyaki, ice-cream etc.
There is also a Japanese deep fried brown sugar snack called "Karintou" かりんとうshop.
Various kinds of Karintou are sold. (color, flavor)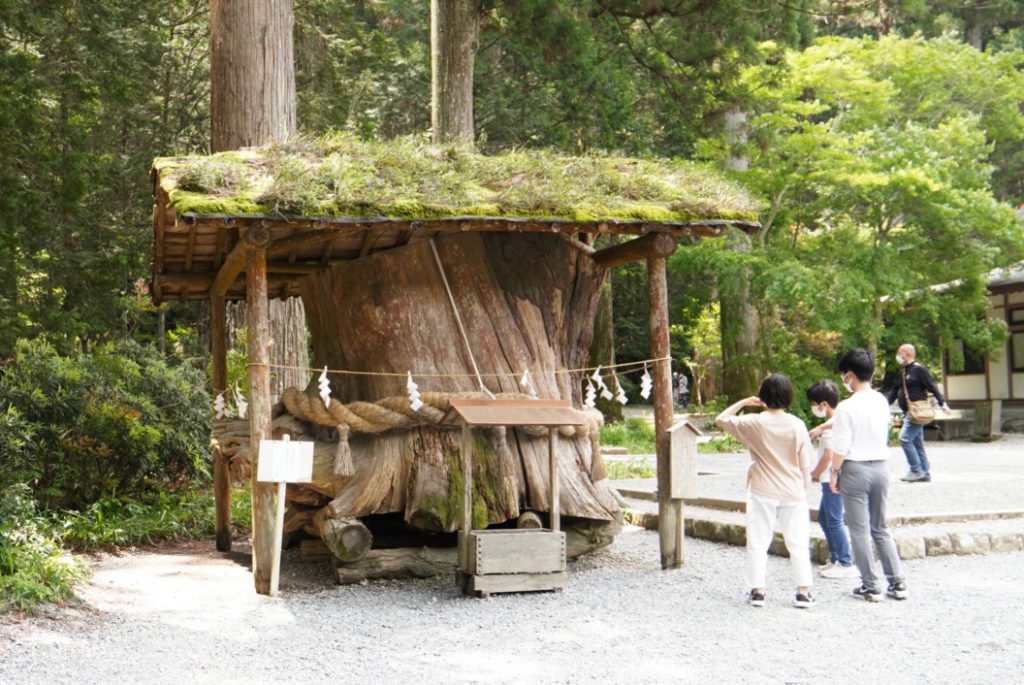 This 1,000-year old tree collapsed due to the typhoon in 1972 and used to stand there.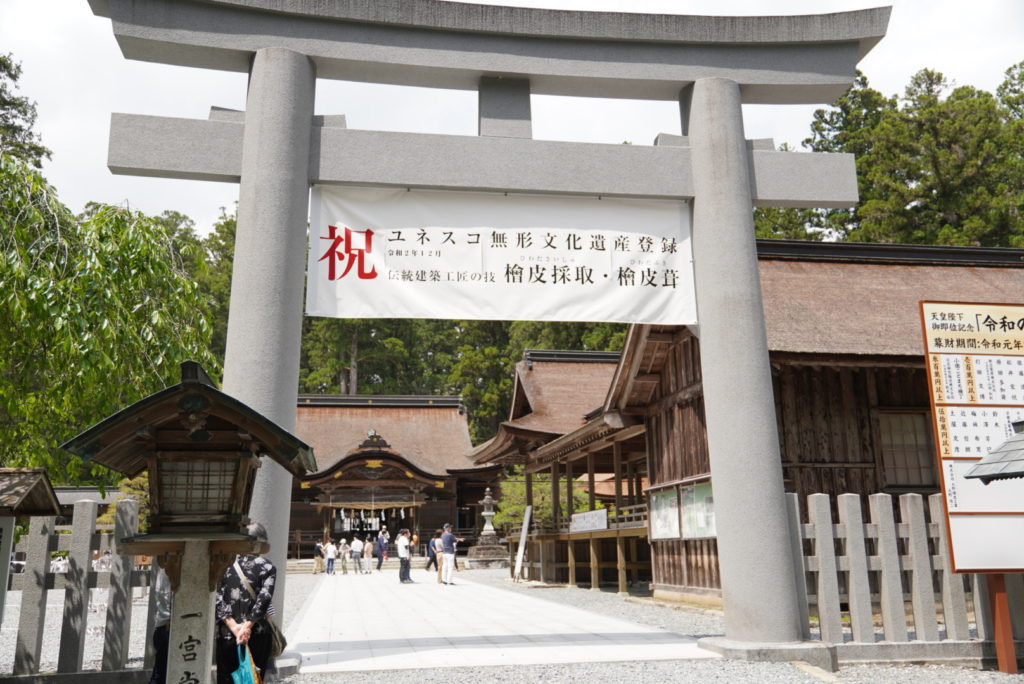 Access
▶︎ 10 minutes by car from Shin-Tomei Mori Kakegawa IC.
▶︎ 20 minutes by car from JR Fukuroi Tomei IC.
Did you enjoy our blog post?
It is our great pleasure to help you to have an interest in Shizuoka.
Thank you!