Hello!Welcome to our blog.
I am Ami, on an internship at local Travel Partners.
I introduce Ohatago Kashibaya, in English "Great Inn Kashibaya". (Ohatago means Japanese style hotel.)
In this facility, you can experience Japanese traditional inn. You feel like you are traveling in those days.
It was built in 1836 during the Edo period and was opened as a Japanese style inn, as well as a pawn shop and a post office altogether. However, it was rebuild. There are a reference library, a product promotion center, a gallery and courtyard space and a Japanese style restaurant.
You can experience the life of those days. For example, we can see the scenery of a meal and the daily life ! There are many photo spots in there.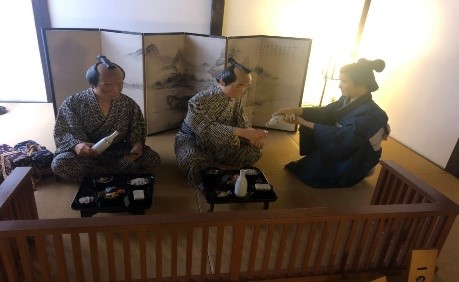 You can also try differents costumes. There are Hat, wig, yukata and katana.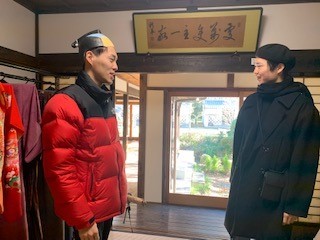 You can take pictures with dummies, which show the life scenery of the Edo period.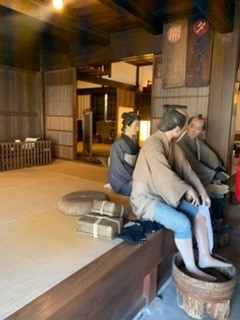 Moreover, we can enjoy a Japanese style restaurant called Isshoan.
Try some season foods of Okabe such as tororojirugozen and soba. (tororojirugozen means pounded yam's set menu meal) You can also enjoy Japanese style scene .
Ohatago Kashibaya is a wonderful place to experience traditional Japanese lifestyles in the Edo era.
I recommend you going there at once. You can enjoy Japanese style scene.
If you would like to enjoy Japanese culture more, I recommend you to go to Gyokuro no sato. Both places are very close to each other.
Click below for the link!
https://www.shizuoka-tour.com/2020/01/08/village-of-gyukuro-in-fujieda-by-our-internship-student-yuna/
Ohatago kashibaya is registered as a tangible cultural property of Japan. It is located in Okabe town, Fujieda city.  It takes about 20 minutes from Shizuoka station by car.
Admission fee is 300 yen. Inclusive fee is 700 yen with Gyokuro no sato.
Thank you!